SC&I Class Seeks to Help Combat Opioid and Heroin Addiction in N.J.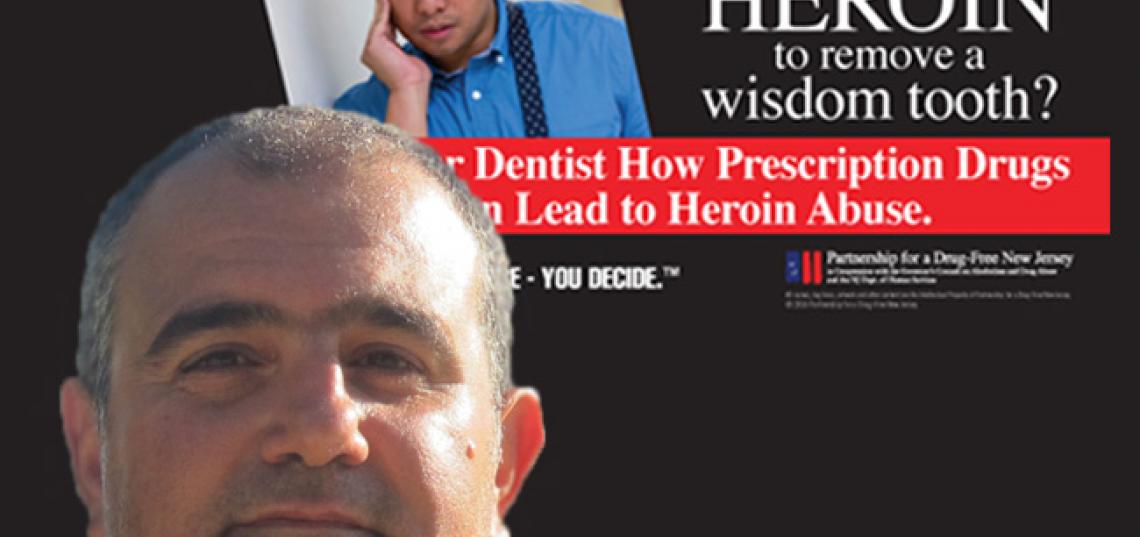 Heroin addiction has become an epidemic in New Jersey. The statistics are staggering. According to the Governor's Council on Alcoholism and Drug Abuse report, in 2014 there were 781 deaths in New Jersey from heroin overdose. Drug overdose is currently the leading cause of accidental death in New Jersey, and the rate of heroin overdose in the state is three times the national average. In 2015 alone 69,477 heroin and opioid-related treatment admissions were reported to the New Jersey Department of Human Services, accounting for 49% of all substance abuse admissions in the state, the highest in at least a decade.
The number of addicted residents keeps growing among all populations, children under 18 included.
Research shows that one path to heroin addiction among New Jersey's youth begins when Moms and Dads take their children to their dentists or doctors. Opioids are often prescribed by dentists to alleviate pain related to normal procedures such as wisdom tooth extraction, and by physicians to alleviate pain from injuries stemming from simple accidents to athletic injuries.
Once on opioids for a long enough period (sometimes five days is all it takes), some adolescents and young adults develop an addiction to the painkillers. When the prescription medication runs out, and refills are no longer available, those who have become addicted (meaning their brains are now chemically dependent upon the drugs), may turn to heroin. Heroin contains the same chemicals as the prescription opioids they were taking on doctor's orders.
Research has shown that 33% of children under 18 are more likely to become heroin addicts as adults if they are prescribed opioids before high school graduation.
To help address this alarming problem in New Jersey, Professor Itzhak Yanovitzky gave the students in his Health Messages & Campaign Design class an assignment: partner with the non-profit Partnership for a Drug-Free New Jersey (PDFNJ), conduct research over six weeks, and from that research, develop key messages and advertising campaigns that PDFNJ will be able to incorporate into their real-world marketing and communication campaigns.
As Yanovitzky explained,  The Partnership for a Drug-Free New Jersey (PDFNJ),  has been leading efforts to combat the opioid and heroin epidemic that is affecting youth and young adults in New Jersey. One of PDFNJ's signature programs, "The American Medicine Chest Challenge," which combines a public education campaign with community drug take-back events nationwide, has been cited as best practice in the White House's National Drug Control Strategy. Yanovitzky, who has collaborated with PDFNJ as the independent evaluator of this program, recently published two studies, one in the Journal of Studies on Alcohol and Drugs and another in Health Education & Behavior, that demonstrate the positive impact this program had on educating New Jerseyans about the risks posed by prescription drug abuse and influencing them to take actions to safely dispose of expired or unwanted prescription medicine they store in their homes.   
Yanovitzky's collaboration with PDFNJ on efforts to combat drug addiction in New Jersey since 2010 has afforded opportunities to his students at Rutgers to get involved and gain a real-world experience in designing and implementing components of this public health education and outreach efforts. "I am a strong believer in problem-based learning, and seeking opportunities for my students to apply the theories and research tools they acquire in my class to solve a real-world problem has always been integral to my pedagogical approach," said Yanovitzky.
In class on Monday Dec. 12, the six student groups presented the results of their research, and the marketing materials they developed, to two PDFNJ representatives: Executive Director Angelo Valente and Director of Media, Marketing and Community Relations and Statewide Director of AMCC-NJ Angela Conover.
The communication strategy plan that each team of students generated was informed by recent research findings demonstrating important gaps in parents' knowledge and attitudes regarding ways to protect their children from the risk of opioid and heroin addiction. Specifically, these findings suggest that about one-third of parents of middle school and high school students are not aware of the link between opioid prescription use and subsequent heroin use and addiction. In addition, even parents who are aware of this link appear to be reluctant to question physicians about the necessity and potential risks of pain medicine that is prescribed to their children. These parents generally report feeling uncomfortable questioning physicians, in part because they do not feel very knowledgeable about the topic or know what questions to ask. Some parents are also concerned about this leading to potential stigmatizing of their children or their family.
They often do not ask doctors questions about the necessity of prescribing pain medicine to their children, either because they lack the confidence to question the doctor's decision or because they are unsure what questions they should ask.
In order to overcome these barriers, the students recommended an approach that combines an effort to educate parents about the risk of heroin addiction with providing them with knowledge and tools that empower them to ask questions when their child is being prescribed pain medicine. Some of the core messages that students proposed to include in PDFNJ's campaign were "Addiction does not discriminate" and "What you need to add before the pen hits the pad", referencing specific questions that parents may want to ask that are recommended by the Centers for Disease Control and Prevention (CDC) and physicians themselves. They even created specific materials – posters, flyers, web infographics, and cards with these questions printed on them – that PDFNJ may use in their marketing and dissemination efforts.     
The students suggest the materials they developed be mailed, posted to websites, and distributed to doctor's offices, dentist's offices (incidentally, the U.S. is the only country where dentists prescribe opioids following wisdom tooth extraction), middle schools and high schools, and local municipalities (for use with parents of athletes in community recreation programs such as Pop Warner). One project team developed a wallet-sized card that they suggested insurance companies might be willing to send out with insurance cards.
Based on their analysis, students also perceive an urgent need to educate more doctors and dentists about the link between the medication they prescribe and heroin addiction. There is a good likelihood that as more parents ask questions about prescription opioids, physicians and dentists will become more cautious and more aware of alternatives to opioids, as well as prescribing lower doses for shorter periods of time. One team said, "Physicians are a resource, but many believe opioids are invaluable for pain medication. But there are very effective alternatives to opioids, listed right on drugfree.org and the FDA website."
Valente and Conover were impressed with the presentations, commenting upon the effectiveness of the visuals, the thoroughness of the research, and the importance of the student's suggestion that physicians, dentists and parents work together to address devastating epidemic.
"The commitment Itzhak and the students have to this issue is impressive," Conover said. "We were surprised that, given their young age, the students have such an understanding of the scope of the problem and the role that parents play. Their concepts and clever taglines really demonstrated their knowledge of the issues."  
Valente said, "We plan to use the students' concept of developing a list of questions that parents can share with doctors and dentists. We will incorporate this concept into materials we are developing for two upcoming campaigns. One we are launching in January 2017, called 'Do We Have Your Attention Yet?' and the next, starting on Oct. 6, 2017, is called 'Knock Out Opioid Abuse Day.' The first time we ran this campaign was on Oct. 6, 2016. This date has now officially been designated by the state as the annual day for this event. It's a day of information sharing – information about opioid addiction that people can share with neighbors, doctors, and others to create awareness."
"PDFNJ and I will have an opportunity to test some of the ideas and materials the students developed through focus group research planned for the spring semester. There is a very good chance that students will have an opportunity to see their ideas come to life before they graduate next semester," Yanovitzky said.
Updated December 22, 2017
PDFNJ Study: Media Campaign Produces Increased Efforts to Prevent Opioid Abuse