SC&I Sponsors PRSA NJ 2017 Pyramid Award Banquet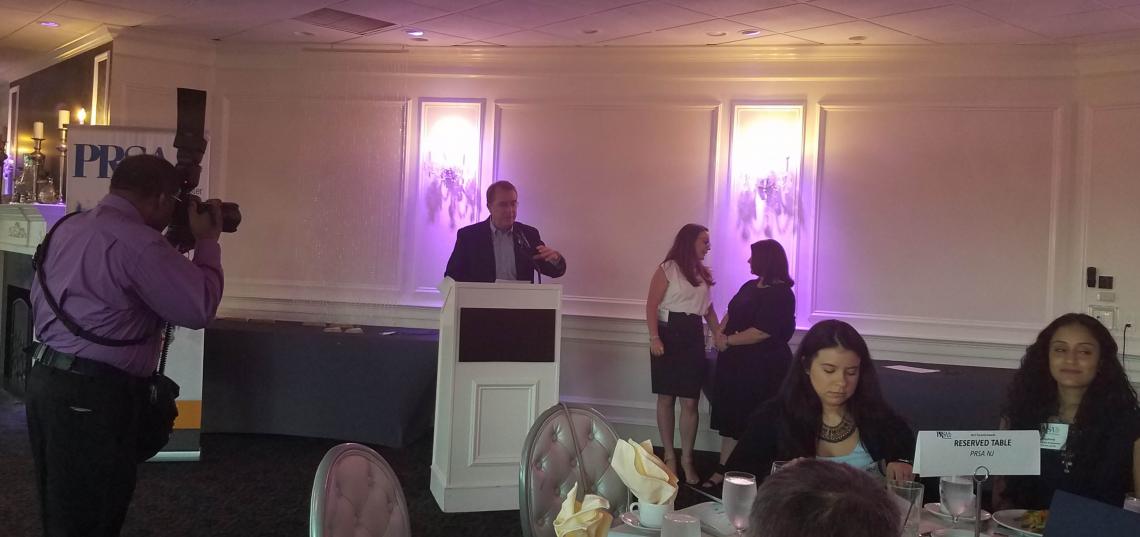 Networking, mingling and reviewing the most cutting-edge public relations projects and campaigns created in New Jersey during the last year were the highlights of the Public Relations Society of America New Jersey chapter's annual event, the PRSA NJ's 28th Annual Pyramid Award Banquet. Held on June 14, 2017 at the Basking Ridge Country Club, SC&I was one of the event sponsors.
According to PRSA New Jersey's website, "the banquet honored 2016's best campaigns and communications tools and tactics. Also recognized: the PR Professional of the Year Sponsored by PR Newswire/MultiVu and the Future PR Professional of the Year Sponsored by Tartaglia Communications."
Teaching Professor and Director of the Master of Communication and Media Program Richard Dool and Program Assistant and Ph.D. student Deborah Yoon attended, representing SC&I. Dool said, "The event, attended by many of the state public relations professionals, was a wonderful way to network with other professionals in the state at all different levels. Professionals were awarded for their hard work and significant contributions to their profession within New Jersey."
PRSA NJ has hosted the Pyramid Awards Banquet since 1989. The Pyramid Award competition is open to all professionals in the communications and public relations fields in new Jersey and entries are judged by a panel of public relations peers. The entries are evaluated on research, planning, execution and results.
The evening began with a reception where attendees networked with long-term professionals, professionals who are new to public relations, new college graduates, students and faculty who teach in the field. The awards were announced and presented during dinner.
Since SC&I was an awards night sponsor, Dool was invited to speak. He congratulated the winners and promoted the new PR Specialization in MCM.
The event was an ideal place for Dool and Yoon to spread the word about the exciting new PR specialization being offered during the fall of 2017 through the Master of Communication and Media program.
For more information on the Master of Communication and Media program. click here.