SC&I Team Collaborates with Rutgers Marine Scientists to Bring the Jacques Cousteau National Estuarine Research Reserve Alive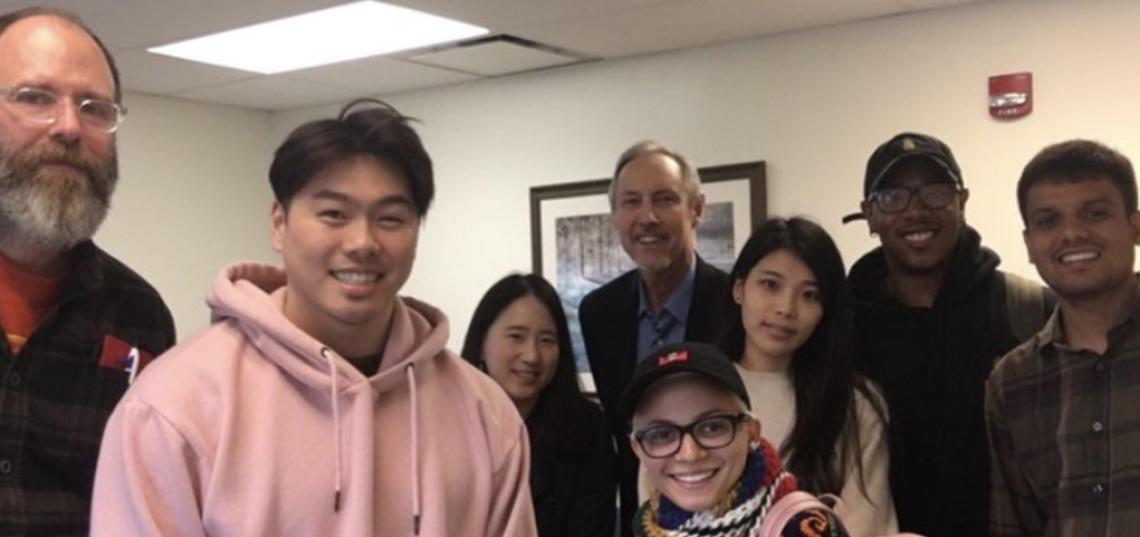 When the Jacques Cousteau Reserve at the Rutgers University–New Brunswick School of Environmental and Biological Sciences decided to explore ways to develop exciting, immersive and interactive ways to tell the story of the energy efficiency technologies they have implemented at their Life on the Edge Interpretive Center, they knew the best person to work with was just around the corner on College Avenue.
"I've been doing this type of work in the journalism and media fields for much of my career, so it was not a surprise that they found me," SC&I's Professor of Journalism and Media Studies John Pavlik said. "This project is at the forefront of educational spaces to incorporate experiential media into a teaching mission."
 When they reached out to Pavlik, he jumped at the opportunity to participate in the project, which is supported by a grant from the National Oceanic and Atmospheric Administration (NOAA). "The task the reserve staff gave me was to find ways to tell the story of the innovative ways they work to increase energy efficiency at the Visitors Center at the reserve, based in Tuckerton, N.J., to their audience, including K-12 students and teachers, who visit the center. We were also asked to find interactive ways to clearly explain the benefits of energy efficiency to the same audience. Our goal was and continues to be to help make this story as enjoyable and entertaining a learning experience as possible."
Last year the Jacques Cousteau Reserve began to conduct a comprehensive study on energy use at the reserve, and Pavlik worked on telling the story at the same time. He drew on their findings to frame the communication.
To begin the project, Pavlik gathered a team of SC&I graduate students, including Ph.D. student Frank Bridges and master's degree students Gavin Duncan, Paloma Gómez, Shravan Iyer, Yena Kang, Gina Qu, Kevin Wang.
During the spring 2018 semester, Pavilk and his team took a couple of trips to the reserve in order to explore the interpretive center. Pavlik said he was quite impressed at the education and outreach conducted there.
Pavlik's team developed fun and exciting ways to tell the story through 3D printing, augmented reality, and 360 video to involve the children, high school students and the general public in the energy efficiency story of the reserve.
His student team  used Rutgers' 3D printer to create plastic 3D objects (sea turtles and sea gulls), and embedded them with experiential media (augmented reality including a haptic, or tactile, interface) to tell the stories about what life is like in the reserve ecosystem. "AR and haptics facilitate memory, make what people experience more tangible," Pavlik explained. He and his team devised a treasure hunt using AR and 3D objects as both as a way visitors can learn more and as a means to get feedback from visitors.
They used augmented reality (they superimposed computer-generated images on live footage of the reserve) to enhance visitor's knowledge of the reserve's energy-saving initiatives, and 360 video, which enables visitors to see the reserve from all directions and from any perspective they choose and to make a virtual visit to the Rutgers Marine Field Station.  
"Next steps," Pavlik said, "are to experiment more over this summer with new ideas for AR for the Life on the Edge exhibit in person and  online. We will also conduct some user testing, which we will do by speaking to visitors (K-12 students and their teachers and others) and asking which immersive experiences they like the most and find to be the most fun and informative.
"We are meeting with the reserve staff again soon to demonstrate more of the augmented reality content we have recently developed, and they will review it and further refine it for their learning objectives. Since we began the project the Apple ARKit 2.0 was released, which enables users to go from designing augmented reality to creating mixed reality. We might use that technology, too. The project has started with the Life on the Edge exhibit, there might be other opportunities and this will be just the first."
The public will learn about this new teaching and learning initiative through the Life on the Edge website, onsite, and through direct communications with teachers. Visitors will also now be encouraged to download the augmented reality app before arriving at the center so they can enjoy their experience to the fullest while they are there.
While he knows they won't necessarily be able to definitively document any specific change in the behavior of the K-12 and other visitors now or in the future, Pavilk hopes that "ten years from now, the students will remember what they learned at the reserve through our efforts, and their understanding will translate into ways they use energy more efficiently to help contribute to building a more sustainable and healthy planet."
To learn more about SC&I's Department of Journalism and Media Studies, click here. For information about how to major in Journalism and Media Studies at SC&I, click here.
Photo caption:  Pavlik and team at an April 25 meeting (final of semester). From left, Frank Bridges (Ph.D. student; others are Master's students), Kevin Wang, Yena Kang, Prof. Pavlik, Paloma Gómez, Gina Qu, Gavin Duncan, Shravan Iyer.
360 video: Gavin Duncan.