SC&I's Spring ITI Showcase Features 28 Innovative Student Projects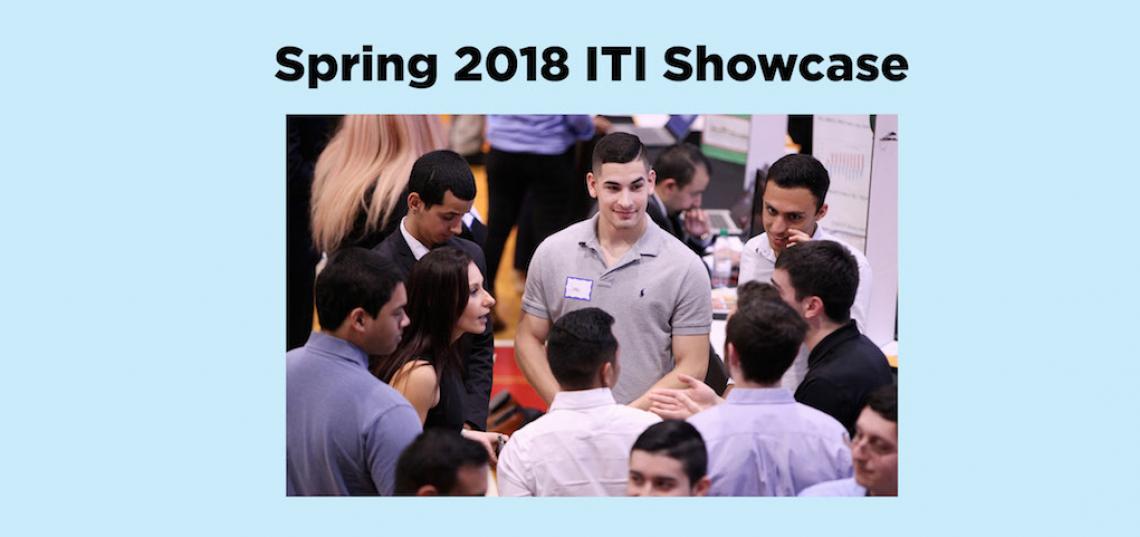 The School of Communication and Information (SC&I) Spring 2018 Information Technology and Informatics (ITI) Showcase took place on April 23 in the College Avenue Gymnasium. The ITI Showcase featured 28 teams of students from the ITI 210 - Management of Technological Organizations class competing in the Prototype and Pitch Competition. The competition also featured the debut of the Spring 2018 Capstone class' project, Akeso, which aims to make medical information more accessible for paramedics on the scene.
"The Capstone product, Akeso, and project to develop it were excellent. The product idea was well thought out, the project execution and presentation were completely professional.  This was a student team that gelled early and worked very well together," said Co-Organizer of the competition, Interim Director of the Information Technology and Informatics Program and Lecturer Michael Doyle.
The Fall 2017 Capstone group, VoxBox also appeared with updates on their project.
The first half of the ITI Showcase event featured the Prototype and Pitch competition.  This competition is unique in that it blends both peer and professional review into the same contest. Set up like a trade show exhibition, student teams demonstrated their application prototypes and pitched their IT-based solutions to each other and to a panel of 17 judges.  Projects were evaluated for innovation, creativity, clarity and quality of the team's presentation.  This fall's ITI Showcase projects featured prototypes focused on four topic areas:  Big Data, Gig Economy, Healthcare IT, and Internet of Things.  Both students and judges choose their favorite projects from each topic area with the following student teams being selected as winners:
JUDGES CHOICE WINNERS
Healthcare IT:  MediCollege

Internet of Things: Smart Harvest

Gig Economy: ClassMate

Big Data: Mploy
STUDENT CHOICE WINNERS
Healthcare IT: MediCollege

Internet of Things: Street Smarts

Gig Economy: Always Connected

Big Data: CareerConnect+
"Seeing how well our ITI students are able to prototype and pitch their technology based ideas is always a treat," said Co-Organizer of the Competition, Candidate for Ph.D. in Library and Information Sciences and Part-Time Lecturer in the Library and Information Department Connie Pascal.
For more information on the ITI program, please view the program page.