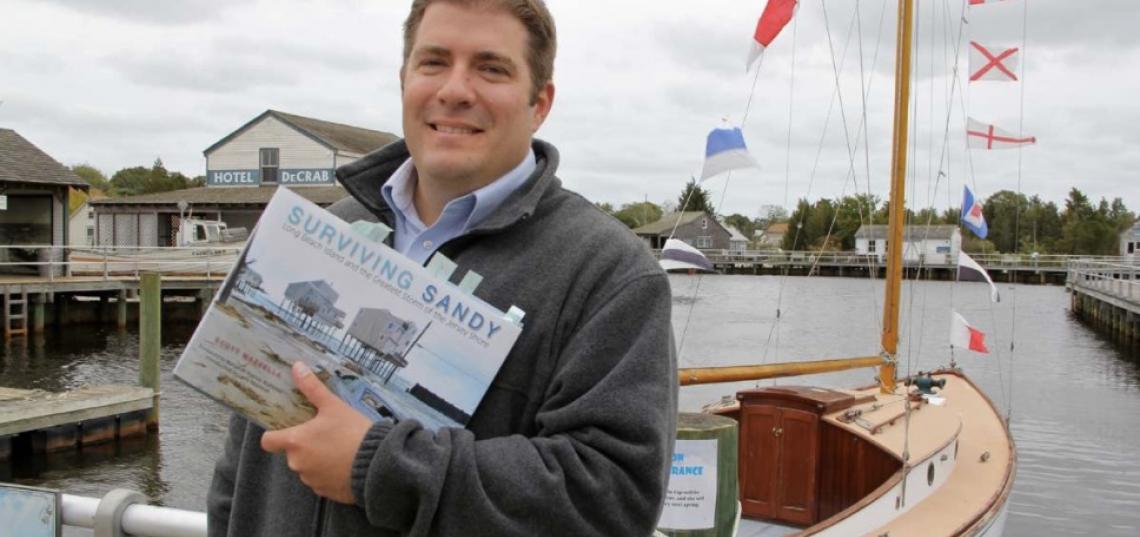 Scott Mazzella '99 Publishes "Surviving Sandy, Long Beach Island and the Greatest Storm of the Jersey Shore"
Down The Shore Publishing asked Mazzella to write a book about Superstorm Sandy, owing to his successful career as a journalist and writer, and his personal experiences with Superstorm Sandy as an LBI homeowner.
Where were you on October 29, 2012? Most of us vividly remember the day Superstorm Sandy slammed into New Jersey. Many state residents, even those as far away as 50 miles from the coast, lost power for weeks. But how many of us know exactly how much damage it caused on Long Beach Island, which was hit by the eye of the storm?
In an award-winning book by Rutgers School of Communication and Information (SC&I) alumnus Scott Mazzella, '99, titled "Surviving Sandy, Long Beach Island and the Greatest Storm of the Jersey Shore," Mazzella explains what happened to LBI that day, recounting many riveting stories from homeowners, residents, people who left, those who chose not to evacuate, and the experiences of first responders, care givers and others.
The book explains how the storm originally formed in Africa, its travels through the Caribbean, its changing status from a hurricane named Sandy to a downgraded tropical storm to the moniker that described it the best and ultimately stuck: Superstorm Sandy.
Mazzella explains what a superstorm is and compares Sandy to many of the other storms that have hit the New Jersey coast in the past, particularly the savage storms in 1944 and 1962, the worst to hit New Jersey until Sandy in 2012. Mazzella said given the unpredictability of weather systems due to climate change, Sandy is most likely not going to be the last superstorm or hurricane to hit New Jersey. 
Mazzella's advice if we are ever threatened by a major storm again? "Understand the expected impact of a storm, always heed local authority orders to evacuate, always have a hurricane plan and review it annually, and always have a trusted weather source. Stay informed, Stay prepared."
SC&I spoke to Mazzella about the book, why he felt so compelled to write it, and how his Rutgers degree helped prepare him for the hard work involved.
Q&A with Scott Mazzella '99
What are some of the reasons you were inspired to write the book "Surviving Sandy?"
For as long as I can remember, I have been a weather fanatic. I used to write all this weather stuff on my personal Facebook page and found that people were interested in what I had to say about the weather. I ended up creating a public Facebook page, Jersey Shore Storms, a few months before Superstorm Sandy. I would post information from official sources and share my point of view. It was really just a place for me to express my passion about weather to whomever would listen. During the ramp up to and during Sandy, I really put it to good use. Some people actually said my posts made them feel better during the storm!
So how does that apply to the book? After leaving journalism for teaching, I maintained a relationship with Ray Fisk and Leslee Ganns who own and run Down The Shore Publishing. We kept in touch on Facebook and they followed my weather page. We conversed quite often in the days leading up to Sandy. Fast forward to the post-Sandy carnage and based on my qualifications as a writer and journalist, the Facebook page, and the fact that I was able to write from a place that wasn't destroyed (I lived in Old Bridge at the time), the stars aligned and they asked if I was interested in writing a book about the storm. I jumped at the chance.
What are the over-arching goals you have for sharing this story?
Ray Fisk (my publisher) and I met up on a cold sunny day in January 2013 to survey the catastrophic damage around the Holgate neighborhood my parent's shore home is located. I considered Holgate as much my home as my actual hometown, so it was just heartbreaking to walk around. It was barely recognizable. It was so quiet. We barely talked, we just took it all in. It was overwhelming. So much of what I knew was gone. It was incredibly sad, even a little bewildering. We collected ourselves and went into town to talk about documenting this historic storm. We knew right away that this wasn't a project about money or marketing – it was a project of pure passion for a place. Everyone involved had lost something. My parent's house was severely damaged. Ray and his wife Leslee's home was wrecked too. Even the Down The Shore offices were destroyed in the storm. And we both knew so many people who lost so much, some who had lost everything. We knew right then and there that we had to publish a book for the people of Long Beach Island and the surrounding areas because this was "their" storm. It was their history. It had to be told.
What advice would you give homeowners on LBI and elsewhere  if another "superstorm" or hurricane was to be forecasted? 
I would only say that storms are going to happen. They are inevitable. We were lucky in the sense that LBI had not been substantially changed by a storm since the 1962 nor'easter, the "'62 Storm," exactly fifty years prior to Sandy. We had five decades and many generations since that storm. There were many more homes on Long Beach Island and up and down the Jersey Shore than there were since that benchmark storm. Therefore, most homeowners at the Shore had never experienced a storm like Sandy. There weren't too many left who remembered '62. Hurricane Irene, which hit in 2011, didn't do much as much damage at the Shore as expected – although inland rain did a number on the northern parts of the state, including New Brunswick and Route 18. Still, shore homeowners had no idea what was in store for Sandy. Some people stayed in their homes and had to be rescued by first responders.  Their decision to stay had put first responders' lives in jeopardy, not to mention their own lives, most for no good reason. Fortunately, no one died directly from storm surge in New Jersey, but the risk wasn't worth the reward for anyone who stayed behind. So, my advice would be to understand the expected impact of a storm, always heed local authority orders to evacuate, always have a hurricane plan and review it annually, and always have a trusted weather source. Stay informed, Stay prepared.
 Please describe some of the techniques you used to conduct research and gather the data for the book.
We wanted to get a book out for the first anniversary of the storm, so it put me in a position to research and write it in about 5-6 months. While my name is on the cover, it truly was a team effort from start to finish. I did a lot of phone interviews, as I still had my full-time teaching job and travelling was difficult. Plus, many areas were still wrecked from the storm and many of the people mentioned in the book suffered devastating losses, so most were very busy trying to get back on their feet. Where and when I could I did interview people in person, which I liked doing the best. Of course interviews lead to other sources and stories and people always come out of the woodwork and want to share their stories. I had some people answering calls I had put on my website for stories. I also partnered up with a team producing a documentary for surfing brand Jetty and we shared a lot of resources. For example, we travelled to the National Weather Service offices in Mount Holly together to interview Gary Szatkowski, the Meteorologist-In-Charge at the time. They taped the interview I conducted to use in their documentary. It was a very cool experience. On top of that I had the internet, which is a godsend to researchers today, but you have to be extremely careful about source legitimacy and you have to double check everything and, of course, attribute anything you're using through fair use. When researching storms, I found that NASA, the National Hurricane Center, and the NOAA all have extremely detailed reports, graphics, and all sorts of excellent information online to aid in research and understanding major storm events.
 How did you identify sources to interview?
Long Beach Island still has a small-town feel (for an 18 mile long island!). Most of my interviews led to other interviews. There was a lot of, "you need to go talk to this guy," going on. And not just to me. My publisher would call up and tell me about a story he heard and I would chase some stuff that way too. You end up amassing so much more than you could ever use, but that's helpful to gain a broader perspective about what happened. Also, as a writer you want options for storytelling and the more stories you get the more versatility you get in telling those stories in the right way.
 What did you enjoy the most about writing the book?
The fact that I was given the reins to tell the story of Superstorm Sandy as it was for a place I love and consider a home still, to this day, makes me feel so incredibly fortunate. I understood the responsibility I had. I understood the gravity of documenting such an important part of Island history. It was just incredible. I like to think I did it justice.
 What were some of the challenges you faced while gathering information or writing the copy?
The entire experience was fascinating, but also very stressful at times. The fact that this book was for all of us – everyone impacted on LBI and the mainland – that drove me. I had very frustrating nights writing. I had great nights. I had nights when I would eagerly send off my draft to our editor Steve Warren, formerly of the Atlantic City Press, only to have him call me saying, "What is this? Were you asleep when you wrote that?" Other times I'd get a compliment. It was quite a whirlwind. 
Another challenge I faced was writing a book that we were considering history, when everyone in it was still alive. My earliest drafts sounded much more like history books with compartmentalized stories. Steve Warren, our editor, threw it all out and had me start over. He convinced me that a running narrative was the way to go. I had to change my way of thinking and writing to stay in the present and NOT write a history book. Boy was that challenging. As I settled into a narrative mindset I "let" certain people tell the Sandy story at certain parts of the storm. In other words, I didn't tell each story individually and have the reader relive sandy over and over and over again. Instead, I dedicate the timeline of Sandy to the relevant pieces of some of the stories we collected. To help sort it all out I had all of these poster boards taped to the wall of my writing room. I had a huge flowchart of who would tell what part of the story in the book. It was sort of like storyboarding a movie. It worked. The book was improved immensely in the narrative format. To this day people come up to me and tell me that they can't put the book down. The key was selecting the right details and have the people who lived through it tell the story of the storm.
Note, too, that on top of all of that, I was also full-time teaching social studies in Old Bridge and raising two kids with my wife- my real life! I owe my wife so, so much for understanding and helping me find time to write under such a schedule.
How did you find all of the incredible photos in the book?
 I am certainly not a photographer and none of the photos are mine. The publisher and I sought out photos from our interviewees and the general public. Most of the photos were given to us for photo credit. Some who couldn't tell their stories showed their stories. They really wanted to. We had thousands of photos sent to us and the publisher ultimately had the final say in that as they (he and his talented layout artist wife Leslee) were doing the layout and were in charge of every aspect of production.
The one photo I fought for, however, was the cover shot. That photo was shot by Carl Clark. He and his wife Susan rode out the storm in their house one street over from my parent's house. He and his wife Susan explored the damage around the neighborhood the morning after the storm. Everything was still untouched by man. All the devastation in that photo is as it was before any recovery efforts commenced. I saw that photo of the skeleton of a blue Volvo encased in sand with damaged ocean front homes and clear view to the raging ocean and I knew that photo had to be on the cover. It just stops you in your tracks.
Did the skills you acquired as a Rutgers journalism major help you research and write the book?
Absolutely. Without Rutgers I would have never known I had a knack for writing. I distinctly remember one semester when one of my SC&I professors gave me an "A++" for a paper simply because it was a type of writing (she said) was so unique and engaging. It happened again with one of my papers in the American Studies department that same semester. It certainly got my attention as I had no idea I could write well at all.
On the journalism side I have to thank Director of Undergraduate Studies in Journalism and Media Studies  Steve Miller. Steve was such a good, down-to-Earth, realist professor. I mean he taught you by forcing you to experience journalism.  It wasn't academic book learning. We went out, planned stories, researched, interviewed, and edited stories for television and it was really hard. When you've never been held to the editing-to-the-second news stories standard before, the task can be really frustrating. Steve's approach was so wonderful. His approachability and open-door policy was invaluable. And he didn't mince words. He told you how well you did or did not do, but he was always encouraging. In fact, I really enjoyed all of my courses at SC&I.  I remember them to this day. It was gritty, real learning and I loved it. Journalism always seems relevant and needed. Today we see that more than ever.
Do you plan to write any more books in the future?
I am currently updating the book Great Storms of the Jersey Shore by Larry Savadove and Margaret Thomas Buchholz. This was my storm-bible growing up. Now I get the opportunity to bring it up to date. It was published in 1993, so there are so many stories to tell from the last twenty-five years. For me, it's like being asked to play for the Yankees. I am thrilled to be involved in this project. Look for it to be released in the summer of 2019.
What is the best advice you would give a potential writer about managing a book project?
First, just do it. Most people who want to write a book say they want to write a book or that they are "working on a book," but they never get around to finishing it. Just write! Get going. Get that book out of your head and onto paper. Don't worry about publishers - just write it.
As you're writing just know that you will have amazing writing days, good writing days, okay writing days, bad writing days, and no writing days. They're all okay. You can't force it, but you can't sit on it either, which is why you just have to write. You can always go back and revise and edit. Connect your mind, heart, and fingers and go! I'm a thinker too, so when I am not writing I am thinking about what to write. Some of my best thoughts hit me right before I fall asleep, so keep a pen and pad on the nightstand or write a note to yourself on your phone about your ideas so you don't lose them.
Finally – frustration is going to happen. It's normal. You'll get over it.
For more information about SC&I's Journalism and Media Studies Department, click here. 
Photo courtesy of Scott Mazzella.