Second Annual SC&I WIDE CAREER EXPO Grows in Both Student and Employer Attendance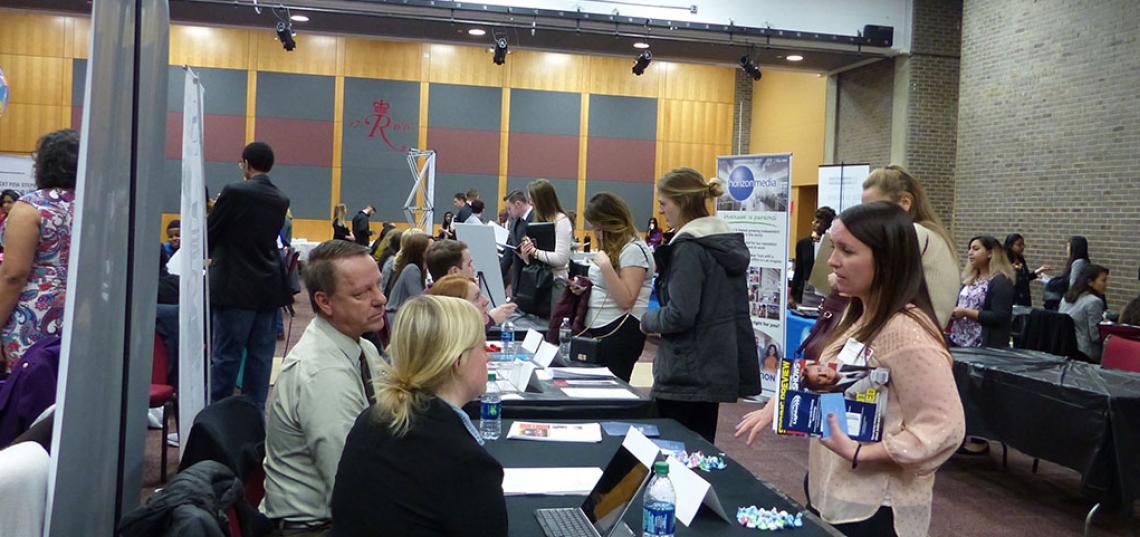 The School of Communication and Information (SC&I) at Rutgers, the State University of New Jersey, held its second annual SC&I WIDE CAREER EXPO on Monday March 20 from 6-9 p.m. in the College Avenue Multipurpose Room and adjacent lounge.
The event was organized by Assistant Director of Student Services for Career Services, Hester Coan. SC&I student organizations co-sponsored the event.  Student and company attendance grew significantly this year; 212 students attended (up from 175 last year), and 60 companies and organizations participated (47 did last year). Guinness World Records, Infragistics, the Philadelphia Eagles, and The Madison Square Garden Company came to meet SC&I students.
This year's EXPO featured two unique sections to help companies and organizations better align themselves with SC&I's three undergraduate majors and two master's programs.
The Information and Library Professional Connection Space located in the lounge included companies and organizations representing the information technology, informatics and data analytics, archival, academic, school, and public library fields.
The Road to Communication and Media Space filled the Multi-purpose room and featured representatives in the industries related to Communication, Journalism and Media Studies.
The EXPO  was co-sponsored by SC&I and Rutgers University Career Services and was part of the inauguration of the "Road to Communication and Media" (RTCM). This new, high-impact alumni mentoring program is designed for first and second year students looking to enter a career in communication and media. 
Coan commented, "It has been a very successful year of collaboration with University Career Services and Rutgers University Alumni Association to help our students build exciting futures."
Employers were also excited about the success of the event, and many submitted feedback. One employer exclaimed students were, "very savvy, impressively dressed, delightful, good resumes, cheerful," and another noted, "great to see bright and excited students looking for opportunities."
Coan advised students to "research employers before showing up and to have an opening statement to introduce themselves."
"Some students are already interviewing," noted Coan, referencing student feedback from the EXPO .
Also at the EXPO were a professional photographer, who took headshots of the students for their LinkedIn profiles, and Rutgers Radio (WRSU), which broadcast live from the event featuring our own JMS students Dominic Savino and Lea Ginefra.