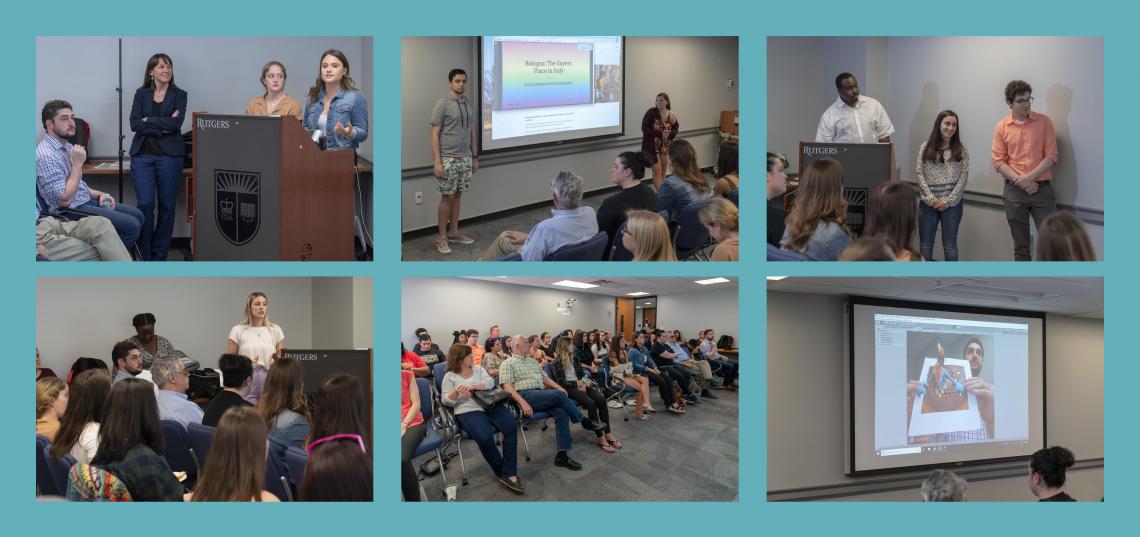 Third Annual JMS Showcase Highlights the Best in Digital Media
Different student groups from various JMS classes shared their research and multimedia skills gained during the semester.
On Tuesday, May 7th students from a select number of SC&I's Journalism and Media Studies (JMS) classes taught during the spring, 2019 semester presented their work at the third annual JMS Film and Media Showcase.
Seven groups of students from classes taught by six JMS faculty members presented and covered a wide variety of topics and sources of media.
When Assistant Professor of Journalism and Media Studies Khadijah White, conceived and initially launched the first JMS showcase in 2017, her goal was to present videos from her visual storytelling class. White identified the best videos from her class to present to other students, parents, and faculty affiliated with the department. After the presentation, the students who attended voted on to select the winning video.
Over time, White enlarged the scope of the showcase to include additional students from classes taught by other JMS faculty members, and she has eliminated the vote because such a wide array of work in media is showcased.
This year examples of digital media projects the students presented include virtual reality, spoken word poetry, and podcast episodes. The topics were very diverse as well. Students covered topics ranging from the portrayal of women in video games to LGBT acceptance abroad, to working conditions at Amazon. White noted that there was "a little something different for everyone that displayed a vast variety of skills."
Since White and the other JMS professors pick the student groups who present, the attendees see the best of the best projects.
White said the podcasts the students presented really impressed her. She said, "they sounded like something you can hear on NPR."
The presentations will undoubtedly continue to improve each year, and White is excited to see what is in store for years to come. "It's great that this is something the department cares about and wants to see continue," she said.
Below are links to some of the presentations.
Neal Bennett's Class: https://nealmbennett.wixsite.com/showcase
Chenjerai Kumanyika's Class: https://soundcloud.com/chenjeraikumanyika/sets/jms-podcasting-class-journalism-workshop
Regina Marchi's Class: https://kairosmagazine.rutgers.edu/a-welcoming-destination-for-gay-and-other-open-hearted-travelers/
Mary D'Ambrosio's Students: http://kairosmagazine.rutgers.edu/migration-conflicts-fuel-the-rise-of-the-italian-right/
Juan Gonzalez's Students: http://kairosmagazine.rutgers.edu/at-what-cost/?/