Three SC&I Colleagues Provide Bonus Commentary for the Re-Release of the 1960s TV Show "Green Acres."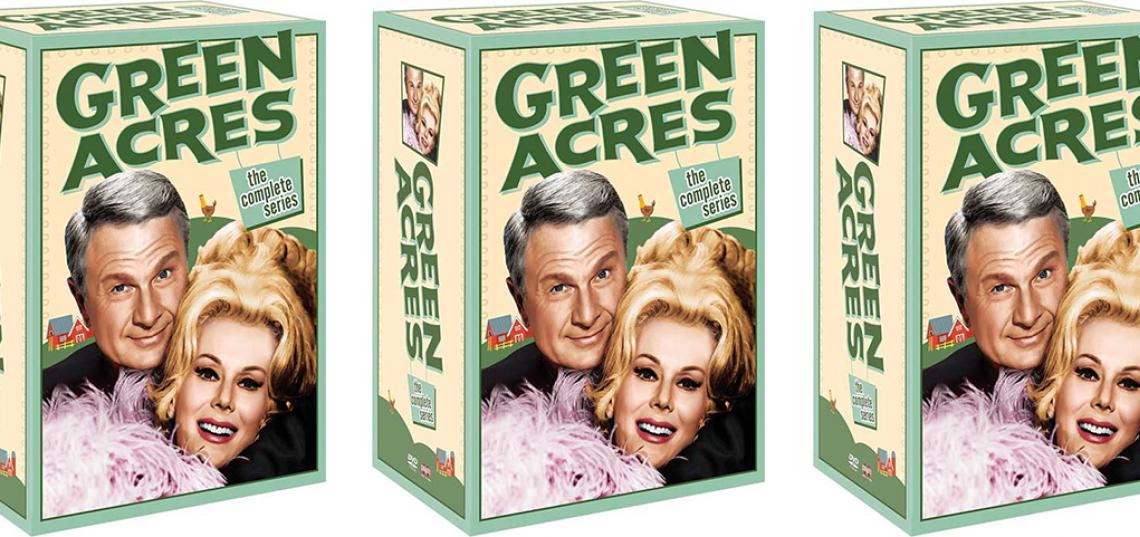 UPDATE, January 18, 2018: Scroll down to view our new video!
"Green Acres is the place to be, farm living is the life for me!" Anyone who remembers that tune and loved "Green Acres," the TV sitcom that ran from 1965-1971, will be happy to know that the series was re-released on October 17, 2017 as a box set on DVD. Even more amazing: three SC&I colleagues have greatly enhanced the new series by including bonus material that provides an incredibly fascinating story about the demise of the show in 1971.  
Ph.D. alumnus Jonathan Bullinger '17, Doctoral Candidate Andrew Salvati, and Doctoral Candidate Steve Voorhees, as co-founders and producers of Inside the Box: The TV History Podcast, teamed up with national media distributor Shout! Factory to provide the material for the new box set which is titled "Green Acres: The Complete Series."
Their bonus material recounts the behind-the-scenes story of the historic television event known as the rural purge that occurred at CBS during the early 1970s. Inside the Box appears as an alternative audio commentary track to the last episode of the series on the new box set.  
Bullinger said, "We are excited to provide fans of this iconic series with such an unprecedented event in television history. If not for the rural purge, it's likely 'Green Acres' and other rural programs would have endured longer runs. This purge signaled a paradigm shift for the entire television landscape and ushered in a new era of programming in the 1970s."
When CBS canceled "Green Acres," in a move that was said to have "canceled every television program with a tree in it," CBS executives axed all of their rural programming in an unprecedented move to usher in new, urban, and socially aware alternatives.
Knowing that "Green Acres" would fall victim to this purge, creator Jay Sommers used the final two episodes of the series for backdoor pilot attempts, in hopes of launching a new series.
How did this collaboration between Inside the Box and Shout! Factory come together? As Voorhees explains, "Upon meeting one another in the doctoral program at SC&I, we became friends and discovered that we all shared an interest in television history. In 2014, we decided to start a podcast that would allow us to share this interest with others and named it 'Inside the Box: The TV History Podcast.'  Each of us serves as producers, researchers, writers, and co-hosts.  It's a very rewarding and enjoyable collaboration."
Then, this happened. "Shout! Factory reached out to us this summer," said Voorhees, "and asked if we would be willing to provide bonus commentary for their upcoming release of the "Green Acres: The Complete Series" box set.  They had discovered a particular episode of our podcast focusing on the rural purge that we had produced back in 2015 and contacted us through our website to see if we could adapt it for the "Green Acres' set."
 "I remember watching 'Green Acres' on Nick-at-Nite when I was a kid," Salvati said. "Now I'm very excited that Inside the Box has teamed up with Shout! Factory to provide fans of the show with a little extra commentary on the circumstances around the show's cancellation that they might not have heard about."
Voorhees, who said he also has fond memories of watching "Green Acres" on Nick-at-Nite when he was little, explained, "It is an honor to provide this commentary for such an iconic series in television history.  Because of the sudden decision-making that characterized the rural purge, many rural shows from the late 60s to early 70s, including 'Green Acres,' were denied a formal series finale.  By recounting the events taking place behind the scenes at the broadcast networks, it is my hope that our commentary may not only provide new insight for viewers but also help fans gain a small sense of closure to this series."
For the uninitiated, "Green Acres" starred Eddie Albert and Eva Gabor. Albert played a New York City attorney who decided to leave the city and move his family to the country. His wife, played by Eva Gabor, loved NYC and missed it terribly, which led to many comedic conversations and events on their farm.