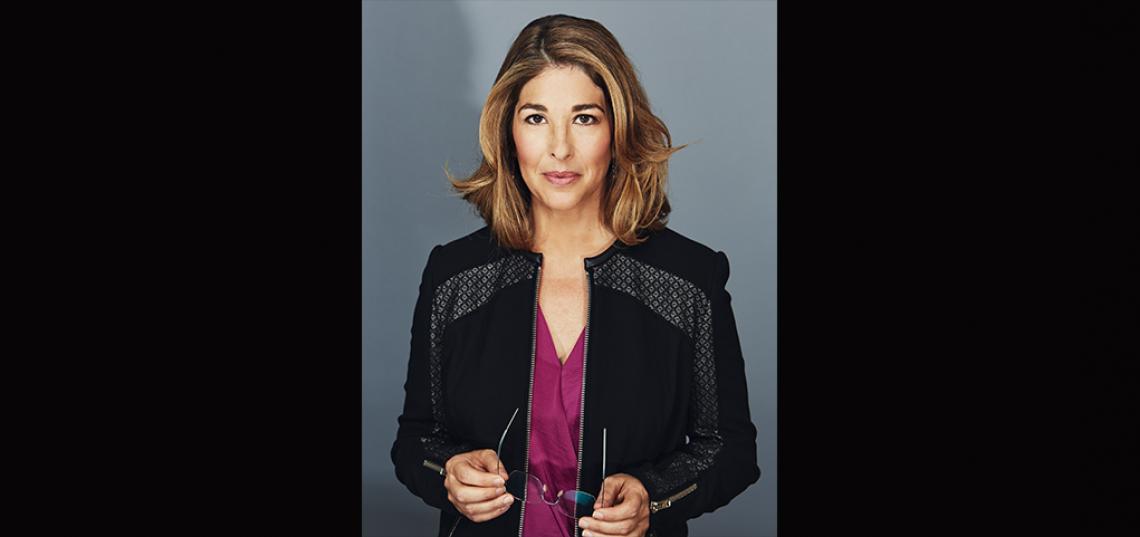 Visiting Malta, Naomi Klein Addressed Murder of Journalist Daphne Caruana Galizia
In Malta to attend the Malta Book Festival, Klein spoke out against violence toward journalists and the importance of free expression.
Rutgers School of Communication and Information (SC&I)'s faculty member, public intellectual, and the Rutgers Gloria Steinem Endowed Chair in Media, Culture and Feminist Studies Naomi Klein was invited to Malta to speak at the Malta Book Festival. While she was there, she visited the memorial in honor of murdered journalist Daphne Caruana Galizia and placed flowers and a candle at the site. Representing PEN International, a global group of writers, Klein spoke out against current violence toward journalists and the importance of free expression.
Klein told the Malta Times, "This impunity drives a cycle of violence. I know first-hand that an attack on a journalist is an attack on democratic society itself – killing society's right to be informed and hold the powerful to account. And I also know that impunity emboldens the corrupt, it engenders fear and insecurity, and ultimately it silences the critical voices that are essential to constructing fair, just and safe societies." 
The Malta Times further wrote that "As a member of PEN, she urged the Maltese authorities to immediately launch a public inquiry to establish whether Daphne Caruana Galizia's life could have been saved, and, crucially, how to protect other journalists and freedom of expression in Malta."
Klein is the author of several books, including the recently published, "No is Not Enough: Resisting Trump's Shock Politics and Winning the World We Need."
Click on the links below to read some of the coverage of her visit, both in the press and on social media.
https://www.timesofmalta.com/mobile/articles/view/20181110/local/stop-vilifying-a-murdered-journalist-world-renowned-author-tells.693934
https://theshiftnews.com/2018/11/10/government-should-not-fan-the-flames-of-hate-and-violence-naomi-klein/
https://www.maltatoday.com.mt/arts/books/90819/full_house_for_climate_change_author_at_the_malta_book_festival_2018#.W-beccHLfYV
https://www.newsbook.com.mt/artikli/2018/11/10/watch-showing-commitment-to-freedom-of-expression-means-leaving-the-flowers-and-candles-here/?lang=en
http://www.independent.com.mt/articles/2018-11-10/local-news/Lack-of-progress-in-investigation-into-Daphne-s-murder-truly-disturbing-Naomi-Klein-6736199121
https://theshiftnews.com/2018/11/11/exclusive-naomi-klein-in-malta-it-reminds-me-of-donald-trump/
Social Media:
FB live recording of the message at the protest memorial by an Occupy Justice Malta activist: https://www.facebook.com/frau.kanzler2007/videos/2436682266374313/
https://twitter.com/sarah_m_clarke/status/1061721889553477634?s=21
https://twitter.com/lizzie_eldridge/status/1061604604335607808?s=21
https://twitter.com/acatinparis/status/1061330601398206464?s=21
https://twitter.com/europef24/status/1061331747101704192?s=21
https://twitter.com/naomiaklein/status/1061206078065704961?s=21
https://twitter.com/pen_int/status/1060997807304331264?s=21
https://twitter.com/naomiaklein/status/1061201492017905664?s=21
https://twitter.com/the_shift_news/status/1061175170021376000?s=21
https://twitter.com/b_obermayer/status/1061207567022604288?s=21