Alumnus Michael Hennix Donated Two MacBook Pro Laptops to Journalism and Media Studies Scholarship Students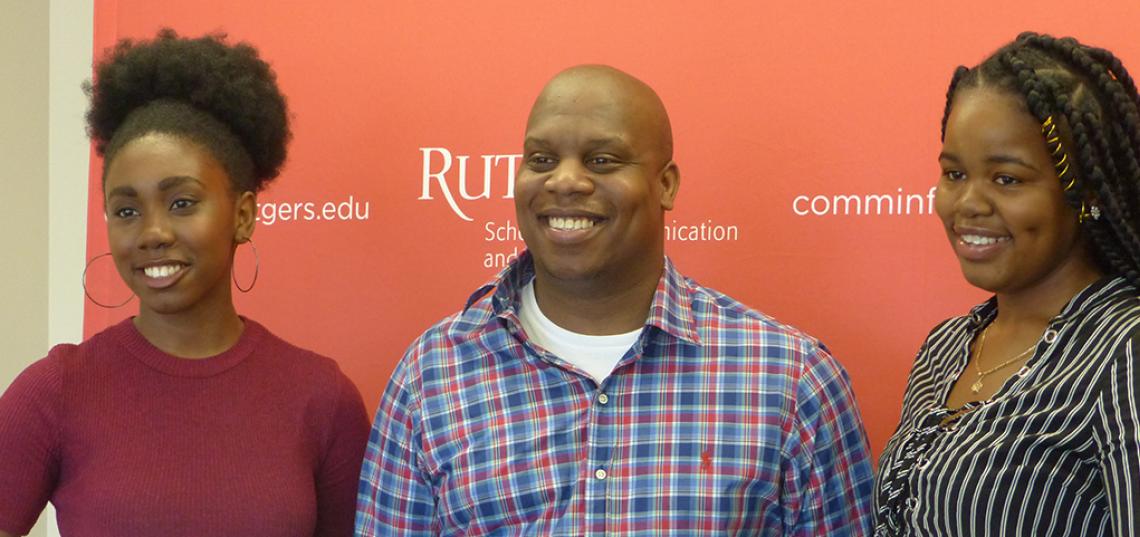 Alumnus Michael Hennix '12 (BA, SAS) majored in Journalism and Media Studies (JMS) at SC&I, and soon after he graduated, he became determined to give back to the program that helped him launch his successful career as a journalist.
Over the years Hennix has given several amazing gifts to SC&I, and recently two current students benefitted enormously from his generosity. On October 25, at a ceremony held at SC&I, Hennix gave two JMS scholarship students Apple MacBook Pro laptops to help them excel in their studies and out-of-the classroom interests at Rutgers.
After reviewing eligible SC&I students, Hennix chose to donate the laptops to Asia Dockery, '18 and Keyshawna Johnson '19.
"Having this laptop is going to give me the tools to stay connected, to access social media, and to write on the go, which is very important in media studies today,"  Dockery said.
Johnson said, "The laptop will help me with everything, whether it is homework or editing sound bites. I have my own radio show so the laptop will allow me to edit my own shows when I have time and not force me to stay up all night in the computer lab."
Hennix is the founder of a program called H.U.S.T.L.E.365inc, which helps SC&I students majoring in JMS obtain the resources they need to succeed. Hennix said, "I started H.U.S.T.L.E.365 because I want to help urban students see the beauty of journalism without the cost of journalism. Journalists are only as good as the tools they have, but unfortunately, it is a very costly major."
At the ceremony, Hennix was introduced by Director of Undergraduate in Journalism and Media Studies Studies Steve Miller. Hennix then spoke about his mission to empower and support students in need at Rutgers. Following Hennix, Assistant Dean for Development Rob Eccles and Department Chair and Associate Professor of the Journalism and Media Studies program, Susan Keith, spoke. Both thanked Hennix for his life-changing donation.
In the Q&A below, SC&I spoke with Hennix about his company, mission, and dedication to SC&I's JMS students.
What inspired you to donate two laptops to two SC&I students?
H.U.S.T.L.E. 365inc.'s mission statement is to help journalist focus on the beauty of journalism and not the cost. Becoming a journalist is a very expensive undertaking. Depending upon what field of journalism you're getting into, you have to invest thousands into yourself before you ever get a check. I wanted to help students that didn't have the means to purchase an expensive state-of -the-art computer that will handle all the basic needs that journalist needs in today's digital realm, a computer that can edit video, audio, photos publish stories and can access the internet at high speeds.
We understand that you are a freelance journalist. Has your SC&I education in journalism helped you during your career? If so, how?
My SC&I education helped me become comfortable interviewing and speaking publicly. I've also become comfortable behind and in front of the camera. Print journalism was my main focus during my time at Rutgers. My print skills translated perfectly to writing artist bios, and press releases that clients tap me for from time to time.
How do you hope the gift of the laptops benefits the students?
Professionally I want the computers to have a direct impact for the better on how they do work for school and professionally. On a personal level, I want this gift to inspire and instill in them the importance of helping others when they have the means and opportunity to do so.
Please tell us a bit about H.U.S.T.L.E.365 -- did your Rutgers education play a part in inspiring you to launch H.U.S.T.L.E.365?
H.U.S.T.L.E.365inc. is a nonprofit that was founded in 2016 to provide tools and/or monetary support for journalism students that exhibit financial need and demonstrate academic excellence. The inspiration began in 2011 when I won the Edward J Mack Foundation Scholarship. Thanks to that scholarship I was able to pay for my entire semester bill without coming out of pocket. I decided when I was able to help others I would come back to my Alma Mater to help.
What is your favorite memory of your undergrad years as a JMS student?
The close-knit feel that our school had. Our professors were accessible and always had gems to share with us. The student body had a close bond with one another and celebrate everyone's personal win as if it were their own. We helped each other get better and made genuine friendships along the way.
To learn about opportunities to support SC&I, please visit our GIVING page, or contact our Assistant Dean of Development Rob Eccles.  
Check out our video from the day! 
JMS donation ceremony on our YouTube channel.