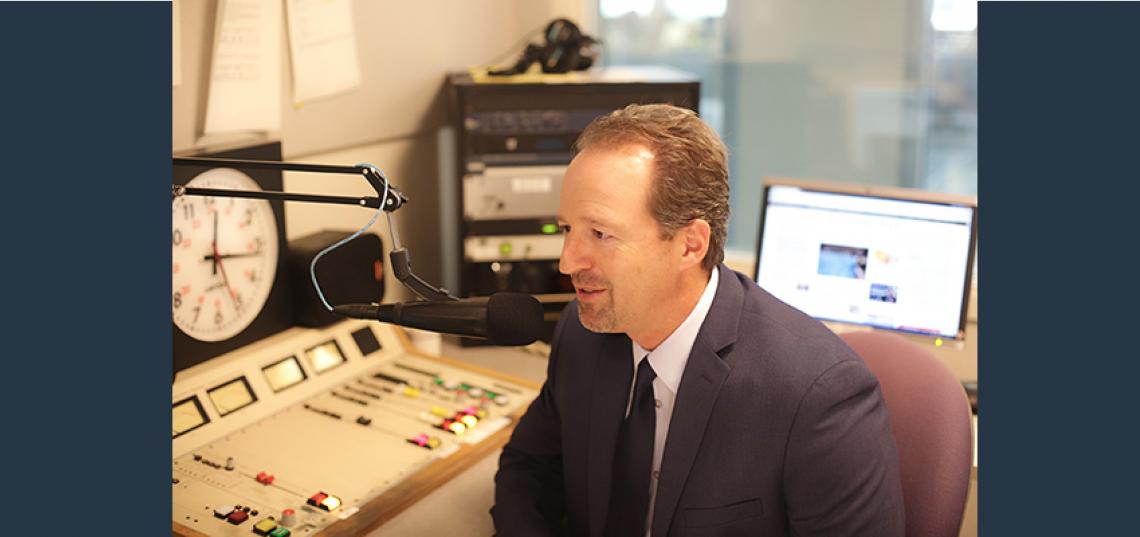 Calling Plays Parlays into Successful Radio Career for SC&I Alum
Radio host Gordon Deal '89 talks about life at the mic.
Radio Host. Sports Play-by-Play. Bureau Chief. These are just a few of the roles alumnus Gordon Deal '89 has fulfilled throughout his successful career in radio broadcasting. Graduating with a Communication degree, Deal maximized his time at SC&I gaining hands-on experience by calling the games for Rutgers University sports at WRSU-FM. Deal became a well-known name in the New York metropolitan market reporting for various local radio stations. He now hosts his own radio show "This Morning, America's First News with Gordon Deal" for Compass Media Networks and keeps his athletic ties strong by serving as Public Address announcer for the New York Giants and Army Football. We spoke to Deal on his impressive career and prioritizing daily news stories.
How did your education at the School of Communication and Information (SC&I) prepare you for your career in journalism?
From interpersonal communication to mass media, the classroom lessons were paired with the on-air experience and passion gained at WRSU-FM. The communication skills from class were valuable in helping me understand that being in radio doesn't just mean doing a job on-air, but it also means you're a part of the team that has to sell and market that product to ensure overall company success.
Can you tell us about your current radio program "This Morning, America's First News with Gordon Deal"?
The two-hour program is syndicated nationally, and is heard on about 260 radio stations across America, and in just about every major city. It's a breaking news program that covers everything from natural disasters to politics and political analysis…and mixes in topics like business, finance, lifestyle, careers and technology. The show is often a lead-in to a radio station's own local programming. It's fast paced with trendy music, and doesn't inject political opinion. It's a news presentation…meaning we do not take phone calls.
With today's tumultuous news cycle, how do you prioritize which stories you want to cover?
It's not always about "what" we want to cover; it's also about what "needs" to be covered. These are judgement calls made each and every day before airtime at 5:00 a.m. Eastern Time. We need to decide: how are we going to arm the listener with as much information as possible so he or she is the smartest person in the room when they walk into the office…or sit down for a meeting or interview.
Your career path includes a long history in New York radio. What do you think the future holds for local journalism in light of recent cutbacks such as the layoffs at the New York Daily News?
Long before the Daily News, radio had its share of layoffs thanks to consolidation. But content is king. If you have quality content to present as a writer or broadcaster that's generally not offensive, advertisers are available. After all, you're still in the business of creating a sellable product.
Your background includes sports announcing, including for Rutgers! How did this type of reporting help you in your journalism career?
After my brief soccer career at Rutgers, I joined WRSU and started doing play-by-play announcing of Rutgers baseball, football, basketball and soccer. Play-by-play is just announcing breaking news as it happens during a sports competition. It helps ad lib skills, observation skills, and the ability to think and react calmly and intelligently under pressure when the unexpected happens. The unexpected in sports might include a bizarre touchdown. In breaking news, it might include a sudden explosion at a fire.
How do you think technology, social media, etc. has affected the journalism and media industries?
It's made the job easier and harder at the same time. Social media allows us to promote our product, reach contacts that may have been difficult to reach, follow trends, and interact with the audience. It also opens the door to criticism, sometimes fair, sometimes not; sometimes from legitimate sources, sometimes from people just looking to stir the pot anonymously.
Do you have a specific faculty member or mentor at SC&I that has helped to guide you in the right direction professionally?
Not so much a specific faculty member, but resources like The Daily Targum and WRSU, and Rutgers alum contacts and friends who've offered support, encouragement, or a sounding board, like Part-Time Lecturer Mark Beal (Taylor Strategy), Mike Emanuel '90 at Fox News, and Tara Sullivan at The Boston Globe. And even though I did not have him as a professor, Director of Undergraduate Studies in Journalism and Media Studies Steve Miller has been a fairly important figure in my involvement with things like Career Expos at Rutgers and interns.
What advice would you give current students and recent graduates seeking to pursue a career in journalism?
When I guest lecture at Rutgers, I often ask students: "What is your dream job, and what are you doing toward that end right now?" These days, it's never too early to identify your professional network, maintain a LinkedIn account, and clean up your social media pages. If you want to be a writer, you should have a blog. Want to be a reporter, join The Daily Targum, or find a weekly newspaper that will allow you to cover something as a reporter. If you'd like to be a broadcaster, sites like SoundCloud and YouTube offer instant opportunities. And then it's easy to promote yourself across platforms like Facebook and Twitter. And remember to use relevant hashtags and to tag relevant people in your network on social media.