Communication Professional Cassidy Duhigg MCM'22, COM'21 Succeeds at J&J
A look at her path from intern to senior communication analyst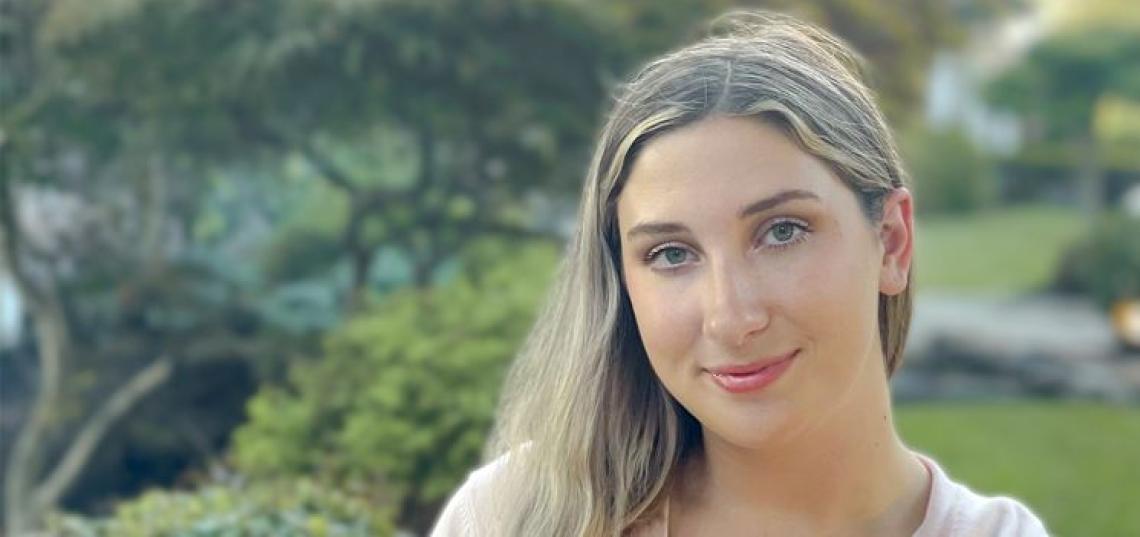 Cassidy Duhigg MCM'22, COM'21 transferred to Rutgers her sophomore year, excited because, as she said, "from the 120+ undergrad majors to the dozens of engaging student clubs, Rutgers truly had everything I wanted." What she wasn't sure of, however, was her major. That changed after her first semester. Currently a senior communication analyst for North America's Consumer Health Supply Chain program at Johnson & Johnson, Cassidy explained her path.
SC&I: How did you narrow down your field of study?
CD: After completing Public Speaking and Communications Theory courses my first semester, I knew I wanted a career within the communications industry. During my time as an undergraduate, I interned with the Office of Marketing & Communications at Rutgers Graduate School of Education and received credit through both SC&I and Rutgers Internship and Co-Op Course (RICC). This internship solidified my interest in communications, and I'm proud that my dedication and passion enabled me to receive the Rutgers University Internship Excellence Award.
SC&I: What made you pursue the Master of Communication and Media (MCM) degree?
CD: Approaching my senior year, I attended an info session for the MCM program. After learning about the many benefits a master's degree provides, especially the opportunities a unique specialization could afford my career, I applied, was accepted, and enrolled. By participating in the 5-year dual degree program, I took 12 graduate degree credits during my undergraduate senior year while still graduating summa cum laude in only 3.5 years. I completed my master's degree 15 months later. Through the MCM program, I grew my communication competence, networked with professors and other early-in-career professionals, and had new doors opened for me.
SC&I: Who and what are some of the MCM program's highlights?
CD: Entering the MCM program, I was unsure which specialization I should select until I enrolled in an International Public Relations course with Assistant Professor of Professional Practice, Communication Mark Beal. Not only was his passion surrounding the topic contagious, but the content was enthralling. In the course, we had the chance to interview and network with professionals in the PR industry and research global PR campaigns to learn the ins and outs of what goes into international communications projects. That helped me decide to specialize in Public Relations. MCM Program Director, Teaching Professor Richard Dool, played an instrumental role in my success. Professor Dool served as both my professor and mentor during my time at Rutgers. Not only was he only one call away, he always ensured I was on track, whether it was aiding me in course selection or broadcasting open opportunities within the school.
SC&I: What work did you do while you completed the program?
CD: During my time in the MCM program, I received an internship with Johnson & Johnson Consumer Health as a communications graduate intern. After this internship, I received a full-time contracting opportunity with Johnson & Johnson as a communications specialist for the company's Women in STEM²D program. Through this opportunity, I made a difference in the lives of girls and women through the fulfilling work of coordinating large-scale events, composing global newsletters, and sparking employee engagement.
SC&I: Did your internship lead to full-time employment?
CD: Yes! After completing my MCM degree in May 2022, I landed a full-time employee role with Johnson & Johnson Consumer Health. As of July 2022, I became a senior communication analyst for North America's Consumer Health Supply Chain program. Now I lead internal and external communication efforts for the program and our executive leadership. I currently work alongside leaders to implement strong employee and organizational communications while also gaining exposure to public relations strategy and social media planning for our brands. Some of our notable consumer brands include Neutrogena, Aveeno, Tylenol, Band-Aid, and so much more!
SC&I: What advice do you have for current or prospective students?
CD: Take every opportunity and learn from it! Whether it is an internship with unfamiliar responsibilities or a career in an unknown field, try to challenge yourself and develop your skill set. As a student or early-in-career professional, now is the best time to learn what you like and don't like. In every position, you'll better understand which tasks, work environments, and industries interest and work best for you. This will ultimately allow you to recognize what career path you want to go after!