This Course Offers MI Students an Experience of a Lifetime Working with British Archives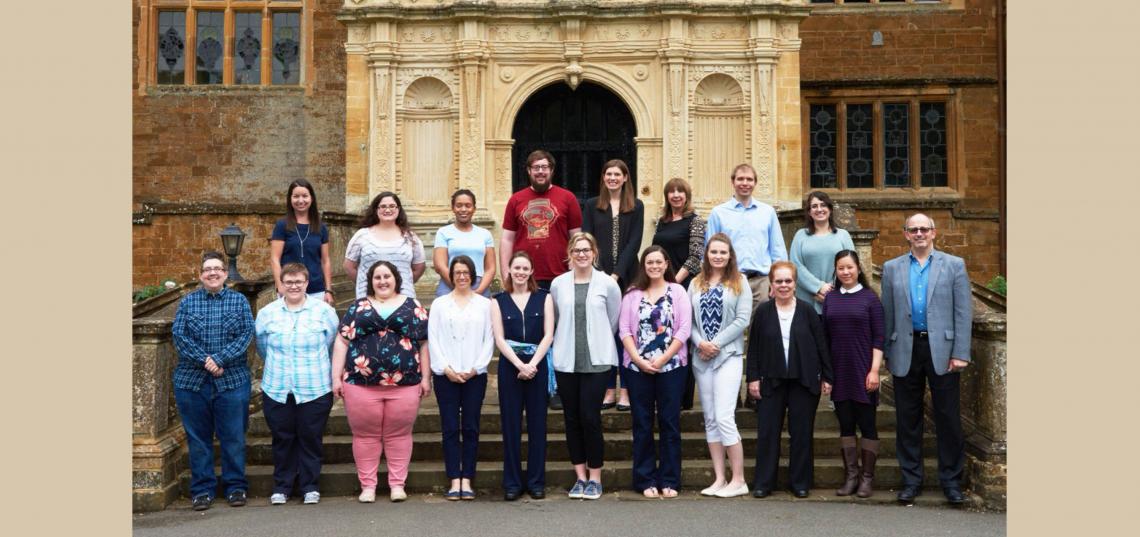 Professors of Library and Information Science Marie Radford and Kay Cassell offer their students a learning experience like no other at SC&I. The hybrid course they co-teach, titled British Collections and Archives, offers Master of Information (MI) students the chance to study at Fairleigh Dickinson University's Wroxton College in England, near Oxford, for eight days during the first summer session. This spring, Cassell and Radford will take their fourth trip there, again offering the course to MI students from May 28 – June 5th, 2018.
Radford and Cassell explain that the chance to work with British archives and library collections is an amazing experience. In the United States, archives tend to be less accessible, whereas in England, students are able to see and touch books and artifacts such as maps and architectural drawings that date back as far as the 1300s. England archivists and librarians allow a variety of hands-on experiences that gives students a memorable experience in thinking about exhibits and collections.
As Radford and Cassell explained, this year, one of the MI students, Lisa Thornton, has taken on an independent study that involves working with the Wroxton College librarian, Andrew Rose, to migrate the library's data to Library Thing, and eventually to a TinyCat catalogue. She has cataloged over 1300 items to date, adding tags and metadata.
Although academic work is the focus of this trip, Radford and Cassell make sure there is plenty of time for exploration and fun. There is a full day in London that is unscheduled so that students can visit museums, gardens, and see the London sights. Living in England at Wroxton means that tea time is held twice a day. Around 10:30 a.m. and 2:30 p.m., coffee, tea, and pastries are served at the Abbey where Radford, Cassell, and the students stay in college dorms with access to the usual university facilities of library, classrooms, wi-fi, and computers. A Medieval Banquet is a highlight as and students (and faculty!) attend the dinner dressed in costumes and enjoy traditional Medieval music and dinner.
The class also involves lots of sightseeing as well as the visits to libraries and archives. Oxford, Stratford, Sheffield University, London, Kew Gardens (home of England's National Archives), and Bletchley Park (where the codebreakers worked in WW II, featured in the Imitation Game movie) are just some of the amazing places students visit on this trip. If the class is not traveling throughout England learning its history or in a library working hands on with archives, lectures are conducted in classroom settings at Wroxton  and Sheffield University, and British archival experts and library scholars are brought as guest speakers.
Radford said, "My favorite part of the trip is that Kay and I are with the students for the entire time. We eat all our meals together, experience new archives and library collections together, and relax while enjoying England together."  Cassell said her favorite part of the trip is getting a different perspective outside the United States and learning something new every day.
Lisa Thornton, a student from the spring 2017 trip, said "...participating in an intensive course living and studying with faculty members and fellow students and visiting so many libraries and archives together was an unparalleled opportunity. "
Radford and Cassell say that their advice for students considering taking the course is, "Get a passport as soon as possible and register early as the first 10 MI students to register are rewarded with a $1,000 LIS Department scholarship to help pay for the program fee, the flight, and room and board."
An information session will be held by the Dean of Wroxton College, Dr. Nicholas Baldwin in March for students who are interested in going on the trip. Make sure you look out for the date coming soon and more information which will be posted to the LISSA listserv.  Also let Dr. Radford (mradford@rutgers.edu) know if you want to be put on our list of interested students to receive updates. Hope to see you across the pond! Cherrio!