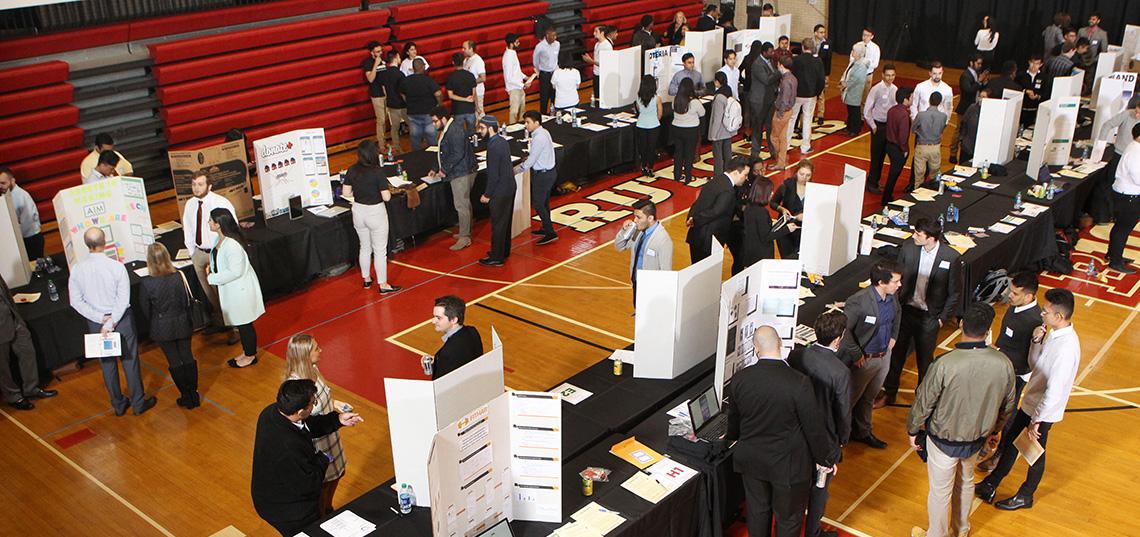 Eighth Annual ITI Showcase Demonstrates Benefits of Experiential Learning
The Information Technology and Informatics showcase gives students a chance to present their IT ideas to peers and their judges.
At the 8th annual SC&I Information Technology and Informatics (ITI) Showcase, 28 teams of students from the Management of Technological Organizations (ITI 210) class, and the Capstone course, pitched IT-based solutions to current societal problems in the areas of business, social welfare, education, and healthcare,  and demonstrated their mobile application prototypes to each other and to a panel of 22 judges drawn from academia, business, and government.
Held on May 1, 2019 in the College Avenue Gym, the Showcase was set up like a trade show exhibition, and focused on experiential learning- a key priority of the ITI program at Rutgers.
The first half of the Showcase featured the Prototype and Pitch competition. "For me, the Spring 2019 Pitch and Prototype competition was marked by an increased quality in the application prototypes the teams presented while I really liked going to a 'shark tank' like panel discussion for the Capstone class," said Part-Time Lecturer in the Library and Information Department, Program Assistant to the ITI Program and organizer of this competition Connie Pascal, doctoral candidate at SC&I.
During the second half of the Showcase, Capstone class students presented their projects, creating an experience that mimicked real-world IT product development startups.
Through the years students involved in the ITI showcase have produced over 200 Prototype and Pitch presentations and five Capstone projects.
This spring's Prototype and Pitch projects focused on solving problems in four different topic areas: Business, Social Impact, Education IT, and Healthcare IT. Both students and judges chose winning projects from each topic area with the following student teams being selected as winners:
Business: Knapsack. "Not everyone has the luxury of working from home. Knapsack is an application that facilitates remote working."
Social Impact: Donate+. "Donate+ is a platform that connects you directly with local non-profit organizations in need of donations and volunteer services."
Education IT: Pinged. "Pinged enables commuting students at universities to network outside of class, find study partners, and help them to connect to improve their overall college experience."
Healthcare IT: FocusGlass. "FocusGlass provides a way for people to protect their eyes from excessive use of computers and mobile devices."
Business: FUMUS. "Device that will utilize GPS to track lost Juul electronic cigarette"
Social Impact: Win Win. "Win Win enables shoppers to support the homeless people in their communities by purchasing extra items from partnering retailers to be donated."
Education IT: GreenLight. "Green Light is an app designed for teachers to effectively communicate with parents about the status of their children's education."
Healthcare IT: GoPatient. "Become the worldwide standard for assessing patient health care information"
Spring 2019's Capstone Projects: VetCoin and V-Play
The Spring 2019 Showcase marks the second time the ITI program has had a Capstone team take their project to the next level of development toward commercialization. There are about 10-15 students in each Capstone class that work together to simulate a real IT startup, creating both a hardware and software component. This semester marked the return of the Fall 2018 project VetCoin and introduced the Spring 2019 project V-Play.
This is the second year VetCoin has been featured in the showcase, and over the last year the team has made significant changes and improvements to the design and function of the product. VetCoin is a service dedicated to creating a more unified sense of community for both veterans and students as well as promote meaningful connections. VetCoin is a smart coin intended to facilitate and initiate social interactions between student veterans. Resembling military branches, VetCoin carries features such as augmented reality, geolocation, and wifi capabilities to enhance the user experience.
V-Play is a mobile platform designed to provide fun and interactive educational games for children ages three to seven. It uses augmented reality to integrate with the child's environment. V-Play's goal is to change the behavior of children while they are interacting with screens, specifically addressing the epidemic of the passive use of screens and promoting an exciting and dynamic learning experience. V-Play will provide children with an app that helps parents balance the amount of screen time their children are being exposed to, without taking the screen completely away, allowing children to reimagine the screen and enter the scene.
For more information about the Information, Technology, and Informatics (ITI) program at the Rutgers School of Communication and Information, click here.