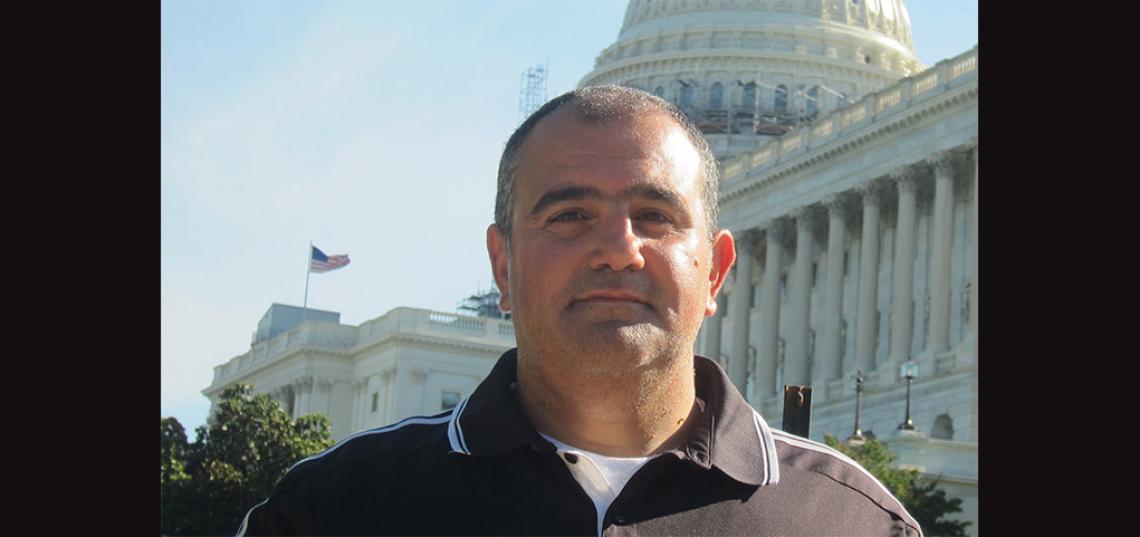 Itzhak Yanovitzky Receives Grant for Research Aimed at Increasing Access to Depression Screening and Treatment for Adolescents
This collaboration is borne out of the pressing need to address the growing problem of adolescent depression in New Jersey and nationally, Yanovitzky said.
Associate Professor Itzhak Yanovitzky is the Principal Investigator on a major grant ($955,012) from the William T. Grant Foundation to support a research project entitled "Active Surveillance of Policy Ecosystems and Networks (ASPEN) to Enhance Brokering of Research Evidence into State Policymaking."
The three-year project is a collaboration between the New Jersey chapter of the National Alliance on Mental Illness (NAMI) and an interdisciplinary team of researchers, including former SC&I faculty Matthew Weber (now at the University of Minnesota's Hubbard School of Journalism and Mass Communication), Cynthia Blitz (Center for Effective School Practices and Rutgers Graduate School of Education), Brian Chu (Rutgers Graduate School of Applied and Professional Psychology), and Ashley Koning (Director, Eagleton Center for Public Interest Polling).    
This collaboration is borne out of the pressing need to address the growing problem of adolescent depression in New Jersey and nationally. According to the most recent data from the Substance Abuse and Mental Health Services Administration, 12.6% of youth nationally (age 12-17) report suffering at least one major depressive episode in the past year. NJ ranks 4th in the nation on this indicator (10.4% of youth or 72,000 episodes), with a significant percentage of youth statewide (6.1% or 41,000 episodes) also reporting co-occurring substance abuse, anxiety and disorderly behavior. There is broad scientific consensus that routine screening and early detection of adolescent depression are necessary for addressing this problem, but current rates of screening adolescents for depression remain extremely low, placing youth at risk for substance use and suicide as well as mental health problems that carry into adulthood. In response, many states, including New Jersey, are now considering legislation that will enable universal screening for adolescent depression in schools. Many mental health stakeholders are supportive of this legislation, but raise serious concerns regarding potential unintended effects. Research insights regarding barriers and facilitators to implementation and potential intended and unintended effects can therefore facilitate the adoption and implementation of such policies.
According to Yanovitzky, research that can help answer questions regarding the implementation and potential consequences of policies is often the missing link between what we know from science that is relevant and useful and science-informed policy and practice. "Scientists often use guidelines or prescriptions to translate research findings for policymakers and practitioners," he explains. "Essentially, these tell policymakers and practitioners what to do or what needs to get done, but not also how to implement these guidelines and recommendations, which is what they really need and want to know in order to make good decisions," he added.         
Yanovitzky and Weber collaborated on a previous project that established the crucial role of knowledge brokers (or intermediaries) in linking research to policy and practice. They were able to identify five crucial functions that knowledge brokers perform in this context: awareness (drawing attention to relevant research), accessibility (making research more accessible and comprehensible to decisionmakers), engagement (influencing decisionmakers to consider and value research-based insights), linkage (using research to connect actors who seek solutions for the same problem), and mobilization (pushing for the available evidence base to be used in policy and practice). However, knowledge brokers can only be effective to the extent they can broker research that directly address decisionmakers' needs, so it is important to ensure they have access to such research.     
The project will assess the efficacy of a novel capacity-building intervention designed to equip knowledge brokers (specifically, youth mental health advocates) with research evidence that is relevant to the implementation of the pending legislation via a tool – a knowledge portal (ASPEN) – and assess their use of this resource. A select group of knowledge brokers will receive, in addition training on strategic uses of the research available through the portal, and their pattern of research evidence use will be compared to those who do not receive similar training. The specific research questions that guide this project are: (1) what types of research evidence relevant to the implementation of universal screening for depression in schools are used by policymakers and knowledge brokers? (2) what is the scope, nature, and timing of policymakers and brokers' use of such evidence? (3) to what extent does training knowledge brokers on the strategic use of these types of research evidence influence their education and advocacy activities? and (4) what, if any, are the effects of the intervention on improving use of research evidence in this context?
Beyond answering these specific questions, the project is intended to stimulate greater engagement of policymakers in New Jersey and beyond with research that can support sound policies that will increase access to depression screening for all adolescents and connecting them with adequate treatment as necessary. Indeed, this is NAMI NJ's primary motivation for partnering on this project, according to Meredith Masin Blount, its Executive Director. NAMI advocates for mental health screening that is voluntary and available for all children; requires obtaining parental consent or consent from legally authorized surrogates; utilizes instruments shown to be reliable and effective in identifying children in need of further assessment, including being culturally and linguistically appropriate and administered in a manner appropriate for culturally and racially diverse communities; administered and interpreted by appropriately trained and qualified professionals; are not used in a discriminatory manner, with all information related to screening kept strictly confidential and the privacy of youth and their families is protected; and all children identified as requiring mental health services immediately linked to and offered appropriate treatment and services and provided with comprehensive information about treatment options, the mental health treatment system, and family and community support resources.
Craig Scott, Professor and Chair of the Department of Communication, said, "This grant recognizes the leadership Dr. Yanovitzky has been playing in helping to improve various communities through the use of evidence-based research. More specifically, the funding will help make it possible for Dr. Yanovitzky and his collaborators to conduct some much-needed research to better address adolescent depression. This sort of engaged scholarship is one of the hallmarks of research coming out of the Communication department and Yanovitzky's work is at the forefront of those efforts."
For more information on the Department of Communication at the Rutgers University New Brunswick School of Communication and Information (SC&I), click here.