JMS Class Travels to Guatemala to Study Media and Culture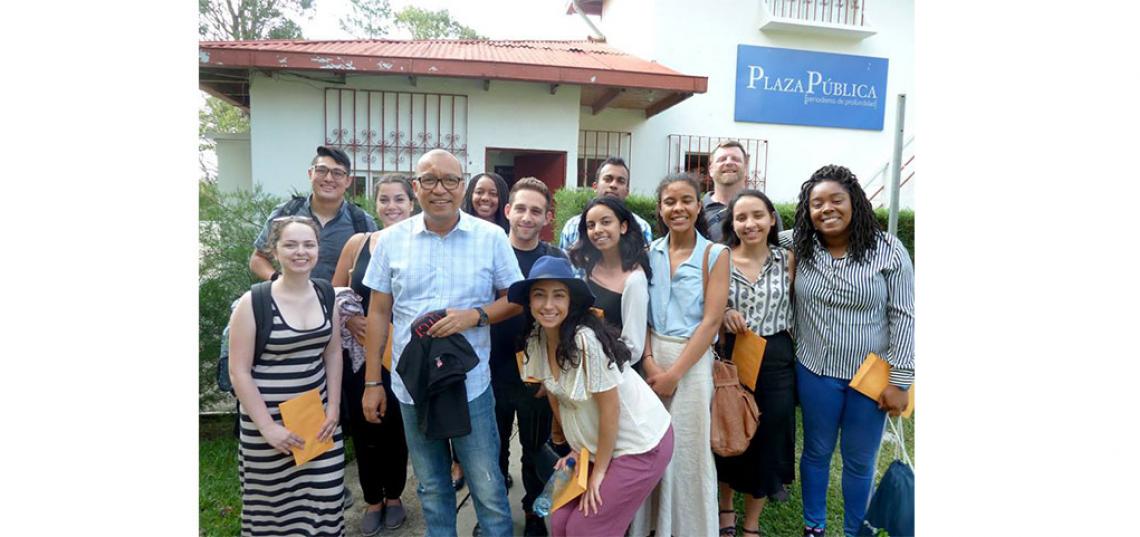 On May 17, Associate Professor Regina Marchi led a group of 12 Journalism and Media Studies (JMS) students to Guatemala. From the capital to small Mayan villages, they travelled the country and saw places most tourists do not see. The students were taking Marchi's course, titled Media and Struggles for Democracy in Central America, and the class set out to understand the media climate in Guatemala and its impact on national democracy.
Marchi said, "The general goal of the course is to expose students to different cultural, political and media systems and to give them a taste of life in another country… I used to live in Guatemala and worked there as a journalist. Using Guatemala as a case study for the Central American region, the goal of this course is to provide students with the history and context of political struggles in Central America and the role of media in both abetting and thwarting struggles for democracy."
The group saw Guatemala's natural beauty, including Lake Atitlan, which is considered Central America's most beautiful lake. But they also dove into the lives of Guatemalan citizens. The schedule included visits with journalists, activists, indigenous groups and community organizations. Spending time in smaller towns provided the students with unique perspectives into local life.
With such a great itinerary, it was difficult for students to decide on their favorite part of the trip. According to Marchi, students enjoyed speaking with Eddie Fernandez of El Diario de Centro America, who gave a comprehensive overview of media in Guatemala. They also appreciated meeting with Dr. Silvia Monzon, a Guatemalan sociology professor who helped found the "first and only feminist radio station and feminist newspaper in Central America." Finally, they "loved visiting the orphanage, where we spent an afternoon playing with children and learning more about the political and social reasons why Guatemala has so many orphans."
After ten days of exploring Guatemalan life, the group returned with a newfound perspective, and a new bond. Although much of the class did not know each other prior to the trip, they came home with a different dynamic. Marchi said, "You are living, eating, studying, and having adventures together all day every day, so people who don't know each other often end up becoming lifelong friends. That is another goal of our study abroad courses - to facilitate interaction and friendships between people of differing races, ethnicities, religions, socio-economic backgrounds, etc. who might not normally hang out together."
Marchi created a Facebook page, where the students posted about their daily activities for friends and family to see. At the end of the trip, each student posted reflections on his or her experience.
Andres Echeverria wrote, "Coming from a Guatemalan family, I thought I knew a lot about the country before this trip. I could not have been more wrong. It was all I imagined it to be and so much more. From the beautiful and diverse people of the three places we went to, to the beauty of the architecture and landscapes that the group came across. For me, however, the aspect of the trip that was most touching was meeting the people who are fighting for a better Guatemala."
A common theme throughout the student's reflections was their admiration for Guatemalan journalists. According to Marchi, Guatemala has a "long history of brutal dictatorships, little freedom of the press and horrific human rights violations." Although Guatemalan journalists face censorship, they continue to publicize important news to their fellow citizens.
In another Facebook post, Nour Seleem wrote, "We met hopeful and fearless journalists in a country that isn't sympathetic to their profession. In the U.S., the media is now often viewed as "fake news" but it is important to check our privilege to the peril that's facing other journalists in Guatemala and beyond."
This is the second year that the course Media and Struggles for Democracy in Central America was offered, and Marchi hopes it will continue on for years to come. She said, "Every single student who has gone with me to Guatemala, even those who were hesitant and nervous beforehand, told me afterwards that it was a life changing experience that they will never forget."
If you are a student interested in a trip like this, but slightly nervous about it, Marchi says, "You only live once! NOW, while you are young, while you don't have a mortgage to pay and a family to support and a full-time career to maintain, NOW is the time to explore the world, learn about other cultures, and learn more about yourself in the process. It is amazing how much personal growth happens on these trips."
On top of nerves, Marchi notes that cost is also a factor that prevents students from applying. However, she said, "In all honestly, you are unlikely to find a less expensive opportunity to travel abroad. We professors know the countries very well and know the safest, most affordable and most scenic places to lodge and eat. We negotiate group deals on ground transportation, museums and excursions. We write grants and seek departmental funding to help subsidize the cost of each trip. So, take advantage of this opportunity now, while you can! Once you graduate and get a full-time job, it becomes more expensive and more difficult to travel. And you're no longer entitled to student discounts."
This is not the only SC&I class that includes a study abroad trip. The Journalism and Media Studies major has also offered trips to Italy, England and France. To learn more about the major, please click here.