JMS Student Naimi Patel '18 Named Henry Rutgers Scholar Award Recipient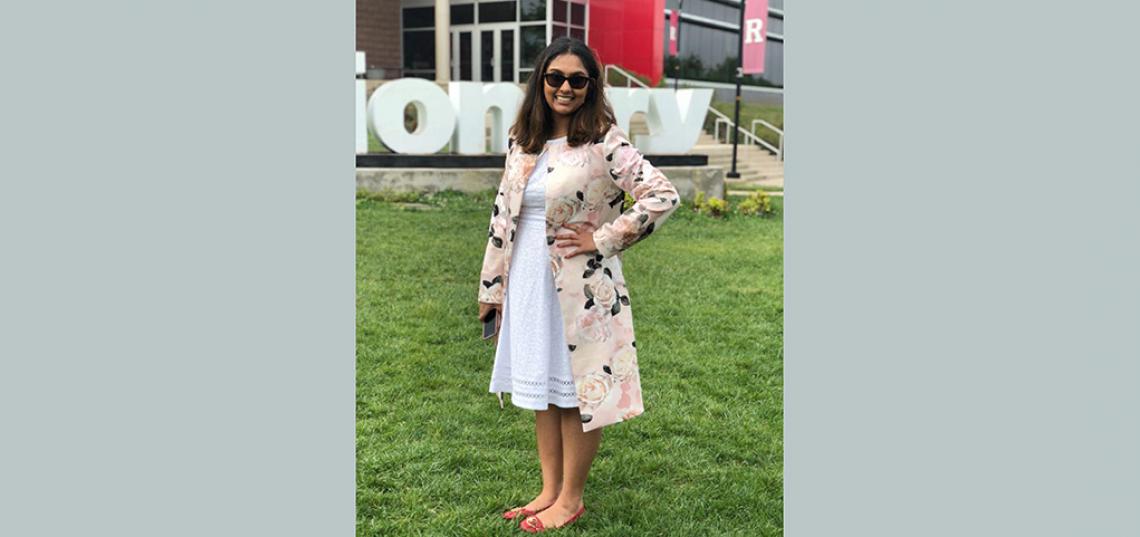 The Rutgers University-New Brunswick School of Arts and Sciences (SAS) has named Naimi Patel '18, an interdisciplinary honors student who majored in Journalism and Media Studies (JMS), Religion and Philosophy, a recipient of the prestigious Henry Rutgers Scholar Award. Through this award SAS recognizes a select number of graduating seniors who have completed outstanding independent research for their interdisciplinary theses.
The award includes a prize of $1,000.00, and SAS included Patel's name, along with the names of the other Henry Rutgers Scholar Award recipients, in the 2018 SAS commencement program.
Patel was nominated for the award by her honors research and thesis advisors, SC&I's Teaching Professor Mary Chayko and Professor Edwin F. Bryant of Department of Religion in SAS. Patel's honors thesis was titled "Digital Religiosity: Rethinking and Reconceptualizing Notions of Authority and Autonomy in Modern Media Studies and Religious Studies Scholarship."
According to SAS, in a letter sent to Chayko notifying her of Patel's award, "The Henry Rutgers Scholar Award recognizes graduating seniors who have completed outstanding independent research projects leading to a thesis in their major field of study or an interdisciplinary thesis.  These awards are offered across all departments of the School of Arts and Sciences, and so represent only the very finest achievements of our students."
"Naimi's research is much-needed and will prove to be fundamental in understanding the dynamics and implications of digital religiosity," Chayko said. "It builds on interdisciplinary understandings of religious traditions in physical spaces and extends this work to the digital sphere. Naimi's work will be pivotal to future studies of how digital online media constrain and enable those who seek to practice their faiths and build communities together."
Describing the outcomes of her thesis, Patel said, "Digital religiosity has emerged and flourished over the past few decades following the introduction of new media technologies. We are all familiar with televangelism, online church services, temple services, etc. But why do people participate in these religious platforms? What is their relationship with religious authority, especially in an age when religious authority has been scrutinized by popular public platforms? I chose to focus on the relationship between authority and autonomy in Hindu digital religious spaces. Is the relationship disjunctive (religious authority limits individual autonomy) or is it complementary (religious authority works with individual autonomy? I found that the relationship was more complementary because of theological beliefs and motivations."
When Patel arrived at Rutgers as a freshman, she intended to major in Cell Biology and Neuroscience. However, she soon changed her plan. "I decided to take most of my humanities electives my freshman and sophomore years and found myself hooked to the point that I couldn't let any one major go. My Dad always taught me to deep dive into everything that I am passionate about. So because I followed his advice, I am here today," Patel said.
Following graduation, Patel will take a gap year to travel to India and learn Sanskrit. She will then return and begin a master's degree in religious studies. Ultimately, she plans to earn a Ph.D. and become an academic.  
Asked if she has any suggestions for incoming freshmen about the best ways to manage their time and get the most out of Rutgers, Patel said, "Never give up! Take breaks! Sleep! Eat! Introspect to understand yourself. When you go to class, don't focus on the end result—focus on the process and soak up as much information as you can, attempting to really understand the information (not for anyone else, but only for yourself). Create a schedule and follow it.
"Explore. Explore. Explore. Find you passion and deep dive into it. Focus on bettering yourself as a global citizen and on bettering your community. You can achieve more than you think—Rutgers will help you on this journey!"
To learn more about the Journalism and Media Studies Department at SC&I, please click here.