Juan González Publishes New Book: "Reclaiming Gotham"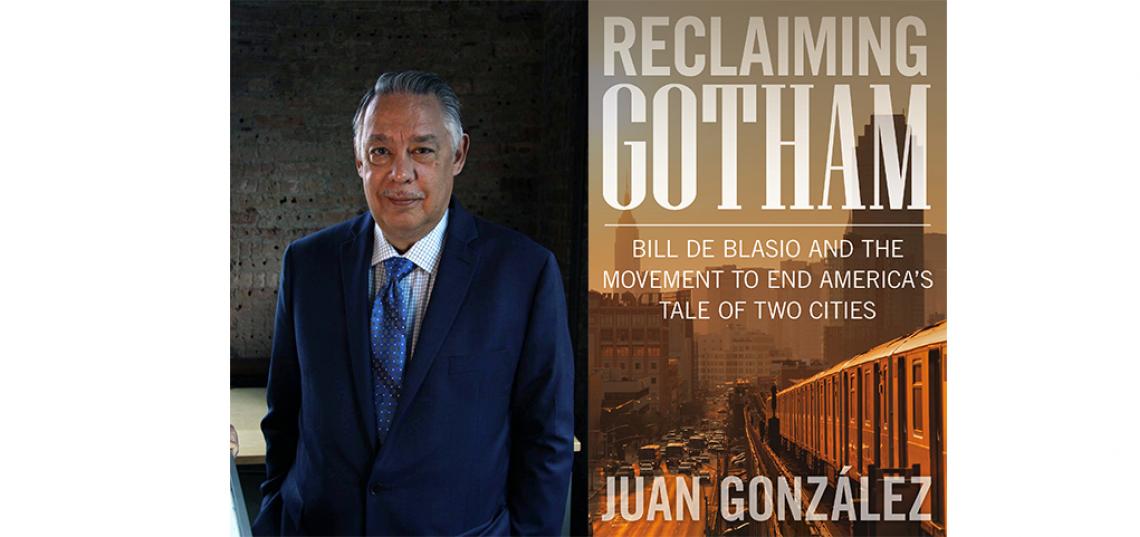 Professor of Professional Practice in Journalism and Media Studies Juan González has written a new book titled "Reclaiming Gotham, Bill de Blasio and the Movement to End America's Tale of Two Cities."  Published by New Press, in this book González explores the "left-populism" movement that González asserts led to New York City Mayor Bill de Blasio's election in 2013. The book also examines de Blasio's administration, and the elections of other officials (in New York City and other American cities) who rose to prominence on the same wave of public sentiment.
A co-host of Democracy Now! and a former staff columnist at the New York Daily News, González is the recipient of many awards and honors. He is a two-time recipient of the George Polk Award for commentary (1998, 2010); he was inducted into the Deadline Club's New York Journalism Hall of Fame in 2015; he is Founder and Past President of the National Association of Hispanic Journalists; and he has received Lifetime Achievement Awards from the Hispanic Heritage Foundation, the National Council of La Raza and the National Puerto Rican Coalition.
To learn more about "Reclaiming Gotham," be sure to attend one of the book signing events listed below, or read the book reviews (also included below).
"Reclaiming Gotham" Book Launch and Signing Schedule, September and October, 2017
Sept. 7 at 7 p.m. at the Alvin Johnson/J.M. Kaplan Hall at the New School, 66 West 12th St. in Manhattan, will be the book's launching. The event will include a conversation with Democracy Now! host Amy Goodman and New York City Council Speaker Melissa Mark-Viverito. Earlier that day, González will be interviewed on the Brian Lehrer Show on WNYC.

Sept 9 at 1 p.m. at the Actors Gang Theater in Culver City, California, with Actor Tim Robbins as host and NPR's Mandalit del Barco.

Sept 9 at 6 p.m. Tia Chucha's Centro Cultural & Bookstore13197 Gladstone Ave. - Unit A, Sylmar CA 91342

Sept. 12 at 6:30 p.m. at Busboys and Poets Bookstore, 5th and K St., Washington D.C., in conversation with Washington Post columnist Joe Davidson.

Sept. 14th at 7 p.m., Changing Hands Bookstore in Tempe, Arizona.

Sept. 15 at 5:30 p.m., Workers Defense Project Center in Austin, Texas.

Sept. 29 at fundraising event for KKFI radio in Kansas City.

Sept. 30 at University of Maryland, conference on "Latino Diaspora and the Great Central American Migration."

Oct. 5 at City Lights Bookstore in San Francisco.

Oct. 6 at Pegasus Bookstore in Berkeley, Ca.

Oct. 13 at the University of Virginia in Charlottesville.

Oct. 14 at the State University of New York, Albany.

Oct. 17 at noon, at the Puffin Center in Teaneck, N.J.

Oct. 17 in the evening at the Gotham Center, City University of New York.

Oct. 18, 7 p.m. at the Rutgers Bookstore, New Brunswick, NJ.

Oct. 20 at Princeton University.

Oct. 26 at the Free Library of Philadelphia.

Oct. 27 at Town Hall in Seattle.
"Reclaiming Gotham" Book Reviews
New York Times: "How's de Blasio Doin'?"
Publishers' Weekly: "Journalist González makes the case for New York City mayor Bill de Blasio as representative of a growing progressive movement against inequitable city governance. For background, González discusses housing discrimination in New York City and at the federal level as far back as the F.D.R. administration, an injustice that he cites as a cause of the race riots of the 1960s. This section may feel familiar to readers already well-versed in U.S. urban policy or racial history, but González offers facts and figures with fierce clarity, and it's the consistency of his examination of politicians' promises versus their policies that sustains the book. González makes the case that de Blasio's policies should be seen through the lens of his progressive upbringing as well as the larger progressive pushback against pay-for-play politics. The battle over stop and frisk is detailed, as are a paid-sick-leave initiative and the city's universal pre-K program. González doesn't paint de Blasio as a progressive saint, detailing his administration's missteps and the resulting backlash. Later chapters that examine how the progressive agenda has spread to other cities make it clear that de Blasio is a factor in, and not the whole of, this movement. González's book gives progressive readers a reason to have hope for the future of cities. (Sept.)
KIRKUS REVIEW: "A leading Latino journalist looks at the left-populist uprising that brought Bill de Blasio into the New York mayor's office and sharpened the nation's blue-red divide. As Democracy Now! co-host González (Fallout: The Environmental Consequences of the World Trade Center Collapse, 2002, etc.) notes, de Blasio's electoral victory in 2013 was far from a certainty, but it expressed a frustration with the status quo—and especially a sense that the best things of the city had been handed over to the very wealthy. That win instituted "the most left-leaning government in the history of America's greatest city." But de Blasio's victory was also not isolated. González suggests that from the outset, "de Blasio believed no single city, not even New York, could successfully reduce income inequality on its own," seeing himself in the vanguard of a populist movement that would reshape America's cities and recast federal policies relating to them. In this he has been only partly successful, even as many of his reforms—on immigration, fiscal policy, family leave, and higher taxes for the wealthy—have hit stumbling blocks and some once-progressive city governments have moved to the middle or even right. Still, as the author notes, de Blasio's victory was not singular. With him came many other progressives in New York government, helping make the city more unlike so many other places outside of it—for one thing, it is both a center of undocumented immigrants and also "an engine of enormous prosperity." (He also notes, significantly, that so-called sanctuary cities have lower overall crime rates than their anti-immigrant counterparts.) González is a touch worshipful, not toward the mayor as much as the cause, but also not uncritical of missteps and blunders. Urban activists in other cities have much to learn from New York's experience, and González's book makes a good place to start."