Kim Receives Grant to Enhance Social Engagement Among Older Adults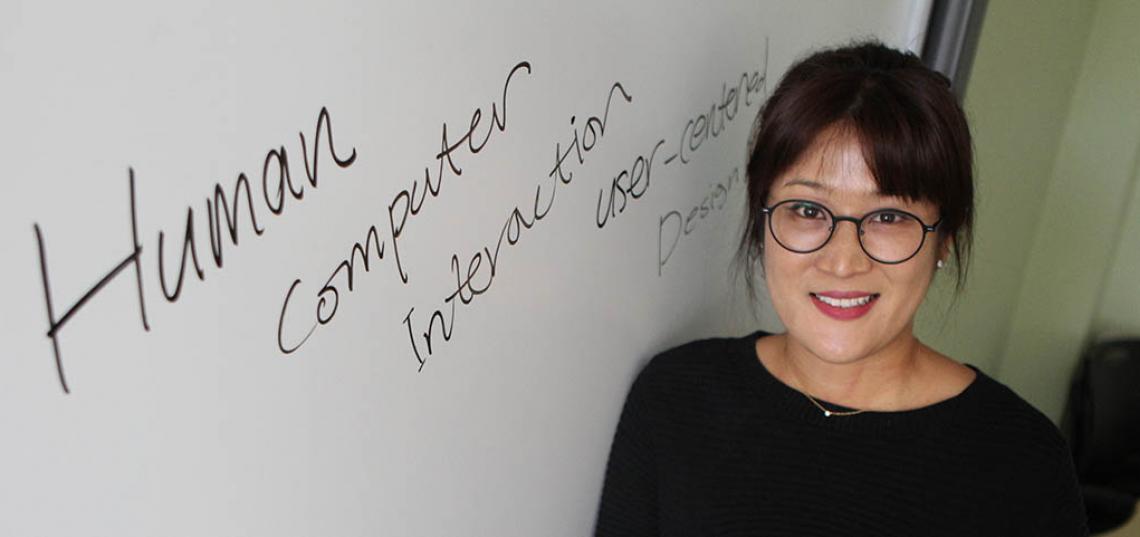 Assistant Professor of Library and Information Science Sunyoung Kim has recently been awarded $34,011.00 from the New Jersey Health Foundation for her proposal titled, "Developing a Dialog-Based Personal Assistant to Support Social Engagement Among Older Adults."
Kim plans to use the funding to create a technology that aligns closely with her research interest focused on enhancing quality of life through technology.
"My research interest, in general, is to improve quality of life through creative use of new technologies," Kim said. "Especially, I'm very interested in the quality of life of marginalized populations, like low income populations or aging populations. Those who cannot fully benefit from these new technologies."
While conducting research that led to her decision to write the proposal, Kim observed problems with social engagement among the aging population. In the population of aging adults, social isolation is often seen because of deteriorating health and loss of friends or loved ones. This social isolation can lead to depression and other mental as well as physical health issues
"I thought, is there any way to somehow improve older adults' social engagement and social activities through the use of upcoming new technology?" Kim said.
Kim then became interested in "smart speakers," such as the Amazon Echo or Google Home.
"I think there are several potential benefits of these smart speakers for older adults. For example, you do not have to fiddle with a mouse or keyboard interface because a smart speaker is basically meant for you to use your voice. You have a dialog to interact with it."
Kim plans to use the funding to develop an application for a smart speaker that will act as an intelligent assistant to older adults living in assisted living facilities. The device will help overcome forgetfulness as an obstacle for social engagement.
"The way that the system will work is the staff members at the assisted living facility will have a website where they enter or manage upcoming social events, ranging from dance parties to reading groups, as well as community-wide events," Kim said. "Then every day in the morning the smart speaker will tell the user what events are taking place that day or the events that they are interested in attending."
The device will also serve to remind older adult users about events such as birthdays and graduation dates pertaining to distant living family members. This feature will allow users to stay connected with family members despite their distance from the user.
A third feature of the device will increase social engagement among older adult users within assisted living communities. It will enable users to interact with each other by allowing them to record and send messages through the device.
Kim told SC&I that her focus of study, which is increasing quality of life through the cultivation of user-friendly technologies, is increasingly important in this society where computers dominate everyday life.
"Because people are increasingly surrounded by computing devices, computers are not anymore something that people have to learn how to use," Kim said. "The computer should be able to be used easily by an average person, someone who is 80 years old. If you cannot figure out how to use a product, you will give up on it and move on to some other device."
Kim said that one of reasons that some people reject new technologies, especially in the aging population, is because they have not yet realized how useful and usable the technology can be.