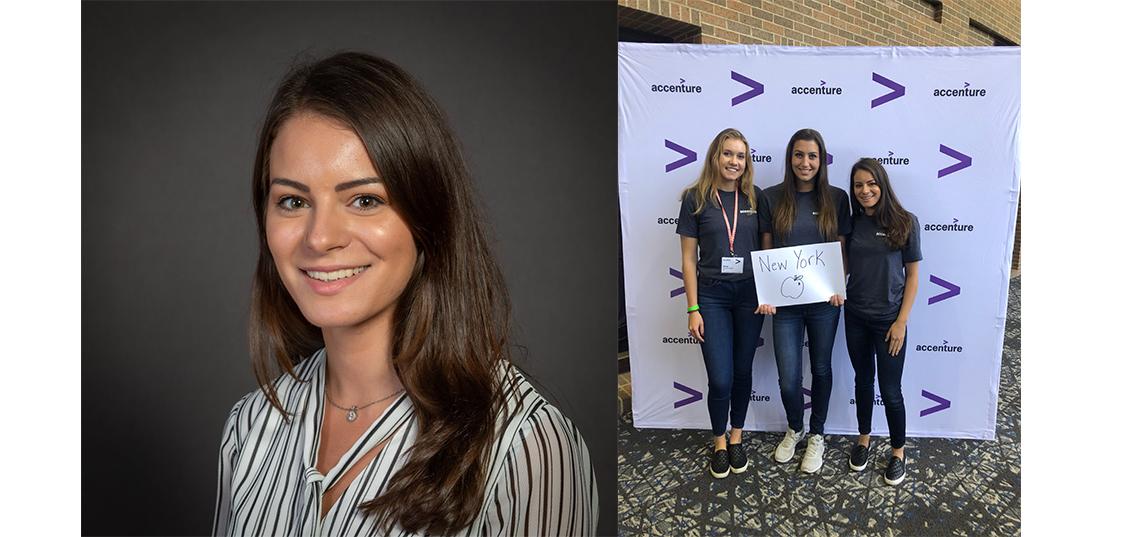 Maria Migliorino '20 Excels as a Summer Analyst at Accenture
Migliorino, an ITI major, said her greatest achievement during the 10-week summer internship was "to deliver value to the client through mastery of our project scope and available tools."
Last summer, Maria Migliorino '20 rose very early to head to her internship as a Summer Analyst at Accenture's New York metro offices. Having landed the prestigious and highly- competitive internship at the world-renowned firm, Migliorino spent 10 weeks with fellow-interns from Columbia University, Princeton University, and other colleges and universities, as a vital member of a team tasked with adding value to Accenture's international clients.
Accenture (Accent on the Future) is a Fortune 500 global management consulting company that employs 459,000 people globally.
Migliorino, an Information Technology and Informatics major at SC&I and an Entrepreneurship Minor at the Rutgers Business School in New Brunswick, was well-prepared and excelled. "While there are a multitude of takeaways I can list from this summer," she said, "it was my greatest achievement to deliver value to the client through mastery of our project scope and available tools, to create consistently high-quality deliverables across a diverse portfolio of client asks."
Migliorino was on a client that allowed her to learn more about software development. Her role was to use the technology and business skills she has developed at Rutgers to build value for the client.
Monday-Thursday she reported to the client site in New Jersey, while on Fridays she reported to Midtown or Soho to attend networking events and informational meetings to learn more about Accenture and decide how she could best serve the organization based on her strengths and interests. One weekend she flew to Chicago for a 3-day meeting the company held for its 500 North American interns.
"Maria did an amazing job this summer," Maria's senior manager wrote. "She quickly ramped up on a complex program that was constantly changing, and then took over the lead analyst role while our primary resource was out for a month."
The most important skills she needed to succeed at Accenture, Migliorino said, included "communication- presenting, being able to adapt myself to speaking to audiences at all levels, and to establish rapport with the client and the internal team. Everyone on the project is there to build a cutting-edge solution.  the intern, the analysts, senior manager, the managing director. As a part of the team, I had to take ownership of my deliverables, which included making presentations, driving client meetings, engaging in weekly check-ins with the team where we discussed how we could improve ourselves and ask for help. As interns, we needed to engage, be curious, offer assistance and earn responsibility. Interns have to be sharp, and utilize the resources the company offers in order to better ourselves and enhance our skillsets."
Migliorino was required to learn a computer language and a software program in order to create her deliverables.  "I am grateful to have been exposed to a group of people who are so driven to achieve great work," she said.
Migliorino also took the ITI Internship class with SC&I's faculty member Connie Pascal over the summer, so she could earn course credits for her internship. She explained she received questions every week from Connie that helped her to think of the internship in a deeper way.
Migliorino credited the following professors for directly impacting her success at Accenture through their course content. Her list includes five ITI faculty members, and one from the Business School (the first two are her mentors): SC&I's Charles Collick - IT Project Management Course; the Business School's Chris Crawford - Managing Growing Ventures (Entrepreneurship); and SC&I's Kristen Luciani - Management of Technological Organizations; Connie Pascal - ITI Internship Course;  Chris Leeder - Social Informatics; and Diana Floegel - Gender and Technology.  
This fall, back at Rutgers for her senior year, Migliorino is teaching a FIGS (First Year Interest Group Seminar) instructor for 25 first-year students at Rutgers. "I will be teaching a course called 'Exploring Information Technology Informatics,' she said. "My main goal in this course is to expose students to emerging technologies in the industry and inspire them to be intellectually curious on their own to learn more about them, to hopefully partake in their own independent projects or entrepreneurial endeavors."
After the internship was over, she received an invitation from Accenture to come back. While the company has offices all over the world, Migliorino said she's positioned herself to go to NYC to hopefully work in the high-tech part of Accenture's Communication, Media and Technology (CMT) division.  
"Maria has potential well beyond her years," her senior manager at Accenture said. "She is driven and a leader, and will be in a position to lead others very quickly upon starting her post- collegiate career. She demonstrated her leadership this summer, and just as importantly she demonstrated her ability to handle and manage an unsteady project. She is quick to learn and a key member of the team, and will therefore be an extremely valuable asset wherever she starts her career, as she was to us this summer."
For more information about the Information Technology and Informatics major at the Rutgers School of Communication and Information (SC&I), click here.