Master of Information Student Goes from Library Novice to Professional Librarian
Obtains Position at Conservatory in Philadelphia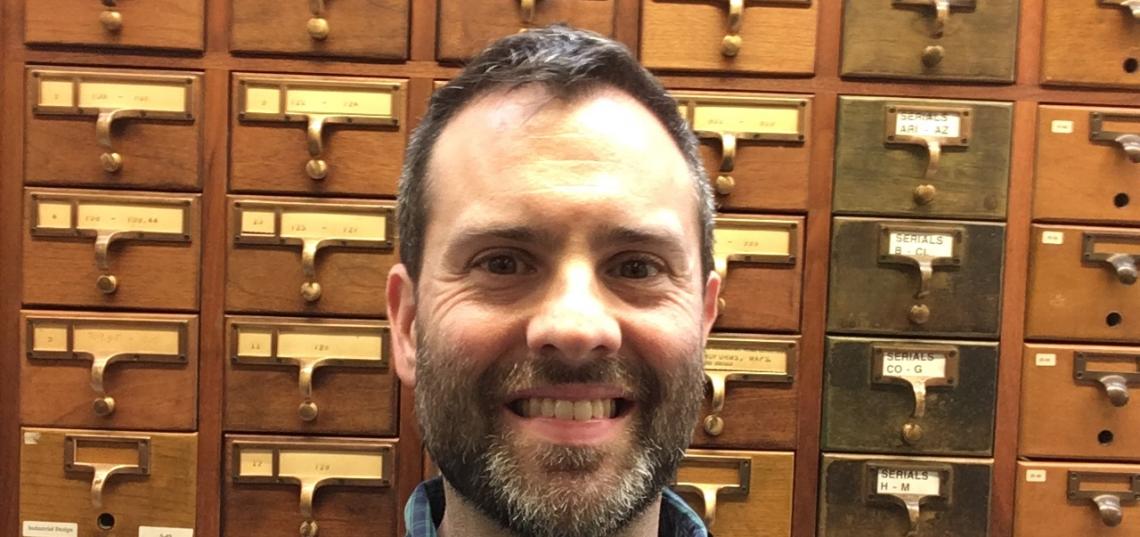 Starting the Library and Information Science concentration in the Master of Information (MI) program with no hands-on library experience didn't stop Pete Williams from excelling in his field and landing a position as media and metadata librarian at the Curtis Institute of Music. Set to graduate this December, Williams recently spoke with us about his experience with the MI program, how technology is impacting the LIS field, and advice for current students and recent graduates looking to enter this industry.
Why did you choose the Master of Information (MI) program?
Rutgers University has a good overall reputation, and the tuition was more affordable than comparable programs. I liked the variety of coursework and flexibility of the concentrations. The LIS concentration was also important, as I had already planned to work in academic libraries.
Can you describe your new position as media and metadata librarian at the Curtis Institute of Music?
Curtis is a smaller institution, so I'll have the chance to do lots of different jobs. I'll be responsible for cataloging all of the new audio and video recordings we acquire, as well as developing our collection of academic books. Additionally, the library has recently started building a digital repository for its recordings of student and faculty recitals, so I'll be adding files to the repository, cataloging newly digitized audio and video recordings and creating new records for our born-digital recordings. I'll also have opportunities to do library instruction as well as manage the periodicals collection.
How do you think the MI program has prepared you for this position? 
My coursework has provided me with a solid foundation on which to build skills in my new position. Since I'm doing lots of cataloging, the Cataloging and Classification course has been invaluable. Also, the Info Tech course has made me less scared of using HTML, CSS, and other tools when I have the opportunity. The Information Literacy class got me thinking critically about instruction, libraries, and information in general; I expect that the lessons I learned in that course will reverberate through all areas of my professional career.
In your opinion, what are the top 3 benefits of the MI program? 
Flexibility of the online program—this made it easier to balance classes and work.
Availability of faculty—faculty were usually very easy to contact and quickly responsive to emails.
Variety of courses—I could choose from a range of topics that aligned with my career goals or offered something new.
With the library and information science industry consistently evolving through technology, how do you think those entering the field can equip themselves in this area?
Though my new position is somewhat tech-heavy, I was not hired for any specific technical expertise I have. (My predecessor has much more knowledge in this area than I do.) But I believe I demonstrated to my employer that I am open to learning new technologies and can do so quickly and often independently. Luckily for me, mastery of the latest technology or digital tool is not the only criterion for employment in a library.
Did you have a specific faculty member or mentor at SC&I that helped guide you in the right direction professionally?
Professor of Library and Information Science Marie Radford, Ph.D., has been my advisor and made herself available early on in my time at Rutgers. Her support and encouragement has led me to the right courses, conferences, and people to get started in my career.
Part-time Lecturer Emily Drabinski is a challenging and supportive instructor whose course in information literacy ought to be required for everyone in the MI program. She is a model for critical librarianship, professionalism, and kindness.
What advice do you have for current students and upcoming graduates who want to launch a career in your field?
If you're like me and you haven't worked in a library before starting your MI, try to do some kind of library work—part-time jobs, internships, etc.—while you're working on your degree. This really helped the courses feel practical and useful in my career. And sometimes there's the chance an internship could turn into a full-time job.
For more information on our MI program, go to https://comminfo.rutgers.edu/academics/graduate/master-information