Michael O'Sullivan '17 Graduates from SC&I at Age 43
The ITI alumnus went from WABC intern to WABC employee.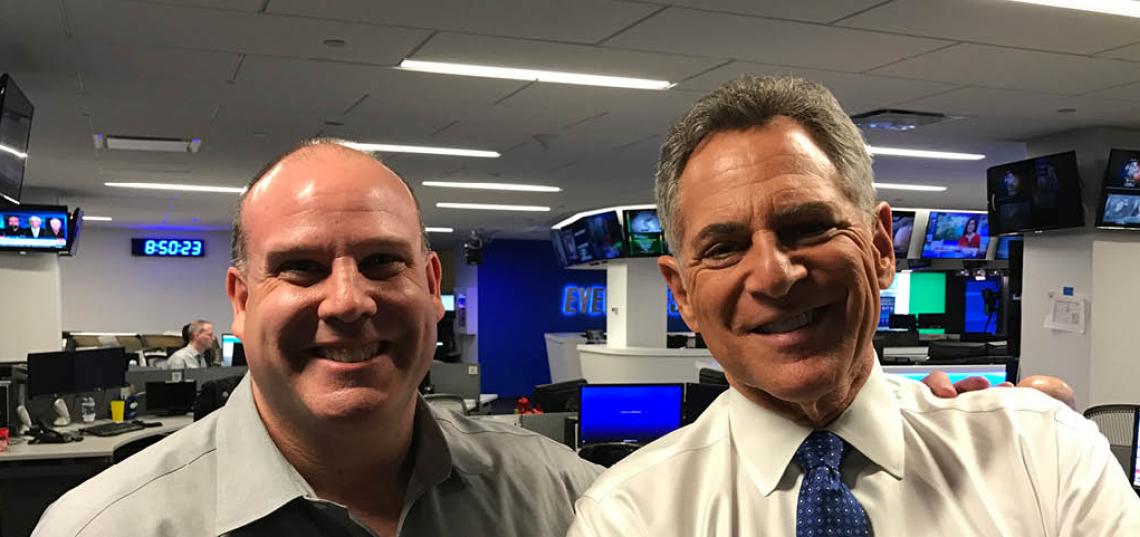 During his time as a SC&I student, Michael O'Sullivan '17 learned a valuable lesson he can teach us all: it is never too late to make a major life change. On May 14, 2017, he graduated with a bachelor's degree, with a major in Information Technology and Informatics (ITI), at the age of 43. In June 2017, WABC's Eyewitness News in New York hired him full time as a desk assistant.
O'Sullivan's journey began at Rutgers in 2013, when he took two continuing education classes, User Experience and Design and Mobile App Development. He said, "They ignited my passion for technology. After receiving an A in both classes, I learned of the ITI program, and how that curriculum could lead to a successful career in media."
Starting college at the age of 40 definitely led O'Sullivan outside of his comfort zone. However, his first day nerves were eased by Director of Undergraduate Studies in Journalism and Media Studies Steve Miller. O'Sullivan said, "Steve understood where I was coming from, being in a lecture hall where he and I were the only ones who knew who "The Honeymooners" were. He really made the transition an easy one for me, and provided a foundation for me to build on."
O'Sullivan attended school full time and commuted every day. He said, "If I was going to do this, I wanted to be 100% committed and focused."
His dedication and enthusiasm were severely tested in the fall of 2015. In addition to typical college stressors, he had to cope with devastating news: his father was diagnosed with stage five cancer. O'Sullivan was nearly overwhelmed, between constant concern for his father, hospital visits and his classes, but he was able to remain focused on his studies. In the fall of his sophomore year, O'Sullivan's father passed away. In his memory, O'Sullivan honored him with a 4.0 GPA that semester, and every semester thereafter.
O'Sullivan's hard work earned him an internship during the spring of 2017 at WABC-TV New York. He said, "My favorite part was watching the entire newsroom function, and the utilization of the technology to produce news and stories that inform people. Observing the pipeline of checks and balances before releasing the story. In addition to the creative process, the distribution of that information was also fascinating based upon non-traditional forms of communication, as well as traditional. There's only so much you can experience in the classroom. Making the internship a valuable experience all together."
WABC-TV's Eyewitness News Anchor Bill Ritter did a Facebook Live video in December interviewing O'Sullivan. Ritter and O'Sullivan have something intriguing in common: they both went back to school decades after most people start.
Ritter said about O'Sullivan, "What's really impressive about Mike isn't only that he went back to school, it's that he's always trying to better himself.  He's never willing to just accept things as they are."
According to Ritter, the 11 o'clock p.m. newscast is ABC's biggest show, yet it has the smallest staff. Because of this, he was able to get to know O'Sullivan quite well. Ritter recalls O'Sullivan continually asking for feedback. Ritter said, "I'm not sure all younger people would do that. But Mike has enough experience to know that feedback is how you grow."
Ritter and O'Sullivan are both proponents of getting those who opted out of college to start or go back. O'Sullivan says, "Follow your passion. Life is full of challenges and obstacles, you have to keep pressing on regardless of what is in front of you. We can always make excuses to not do something. No one can talk us out of taking chances more than ourselves, but you know in your heart what you have to do and you get to work."
A month before graduation, O'Sullivan was notified that his mother passed away suddenly. O'Sullivan said, "I couldn't help but think how happy they would've been to see me graduate. But I know they had a nice spot in heaven looking down. Especially with the university graduation ceremony on Mother's Day."
In May of 2017, O'Sullivan graduated summa cum laude, and a month later he was hired at WABC, proving that his dedication and networking at WABC really paid off. As a desk Assistant, he is responsible for running the teleprompter, pulling file video for newscasts, assisting the digital team, producers and assignment editors.
O'Sullivan is proof that anyone can do anything they decide to do, age is not an obstacle!