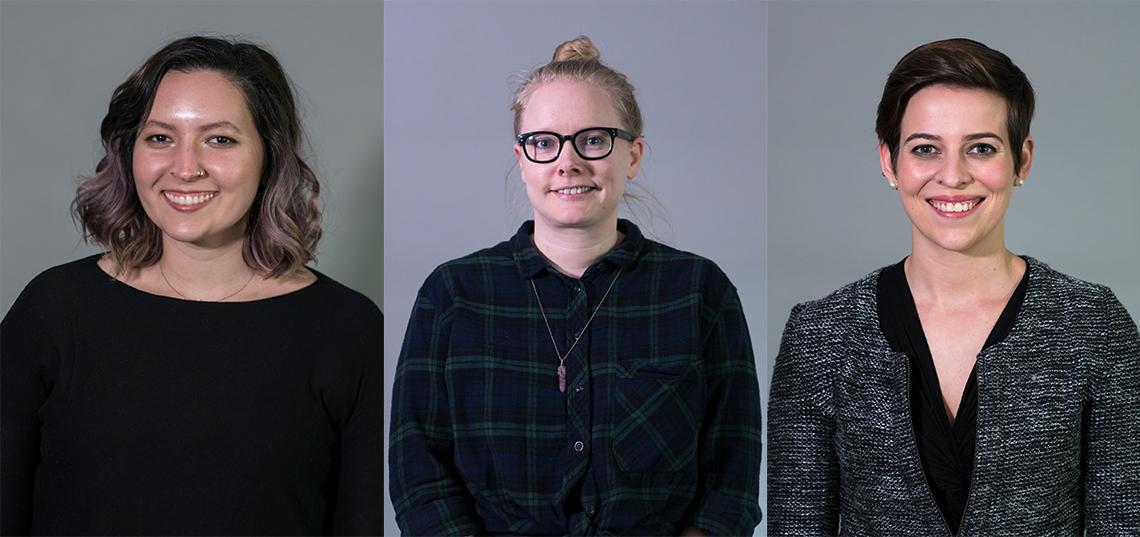 Ph.D. Award Summer Roundup: Three SC&I Students Receive National Recognition
This summer, three of SC&I's Ph.D. students, all women, were recognized by national organizations.
This summer, SC&I doctoral students Kate Gressitt Diaz, Fredrika Thelandersson, and Nicole Weber were recognized by national organizations. They are all pursuing doctoral degrees in SC&I's Ph.D. Program in Communication, Information and Media, and they are all concentrating in Media Studies. They received the following awards:
Katie Gressitt Diaz won the top student paper award in the International Communication Association (ICA)'s Philosophy, Theory & Critique division for her paper, "Hear Something, Feel Something: The construction of effective listening publics and the securitization of the Arab voice." Gressitt Diaz is currently studying how voice, listening, and silence are implicated in race-related communication taking place in digital media spaces.
Fredrika Thelandersson was awarded the American Dissertation Fellowship from the American Association of University Women (AAUW). The fellowship will support Thelandersson's work in the 2019-20 academic year. She focuses on media, culture, gender, and affect studies.
Nicole Weber was named the winner of the "Top Poster Award" in the Feminist Scholarship Division of the International Communication Association (ICA) at the 2019 ICA Conference for her paper titled "Because a Great Body is the Best Revenge." Weber is a second year Ph.D. student and is also a teaching assistant at SC&I. Her Ph.D. concentration is in media studies with a focus on branding and promotion in popular culture.
To learn more about the Doctoral Program at the Rutgers School of Communication and Information, click here.
Photo: Left to right: Gressitt Diaz, Thelandersson, Weber.