SC&I Alumna and IT Development Leader Discusses the Importance of Mentorship
Mentorship is an important part of the journey.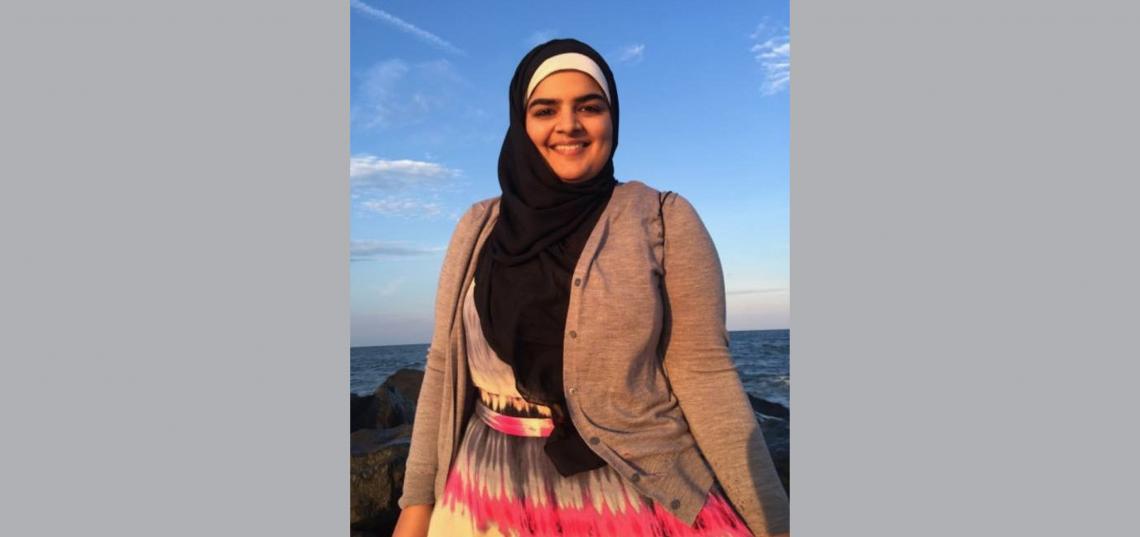 From Information Technology and Informatics student to Johnson & Johnson (J&J) intern to Enterprise Architecture team member in the Information Technology Leadership Development Program at J&J, Madiha Irfan '17 credits her success to invaluable mentorship from family and SC&I faculty. As former co-President of Women in ITI (WITI) and now currently a member of Johnson & Johnson's Women's Leadership & Inclusion (WLI) group, Irfan is trailblazing a path for women seeking STEM-related careers. We recently spoke with her on double majoring in ITI and Human Resource Management, her personal mentors, and how she is now paying it forward in advising others.
Why did you choose to study Information Technology and Informatics?
My passion for tech was ignited by my father, who always encouraged my siblings and I to challenge ourselves and learn about technology, particularly how computers work and how they will change. My love for tech further developed when I learned about autonomous vehicles and I decided to look into the ITI major as a way of pursuing a tech career. During the first lecture of the Intro to ITI course, I recall Sharon Stoerger spoke about autonomous vehicles and that was the moment I decided ITI is the perfect route for me.
My love of better understanding people's needs and delivering an efficient solution that helps solve their problems and make them feel better comes from my mother. My mother is a world-traveling business woman and has owned a family business called Nu Look Salon & Boutique for the past 15 years. Her salon business is very customer service-oriented and as her business has grown, she has maintained the same clientele for many years because of her deep understanding and prioritization of people's needs. This inspired me to major in Human Resource Management.
Essentially, I blended my passion for technology and people by double majoring in Information Technology & Informatics and Human Resource Management.
How were you offered your internship at Johnson & Johnson?
I was offered an internship after winning a Johnson & Johnson IT case competition in 2015. The case competition challenged students to propose how Johnson & Johnson could tap into social media to gain a better understanding of target audience sentiment. After researching possible solutions, my team and I ultimately recommended using Google Analytics to take the massive amount of consumer information available on social media and turn it into usable data.
What did you accomplish during your internship, and what did you learned?
During my internship, I worked on assignments that deepened my IT knowledge with real-life work experience as part of the Service Performance and Analytics team. I assisted in creating and designing a dynamic management dashboard to visualize performance data for different IT service groups within Johnson & Johnson's Global Technology Services (GTS). I also helped build visualizations for important internal metrics. Moreover, I learned SQL—a programming language—to help create queries for the dashboard.
What is your current position?
I am in the Information Technology Leadership Development Program (ITLDP) at Johnson & Johnson. It's a two-year rotation program for recent graduates that provides professional development and job-specific knowledge and skills. I am completing my first rotation in the Enterprise Architecture team within Janssen Pharmaceuticals Inc., specifically working with data, digital and analytics.
For more information about the program, please visit: http://www.careers.jnj.com/sites/default/files/careers-files/pdf/ITLDP_Brochure_2014_15.pdf
With internet security being focused on, especially in light of the current controversy with Facebook's data misuse, what types of protection do you think will be created for consumers and organizations with their confidential information?
For starters, I believe blockchain technology may be used more to protect user's data because there is an approval process involved for sharing data. However, to have a real impact, I believe government regulations and heavy fines for violating security and privacy rights will start happening.
As a member of Johnson & Johnson's Women's Leadership & Inclusion (WLI) group, what would you advise female students and recent grads who want to embark on a career in IT or other STEM-related fields?
Mentorship has been an important part of my journey, and I strongly encourage anyone interested in pursuing a STEM career to seek a mentor who will guide, develop, and empower you. My biggest mentor is my older sister, Mahvish Irfan, whose guidance, encouragement and belief in me helped me navigate through Rutgers University and transform my student experience into a meaningful career. A great mentor can make a difference at any stage in your career, and I still look to my sister for continuous support and advice. Mahvish is the mentor everyone needs in their life, she gives me the nudge I need to be bold and gives extremely meaningful and thoughtful advice whenever I need it. Without her teachings, I probably wouldn't be where I am today. This is why I feel it is important for anyone seeking to grow in their career to find a great mentor that can help lead them in the right direction. It can make a tremendous difference. 
As a way of giving back to others and the community the way my sister did to me, I started mentoring a young woman through J&J at Rutgers who is interested in pursuing a career in tech. I also encourage female students to get actively involved with on-campus student organizations. Additionally, one of my most important roles was serving as the co-President of WITI (Women in ITI). I worked to create development, networking, and internship opportunities for students, allowing women get their careers started. It has been a great resource for the RU community. I also continuously connect with students and people in various stages of their careers to see how they can further grow and achieve their career goals.
Can you name 3 specific things you learned from your program at SC&I that helped you in your career?
Project Management with Interim Director of ITI, Mike Doyle
I learned the importance of collaboration and teamwork
Gender and Tech with Professor Jennifer Rode
I found this class to be critical when it came to better understanding the minority experience in technology
WITI with Sharon Stoerger and Associate Professor Rebecca Reynolds
I learned to work hard, manage my team, and deliver even when all the odds are against you because I felt a strong sense of responsibility to provide opportunity to my peers as co-President of WITI
Did you have a specific faculty member or mentor at SC&I that helped you on your career path?
Sharon Stoerger is the kind of mentor every student needs in their life. She is so incredibly dedicated to helping students develop and grow, and she really supported and believed in not only my own personal growth, but also the growth of WITI and our group's goal to empower women. She is a co-founder of WITI along with Professor Rebecca Reynolds.
What advice do you have for current Rutgers students and upcoming graduates who want to launch a career in your field?
Collaboration and a love for continuous learning really go a long way. One of my main motivations that I remind myself of is that I am helping my company achieve an amazing mission. Specifically, after I learned about Johnson & Johnson's mission to creating a world without disease, I became truly inspired to help achieve this goal. When I walk into work every day, there are many exciting and meaningful opportunities to work on. I am learning more about our patients, the business and the people around me. Knowing that I may be helping patients get the care they need and that I am helping to build the future of human health - even in small ways - gives me a strong sense of purpose at work.