SC&I Alumni Association Advocates for Students, Connects Graduates
Volunteers Jennifer Sneed '03 and Nyree Wright '96 Share Their SC&IAA Insights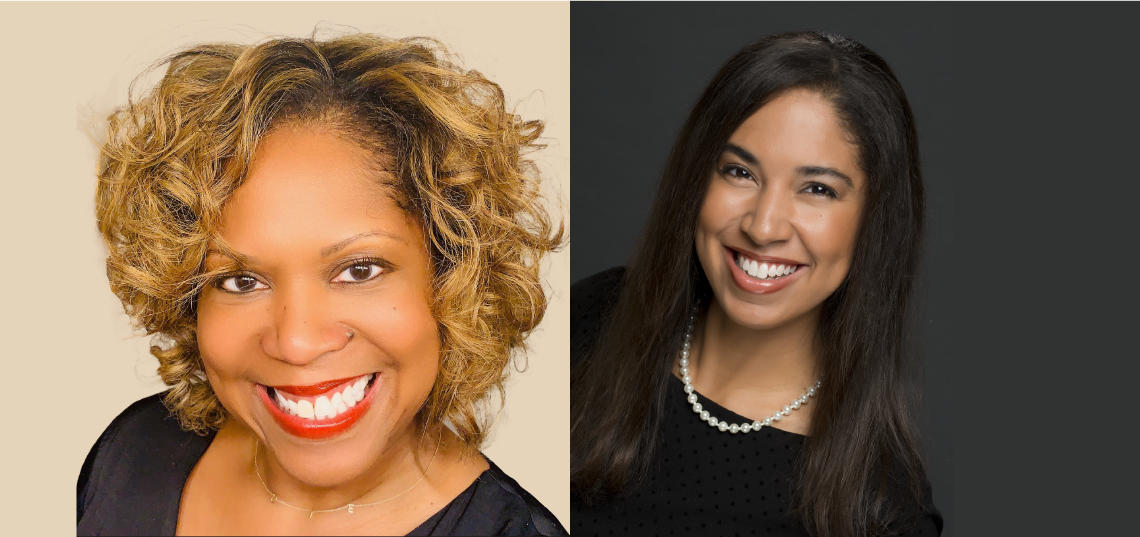 The Rutgers SC&I Alumni Association (SC&IAA), governed by a board of volunteers, works to create opportunities for alumni to connect with each other and with current students. The organization supports SC&I's students philanthropically through contributions to the Scarlet Promise Grants program and their own fund, the School of Communication and Information Alumni Association Endowed Scholarship.
Since granting the first endowed scholarship in 2012, SC&IAA has awarded the scholarship to 50 students. Recent recipient Andrea Rojas '21, a Journalism and Media Studies major, expressed gratitude for the award, noting, "The SC&I Alumni Endowed scholarship that I earned definitely eased my financial burden but also made me realize that all the hard work I had put into my studies at the School of Communication and Information had paid off. I'm currently pursuing my master's degree in Media Studies and Production at Temple University. I'm also the communications intern at Princeton Hydro. I'm excited to continue expanding my skillset, and it's all thanks to SC&I's generous scholarship that allowed me to focus on school rather than worry about how I was going to pay tuition."
Two SC&IAA board members—Jennifer Sneed '03, a Journalism and Mass Media and Political Science double major, and Nyree Wright '96, a Communication major—offer their perspective on the organization's critical work. Sneed, following SC&IAA's recent elections, has agreed to continue in the role of vice president. Drawn to work that connects people, she has an extensive background in the government and non-profit sectors. When she's not volunteering her time to help guide the alumni association, she works as a program manager for NJ Transit, is principal at Gateway Affairs, a boutique public affairs firm, and is an actress in the New York tri-state area.
Commenting on her SC&IAA ties, Sneed said, "I have had the opportunity to volunteer with SC&IAA for about fifteen years. For me, getting involved with giving back to the Rutgers community started with volunteerism. A goal of SC&IAA is to encourage growth not only among our vast alumni but also for current students at Rutgers. During my tenure as a past president of SC&IAA, we worked with the development team to create an endowed scholarship that could continue for many years, thus fulfilling the main objective of our association by consistently offering financial assistance to students in need who excel in their field. For many at Rutgers, any and all amounts of financial support make a huge difference. Personally, I worked several jobs both on and off campus to earn money while studying at Rutgers and understand the burden some may feel juggling both responsibilities. For me, it is important to give back to others with my time and money when I'm able."
Nyree Wright, senior vice president of public relations at TV One Networks, is a trusted advisor and widely recognized PR executive with strategic counseling and marketing expertise. She has the distinctive ability to identify business opportunities and lead innovative crisis management initiatives to rebuild, rebrand, and stem damage to companies' reputations. After completing her undergraduate studies at Rutgers, she attained a master's degree in Integrated Marketing from Seton Hall University.
"I've always maintained a love and loyalty for Rutgers," said Wright. "When I first relocated to the Washington, D.C., metropolitan area, I quickly became engaged with the Rutgers Alumni Club of DC and served as the events chair for a number of years. In my newest role as the SCI&AA Board's undergraduate representative, I will marry my experience of teaching at the collegiate level (at both The University of Maryland and The University of Florida) with my desire to mentor the next generation of communications and PR professionals."
Summing up the importance of giving back, Sneed said, "Our SC&IAA board members recognize the significance of these scholarships, advocate for as many alumni contributions to these grants as possible, and are dedicated to continuing to help future SC&I students through this program. Every minute volunteered and every dollar provided goes to help strengthen both our SC&I network and the overall Rutgers family."
To learn more about the work of SC&IAA, email rusciaa@gmail.com. Consider sharing your valuable career insights with students through our SC&I Links Mentorship program. To join SC&IAA members and our other donors in helping make a world-class Rutgers education attainable and affordable, visit SC&I Giving or call Rob Eccles.