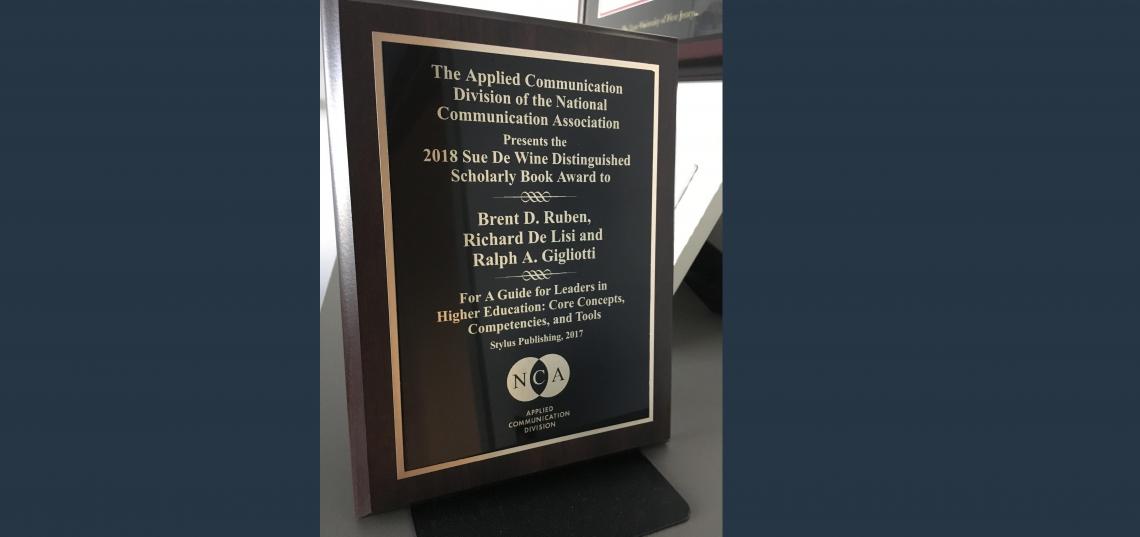 SC&I Faculty Members Receive Award at this Year's National Communication Association Convention
Brent Ruben, Ralph Gigliotti, and Richard De Lisi honored for their recent book on leadership in higher education.
Congratulations to Brent Ruben, Ph.D., Executive Director of the Rutgers Center for Organizational Leadership (OL) and Distinguished Professor of Communication in SC&I; Ralph Gigliotti, Ph.D., Director of Leadership Development and Research in OL and Part-time Faculty Member in SC&I; and Richard De Lisi, Senior Fellow in OL and University Professor for receiving the 2018 Sue DeWine Distinguished Scholarly Book Award! "This is much appreciated recognition of our work, and also more generally, for the work of the Center and the University as it relates to advancing leadership theory and practice in higher education," noted Ruben.
Ruben, Gigliotti, and De Lisi are being honored by the Applied Communication Division of the National Communication Association (NCA) for their book, "A Guide for Leaders in Higher Education: Core Concepts, Competencies, and Tools." Created to assist current and aspiring faculty and staff higher education leaders from varying institutions, this book serves as a practical guide to sector-wide issues and the essential core competencies, tools, and strategies needed for effective leadership in higher education. According to Gigliotti, "Much of our work in the Rutgers Center for Organizational Leadership focuses on the intersection of leadership and communication in higher education, and it is a great honor to receive this recognition by NCA for our applied work in this area."
The award will be presented at the 2018 NCA Annual Convention in Salt Lake City on Saturday, November 10, at the Salt Palace Convention Center. Kudos on this prestigious achievement!
For more information on our Communication Department, click here