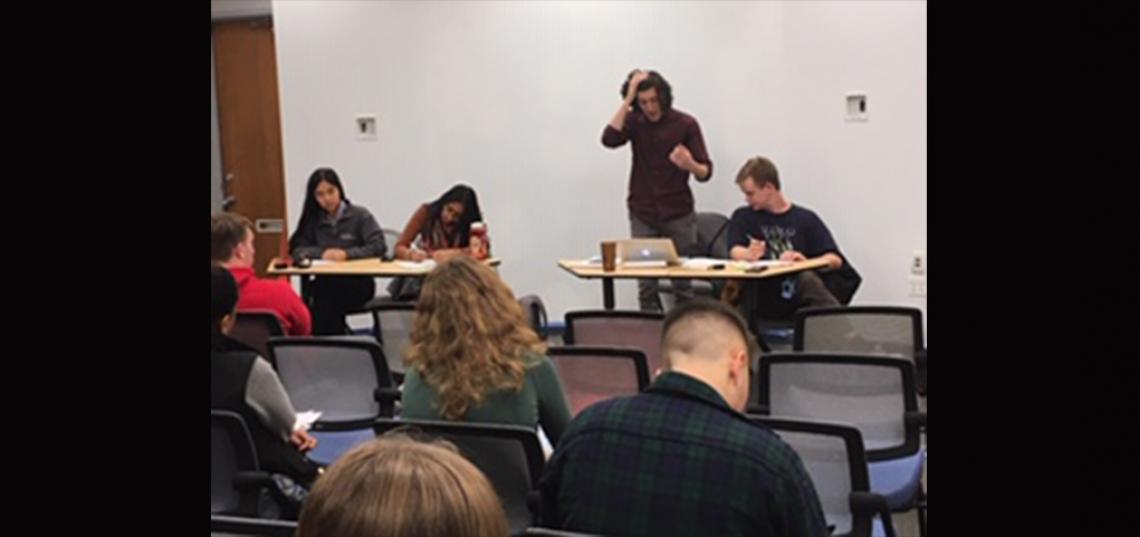 SC&I Proudly Embraced Free Speech Week, October 22-25, 2018
SC&I celebrated Free Speech Week to promote public knowledge of the First Amendment
"By celebrating Free Speech Week, SC&I and all participants will promote public knowledge and awareness of the First Amendment, which grants all people and Americans the right to self-expression through speech," read the flyer announcing the 2018 Free Speech Week events at SC&I.
60 students from all across Rutgers University joined SC&I to celebrate Free Speech Week, an annual celebration at the school. 
The event was hosted by the SC&I Department of Communication in conjunction with National Free Speech Week. Free Speech Week (FSW), according to the FSW website, "was created in 2005 and originally called National Freedom of Speech Week. Free Speech Week (FSW) takes place the third week of October annually. Its purpose is to raise public awareness of the importance of freedom of speech and of a free press in our democracy – and to celebrate that freedom. This non-partisan, non-ideological event is intended to be a unifying celebration."
One of the sponsors of the national Free Speech Week celebration is the National Communication Association (NCA), which has deep ties to SC&I.
Director of Undergraduate Studies in Communication and Assistant Teaching Professor in Communication, Brian Householder, who managed the week's events, said this year the overarching goal of the contest was "Getting students to think about free speech and what it means to them and our world. Free speech is a valuable and critical part of our university and community, and it is the cornerstone of inquiry and knowledge sharing.  Moreover, it is grounded in communication. Speech is where communication study started."
SC&I celebrated by hosting Rutgers' Nationally Top-Ranked Debate Union to engage in a debate titled: "This house would not ban Alex Jones from Twitter." The debate was held on October 25 in SC&I room 222.
SC&I also sponsored a video contest for undergraduates with the theme, "What does free speech mean to you?" Contestants created videos of no more than 90 seconds to answer the question and uploaded them to YouTube. SC&I awarded three gift cards of up to $125 to the best videos, as well as $100 to the video with the most views. 36 students entered the video contest, and a panel of faculty and graduate students judged the videos. The panel chose three winners. First place winner was Eder Palacios, and the video with the most views was K.C. Wittmaack. Second place went to Ashley Zilenziger, and third place to Sharfaa Sabir.
The third event of the week was a video viewing party held on October 25. The event was held to show the videos and announce and celebrate the winners. Nearly 30 students attended the viewing party.
How the debate question developed was a process, explained Teaching Instructor of Communication and Rutgers University Debate Union (RUDU) Faculty Advisor Erin Christie. "First, the debate question was decided based on the loose framework suggested by the Department of Communication. They wanted the debate to involve mid-term elections (ideally), but when presented to the DU this idea prompted many other ideas! The notion of censorship and social media quickly gained traction, and I encouraged them to make it even more specific. Hence, Alex Jones and Twitter was the winner! However, the actual 'winner' was the opposition, not the government."
"I think the passion demonstrated by the DU at the mock debate is indicative of why free speech should be cultivated, supported, and encouraged," Christie said. "Our students were an example of critical thinking, effective listening, and displaying respect, while hearing opposing viewpoints. The audience could not help but be engaged!" 
Wittmaack, '22, a first-year student, whose video won for the highest number of views, said in his video he defines free speech "in my own words and list reasons why I feel that free speech is the most important democratic value. I believe it is the most important of our freedoms and that yes, while there are specific things that technically should not be said as they could be deemed disrespectful, I'm extremely grateful to live in a society in which the law allows us to express ourselves in any way we choose. I feel that restricting what people are legally allowed to say or how they are allowed to act, regardless of whether it is ruled hateful or irresponsible, would be immoral and inhumane. As Voltaire once said, 'I disapprove of what you say, but I will defend to the death your right to say it!'"
Ashley Zilenziger, '22, a freshman in the Rutgers Business School, who won second place for her video, said she was motivated to choose her subject because, "I love communicating both through words and visually.  This video contest was an opportunity to do both. I am fascinated by others' interpretations of words and ideas. I have always interested in other people's viewpoints and ideas even when they come into conflict with my own. When you take a simple phrase like 'freedom of speech' it's remarkable how diverse a response you get.  I participated in the project to not only illustrate what free speech means to me, but to also make people realize that in communication there is never any absolute definition of an idea that cannot be interpreted or subject to debate."
Zilenziger said she chose the subject for her video because she "wanted to create a video showing people exercising their own right to free speech.  I figured what better way to demonstrate the notion of free speech, than by having others explain it with me."
"I believe that everyone has a voice and that it is important that we all express ourselves openly, honestly and respectfully," Zilenziger said.  "Living in a democracy we should not only recognize the privilege of free speech but embrace and exercise it as often as we can. When we challenge one another in a society, we make progress. Very rarely has progress ever occurred when everyone thinks and acts the same way. Societies who lack free speech tend to lack innovation and creativity. That is not the kind of world I want to live in."