SC&I Student, Casey Murphy, Continues to Impress on the Field and in the Classroom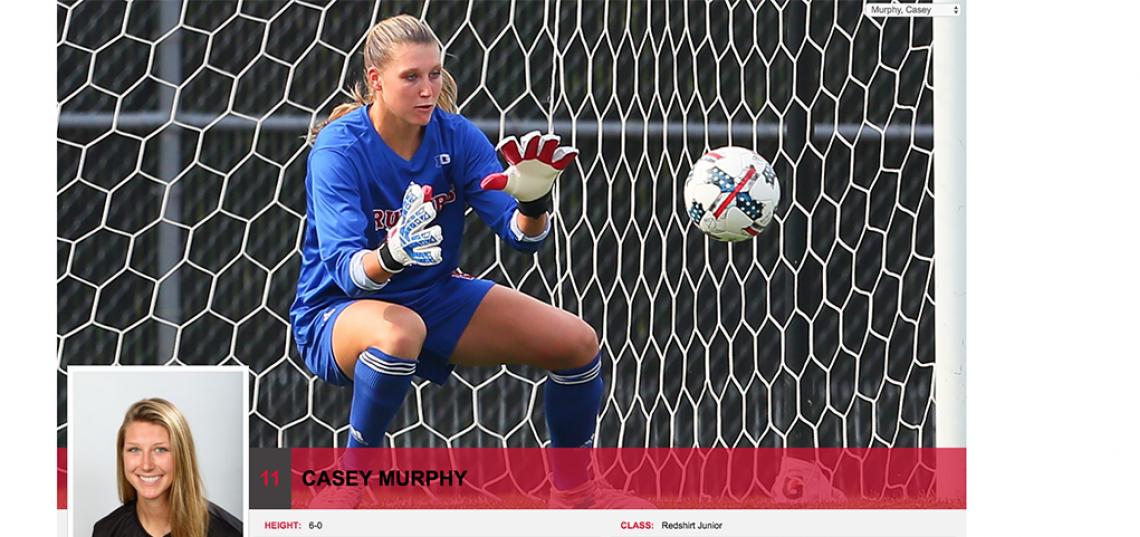 Update January 19, 2018: On Thursday, January 18, 2018, Murphy's professional career began as she was selected as the 13th pick in the National Women's Soccer League annual draft. Murphy will be playing for the Sky Blue FC professional team, who plays its home games at Rutgers University's soccer stadium, Yurcak Field.
 
Casey Murphy, a senior and Olympic Women's soccer prospect, said that the skills she has acquired by majoring in Communication and minoring in Digital Communication, Information, and Media (DCIM), help her immensely on the field.
"With aspirations to play soccer at the highest level I feel like having the ability to clearly communicate and apply the skills I've been taught to lead others is huge for me," Murphy said.
She said that, as a student athlete, time management is another of her most useful skills.
"In order to perform my best on the field and in the classroom I have had to learn and adjust to balancing both soccer and school."
According to nj.com, in October 2017, Murphy was named Big Ten Goalkeeper of the Year for her outstanding performance on the Rutgers Women's Soccer team. She spent some time playing for the U.S. Women's Under-20 National Team last year before returning to Rutgers.
Murphy recounted her passion for soccer beginning at as early as age five. She remembers three soccer posts behind her house, where she spent much of her time growing up. With support from her parents and coaches, Murphy was able to use this passion as her driving force in the cultivation of skills that brought her to the Rutgers Women's Soccer team.
The Bridgewater, N.J. native said she chose Rutgers because, "I wanted to stay in Jersey and represent RU because I can honestly say it's one of...if not the best place in the country to play college soccer."
Director of Undergraduate Interdisciplinary Studies and Women's Soccer Faculty Mentor, Mary Chayko, discussed Murphy's promise both in the classroom and on the field.
"It's clear why she is an All-American and world-class athlete and has such a bright future in professional soccer. Casey is focused and driven to succeed on and off the field, and is also one of the nicest people you'll ever meet," Chayko said.
Chayko also spoke about the benefits of holding her positions of Faculty Mentor of both the Women's Soccer and Women's Lacrosse teams.
"It's rewarding to help student-athletes deal with the particular pressures that they face and concerns that they have, and if I can play some small part in helping them reach their goals, I'm happy," she said.
Murphy has a few words of advice for incoming first-year students who plan to also have careers in college athletics, "The way I got through school was keeping an agenda. Every assignment, quiz, and exam I have is written down so I never forget to complete my work. Staying organized would be my advice."