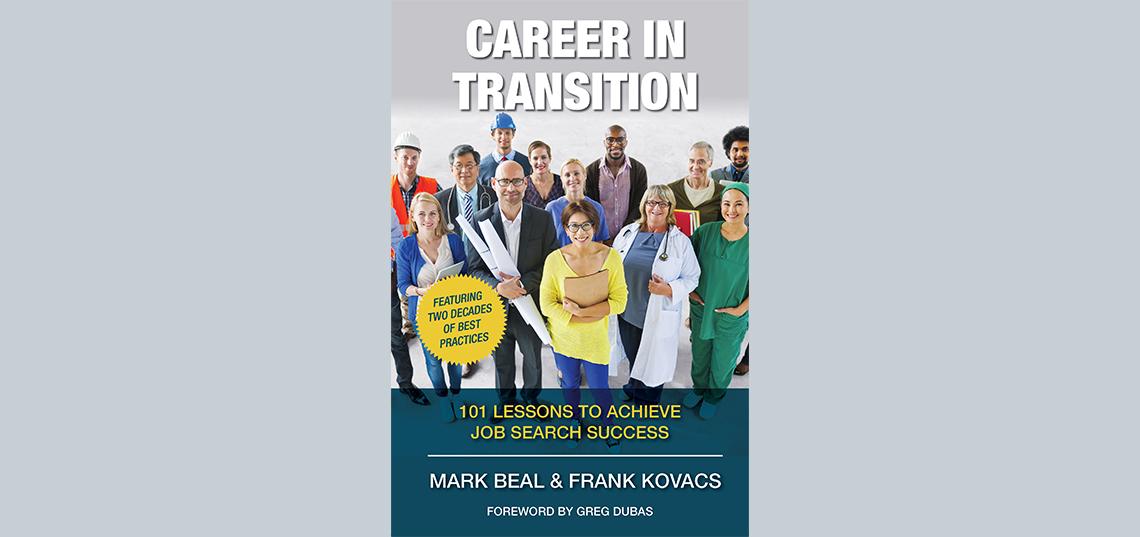 SC&I's Mark Beal Partners With Career Expert Frank Kovacs To Co-Author "Career In Transition: 101 Lessons To Achieve Job Search Success"
The book shares advice and recommendations in 101 pithy lessons for today's job seekers.
Did you know that referrals from someone in your personal and professional network account for just seven percent of all job applicants, but 40 percent of all hires?
This statistic is just one of the many compelling career and workplace insights that author and SC&I's Assistant Professor of Professional Practice, Mark Beal, and career expert, Frank Kovacs, share in their new book, "Career In Transition: 101 Lessons To Achieve Job Search Success," available exclusively via Amazon.com.
Beal, author of the top-selling, "Decoding Gen Z: 101 Lessons Generation Z Will Teach Corporate America," "Marketers & Media and 101 Lessons They Never Taught You In College," and Kovacs, founder of The Breakfast Club NJ, one of the nation's longest running career support networking groups, compiled more than 20 years of career transition research and interviewed senior level executives from various industries who had successfully completed a career transition and share their findings, advice and recommendations in 101 pithy lessons for today's job seekers.
"For nearly 20 years, I have been counseling and collaborating with thousands of executives in the midst of a career transition via The Breakfast Club NJ which I founded following the attacks on September 11," said Kovacs. "With so many individuals impacted today by forced retirement, downsizing, consolidation, layoffs and even ageism, I wanted to share my two decades of research and insights and empower unemployed professionals to successfully secure their next job opportunity."
Career In Transition Book -2
"My first book, 101 Lessons They Never Taught You In College, resulted in invitations to speak to many career support networking groups including The Breakfast Club NJ," added Beal. "It was there where Frank and I realized that we approach career transitions from two different paths - the strategic technical approach and the personal brand marketing perspective. By combining those two paths in this book we offer individuals who are unemployed a powerful playbook to achieve job search success."
The 101 Lessons include just some of the following:
Lesson 22, Master The Six Degrees Of Your Job Search: The world we live in is all driven by six degrees of separation. We are all connected. In your job search, it is all about maximizing and leveraging those connections to deliver success.
Lesson 34, Content Is King: Start Blogging and Posting: Every single individual has the ability, skill and power to produce engaging and compelling content that can not only be viewed, followed and shared, but also lead to your next career opportunity.
Lesson 45, It's Not Who You Know, It's Who They Know: To truly leverage the power of LinkedIn is simply not to connect with your connections, but it's to have your connections ultimately connect you to their connections who are already working at the companies that you are targeting and prospecting.
Lesson 48, H.I. Beats Out A.I.:
While each day, there is more talk about A.I. (Artificial Intelligence), it is Human Interaction (H.I.) which will ultimately lead to success in your career transition journey. H.I. will ultimately determine the candidates that get hired.
Lesson 50, Achieve ATS Success:
Applicant Tracking Systems (ATS) have numerous nuances that one must be aware of prior to submitting applications for jobs as there are many rules that if you are not aware, can keep your submittal from ever being seen by the potential employer.
Lesson 67, Develop A Point System To Measure Your Prospecting: As you go through your job search transition, you need a way in which to gauge your level of effort and success. Achieving a job offer is the ultimate objective, but if you have that as your only measure of success, it will lead to a long process and contribute to many ups and downs you will face.
For more information about the Communication major at the Rutgers School of Communication and Information click here.