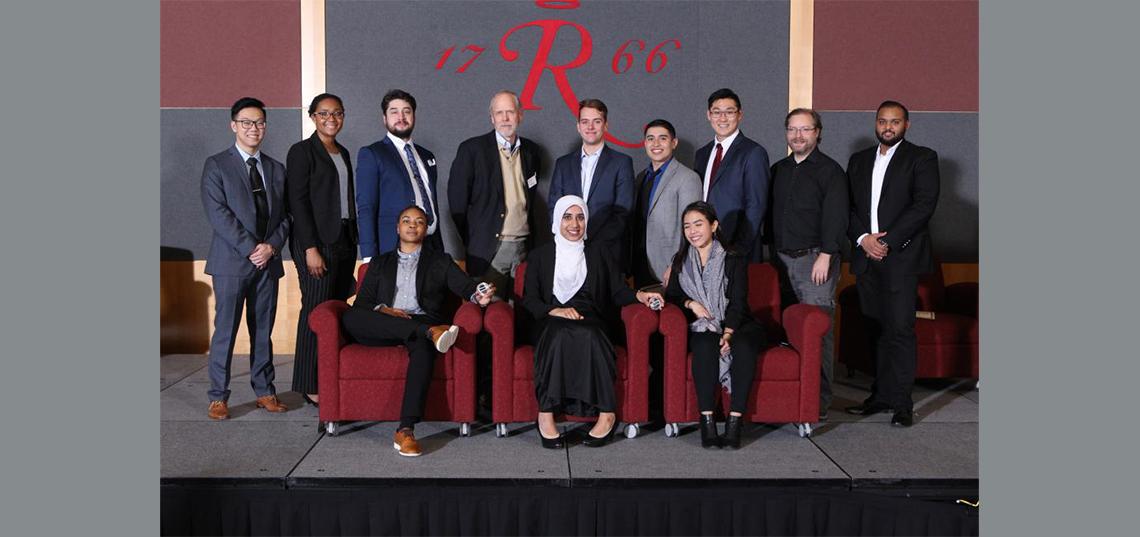 VetCoin, Founded by SC&I Students, Aims to help U.S. Military Veterans
Continuing a Capstone project they started during their senior year, three SC&I grads are developing VetCoin as a way to help veterans stay connected to the military.
In the fall of 2018, SC&I launched an experimental class with the hopes of making it a core requirement for all SC&I Information Technology and Informatics (ITI) students.
The students in the ITI Capstone class were given a single assignment: develop a product using the knowledge gained throughout the course.
The students were given much freedom to develop their projects. The course's only requirements were that the product incorporates both a hardware and software component to solve a real-life problem. Fifteen students were hand-selected by professors from other core-requirement ITI classes- 12 ITI students to focus on the software portion of the product and three engineering students to develop and perfect the hardware.
Two students in the class, John Rene Lorelli and Von Arzu, are both Navy veterans who understand the struggles of transitioning back to civilian life after serving overseas. One symbolic item which is deeply embedded in the tradition of the military is the collecting of challenge coins by both active-duty members and veterans alike. As Lorelli explained, Challenge Coins are small medallion like coins members of the military can earn by participating in certain activities such as meeting the President of the United States or recognize an achievement like earning a particular title in their team. Some people can collect a few, "but others spend their whole lives trying to collect these coins," Lorelli said. Using this important token from his time in the military, Lorelli "wanted to expand on it" in his ITI capstone project.
He pitched the idea to his team members, and they agreed. Initially, they planned to make a game that could serve as a means of creating connections for veterans, by the name of Vetcoin.  They hoped to make VetCoin a favored pastime by including features such as augmented reality and geofencing in the design as a means of facilitating interactions between university veterans.
The team first introduced VetCoin to SC&I and Rutgers community at the Fall 2018 ITI showcase. After the showcase, five members of the original team, Lorelli, Ali, Arzu, Leslie Mujica, and Alex Sheppard decided to continue working on it by taking a follow-up spring ITI Capstone. Ali dubbed it "our chance to explore a VetCoin 2.0." By participating in the I-corps regional cohort and attending the SXSW conference, the team exploring the commercial need for VetCoin. The team's presentation marked the end of the spring capstone at the spring ITI Showcase. Now, with only three- Lorelli, Arzu, and Aamina Ali- students still dedicated to VetCoin, the team is even smaller. This past May, all three graduated – but this did not end their VetCoin collaboration. All three are currently still working on perfecting VetCoin while pursuing further education in all different fields. "We are all co-founders," Ali explains, "but now we are expanding and taking bigger roles within VetCoin."
Currently, the three grads are in the experimental phase with VetCoin, trying to determine the best possible way to present their product to both investors and the public. "In the beginning, we thought this would be more of a game and a pastime," Ali said, "but recently we realized student veterans are more interested in having meaningful connections with things that can help them with this difficult transition."
With a shift in vision, the team is now working to develop software and hardware components of VetCoin further. Their vision is to promote not only social interactions between veterans but also combat feelings of isolation many vets feel during their transition. Their current goal is to allow Vetcoin to create a network that facilitates both professional development and emotional support for student veterans.
Although the team is currently focused on appealing  VetCoin to student veterans, Ali mentioned the team's ambition to expand to other isolated groups such as single mother veterans, wounded veterans, and those who "have gone off the grid."
One of the biggest challenges VetCoin will face, Ali said, is cost and distribution: how will Veterans learn about VetCoin? How will they get a coin? What if they cannot afford it? Ali says VetCoins "biggest hope" is to see Veterans Affairs and other military organizations want to invest in VetCoin and see the value that these coins can bring to the lives of millions of Veterans across the country. Lorelli uses Rutgers' veterans house as an example of how student veterans would gain access to the coin. "It would be a way for these students to not only meet but create a bond with people of similar backgrounds in their new community.
"Our goal is to become the next standard in veteran life, one of the main things that help in their transition, so they already have a network of people to talk to and get advice from," Ali said.
The physical part of the coin, however, may be the most challenging feature of the VetCoin project. Lorelli is heading the hardware side, and he said it is not easy to get all of the aspects of the coin they want into a 3-inch circle, especially in a cost-effective way. Another goal is to make the coins diverse in the way one can hold it. "We do not want something that [Veterans] just put in their pocket and forget about," Ali said. VetCoin's purpose is to not only serve as a constant reminder for veterans about their connection to the military, but also a means for other veterans with the coin to know they are not alone.
Rutgers has been an integral part of the expansion and creation of VetCoin. Both prototypes of the coin were made in the Rutgers makerspace on Livingston campus. During the Capstone "everything was paid for" by Rutgers which made opportunities and ideas limitless. In the Spring when Ali, Arzu, and Lorelli were invited to attend the South by Southwest festival in Austin, TX and profile VetCoin- the whole trip was paid for by the University. The Rutgers Innovation center has also granted the team a stipend towards VetCoin's customer discovery. As current Masters in Information (MI) students at SC&I, both Lorelli and Arzu can work on the coin as part of their degree programs. Although Ali has chosen to pursue a masters in Biomedical sciences and regenerative medicine at another institution, she hopes to continue contributing and developing VetCoin. 
VetCoin's connections to Rutgers are still very apparent. Although the team size has changed since VetCoin's inception, the mentors involved during the original fall Capstone course are still involved today. The students are very grateful for the support of their professors. Mike Doyle, Deborah Close, and Rick Anderson have been "very helpful since graduation," Lorelli said. Ali also credited some of her other professors, including Connie Pascal and Lori Dars. "They all saw VetCoin in the making, and they still believe in us."
For more information about the Information Technology and Informatics (ITI) major at the Rutgers School of Communication and Information, click here.
Photo: The original Vetcoin team with their advisor, Mike Doyle (back, center).