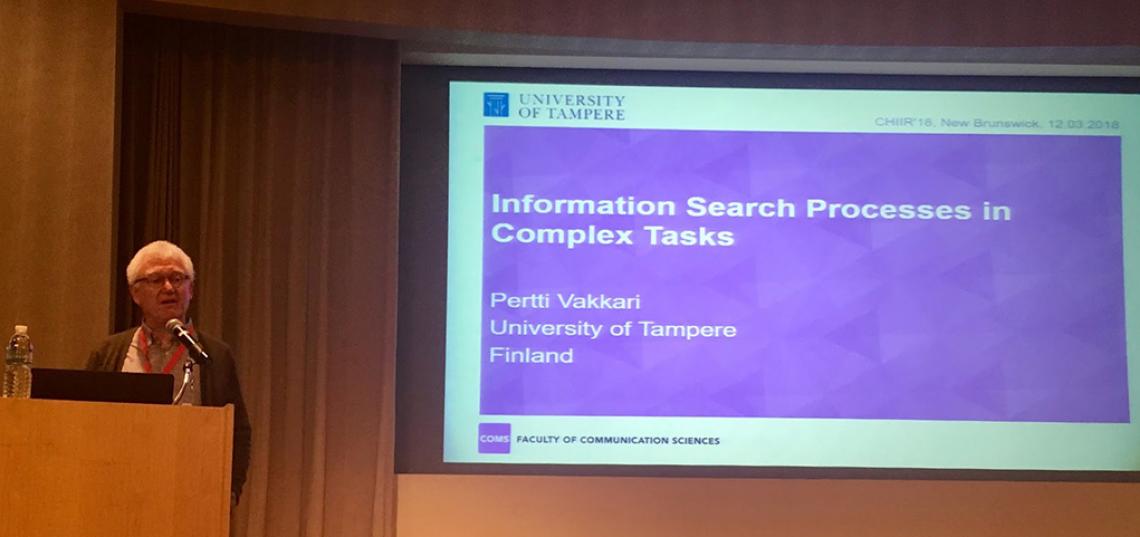 ACM SIGIR CHIIR Conference Comes to New Brunswick
The conference was attended by 130 researchers from 25 countries, belonging to both academia and industry.
The third annual Association for Computing Machinery (ACM) Special Interest Group on Information Retrieval (SIGIR) Conference on Human Information Interaction and Retrieval (CHIIR 2018) was held at New Brunswick, N.J., from March 11-15, 2018. The conference was an international effort hosted by Rutgers School of Communication and Information (SC&I), and held at both the SC&I College Avenue Campus and the Heldrich Hotel, New Brunswick. It was attended by 130 researchers from 25 countries, belonging to both academia and industry. The major areas of study discussed at CHIIR 2018 included user-centered aspects of information interaction and information retrieval focusing on aspects of human involvement in search activities, and information seeking and use in context.
Most attendees participated in sessions on full papers, short papers, demonstrations, and the doctoral consortium. The conference overall had a competitive full paper acceptance rate of 38 percent and a 40 percent acceptance rate for both short papers and the doctoral consortium. The conference also supported the registrations of ten student volunteers who helped the organizers in arranging the details of the conference. The keynote speakers were Pertti Vakkari from Finland's University of Tampere, and Susan Dumais from Microsoft. Vakkari's talk, entitled, "Information Search Processes in Complex Tasks," discussed key areas in information retrieval including how the effect of information search would depend on task outcome.
Dumais's talk, entitled, "Better Together: Interdisciplinary Perspective on Information Retrieval," reflected on her work in Information Retrieval and HumanComputer Interaction and provided some predictions on the future of search on the Web.
The welcome reception was held at Rutgers' Zimmerli Art Museum on day 1 of the conference, and a banquet dinner was held at the Ria Mar Portuguese restaurant on day 3. The major sponsors of the conference included Siemens, SC&I, Google, and Microsoft.
The organizers of CHIIR 2018 included Associate Professor Chirag Shah, Assistant Professor Kaitlin Costello, Distinguished Professor Nick Belkin, Assistant Professor Sunyoung Kim, and Assistant Professor Vivek Singh from SC&I, along with doctoral students Shawon Sarkar and Souvick Ghosh who were student volunteers. Doctoral scholar Matthew Mitsui from the Rutgers Computer Science department, and Abdurahman Sherif from the Rutgers ITI program were also in the organizing committee.
One attendee, Carol Butler from City University London, tweeted at the end of the conference: "Had a great time at #CHIIR2018! Met very lovely people doing really interesting research. Also had helpful feedback at the DC for my Ph.D. with @cityuni_hcid and @britishlibrary, @CDPConnect and AHRC. Thanks to all! :) (Also a shout out to @ACMSIGIR for sponsoring my travel!)."
Shah said "CHIIR is a vibrant new community that is built on decades of foundational research and development on information interaction and human-centered information retrieval. It continues to generate new ideas, insights, and innovations. I am proud for us to have hosted this year's conference at Rutgers and New Brunswick — adding a new chapter in this community's brief but brilliant history." He also tweeted "Chiirs for successfully concluding #CHIIR2018. See you next year in Glasgow for #chiir2019."
We congratulate the organizers and attendees for a successful conference.
To see more photos from the conference, please click here.