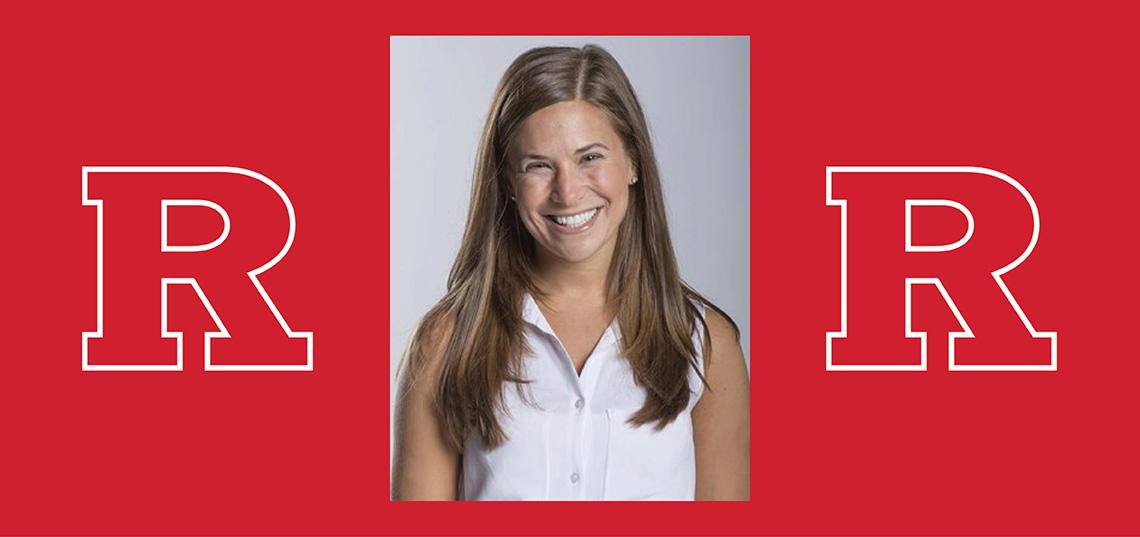 Communication Alumna Gilah Rosenberg '09 Shines as an Academic Advisor to Rutgers Athletes
Meet Gilah Rosenberg '09, who provides academic advising to over 90 Rutgers student-athletes. She credits her communication degree from SC&I for preparing her for such a demanding and successful career.
Currently, she advises 90 Rutgers student-athletes from the Gymnastics, Women's Lacrosse, Women's Golf, and Women's Swimming and Diving teams. She works very closely with Rutgers coaches to ensure the student-athletes maintain the grades they need to be successful, pursue their majors of interest, and manage their schedules while they are in and out of season. What kind of person could handle all of that responsibility? Meet Gilah Rosenberg '09, an academic advisor for Rutgers athletics and a SC&I alumna who majored in communication.
Reflecting her hard work, dedication, and success, the Women's Golf Coaches Association has just recognized Rutgers women's golf as "one of the nation's top 25 programs in academic performance."
In addition, Rutgers announced July 1, 2019 in an article titled "Swim and Dive Earns 11th Straight Scholar All-America Team Award" that the Rutgers swimming and diving teams have "earned a 11th consecutive distinction as a College Swimming Coaches Association of America Scholar All-America Team." In the article, head coach Jon Maccoll said,  "We are extremely appreciative for the academic support from Gilah Rosenberg and the resources provided by our athletic department."
A typical work day for Rosenberg involves many meetings with student-athletes, answering emails, meeting with a recruit or two, and communicating with various support staff and students.
The most rewarding part of her job, Rosenberg said, is seeing her students graduate. "To see the students start as recruited students from high school, first-year students and then progress all the way to graduation is the best part," she said.
Despite the many rewards of her work, Rosenberg faces challenges as well. One of those, Rosenberg said, "is learning that not everyone can be successful at everything. Sometimes a student has to try something that they might not do well at, because they need to learn from experience. It is hard to watch a student try something and not be successful, but it is worth it at the end when they achieve success in the next thing."
Certain conditions are necessary to enable Rosenberg to provide advice to so many incredibly busy student-athletes and their coaches and trainers, and Rosenberg gained the necessary skills from years of experience working as an advisor. "I have a great job and I work with wonderful student-athletes and staff here at Rutgers, Rosenberg said.  "I think to be a good advisor for student-athletes it is important to always have an open mind when working with students. Our student-athletes come from so many different backgrounds and most of them don't know what they want to do when they start at Rutgers. My position is also unique because the students do compete in sports. I think it is important to show interest in the student's sporting events in addition to just seeing them in the office for advising."
Rosenberg said she became interested in becoming an academic advisor after she started tutoring for the Academic Support for Student-Athletes office. "I was hired in my junior year to tutor communication courses (like Intro to Communication and Communication Theory)," Rosenberg said, "and I realized that I enjoyed working with the student-athlete population and advising them to go further than just tutoring. I always thought about being a guidance counselor so this was a good way to pair that with such a special population."
As a critical part of the lives and success of so many athletes, Rosenberg has developed a few mantras she always shares with her students to boost their success. Her most important piece of advice? "Plan ahead, be organized. To be organized, use a planner, make a schedule. Organization is key."
Her advice has become even more relevant to students since Rutgers joined the Big 10. "We've had a few additional criteria added since being in the Big 10," Rosenberg said, "but I'd say one of the biggest things has been that our teams travel more and longer distances. The Big 10 has teams all over so our teams are travelling a lot and need to manage their time more effectively."
Asked if her communication degree has helped her achieve the incredible success she's had, Rosenberg said, "Definitely. A communication major taught me about the importance of listening, nonverbal communication, and how to adapt communication styles to best interact with the people I am interacting with. It also taught me a lot about how people develop relationships with each other and learn to better communicate as they learn to know each other better."
The faculty and her classes were extremely helpful, she said. "I had so many amazing professors who made the courses interesting and exciting (eg; Professors Mandelbaum, Bolden, Scott, Grasso, Stewart, and Lewis). I am so glad that my students can still learn from most of these professors today. I really enjoyed all of my classes. One of the classes I enjoyed the most was Communication in Relationships (which at the time was called Interpersonal Communication). I learned a lot of base knowledge that I can still use today when talking and interacting with my students. I also enjoyed Advanced Health Communication because we created programming that allowed us to interact with other students and use the tools we learned to create and help campus."
"Communication is a great major even if you are not sure what you want to do with your life and for your future career. I initially chose communication because I didn't know what I wanted to major in and I loved the courses and professors. Being a communication major gave me a great background that I could use for any career," Rosenberg said.