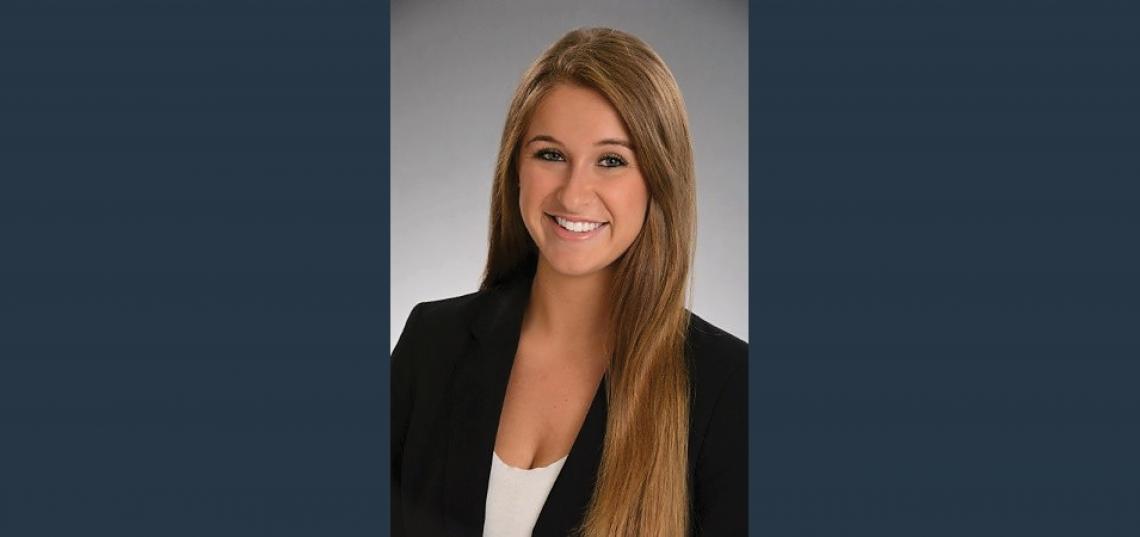 Dual Degree Grad Works to Increase Number of Women in STEM
Allison Stubin '18 discusses advantageous role at Johnson & Johnson and the benefits of an accelerated program
Alumna Allison Stubin is a true example of being one step ahead. Joining the accelerated dual degree program at the School of Communication and information (SC&I), Stubin earned her B.A. in Communication in May 2018 and shortly after graduated from our Master of Communication and Media (MCM) program in January 2019. While specializing in Public Relations during her graduate studies, Stubin wasted no time and also began her role as Communications Coordinator at Johnson & Johnson (J&J). We spoke to her recently on the importance of her work at J&J and how she credits SC&I's dual degree program for giving her an extra foot forward.
Why did you choose the Master of Communication and Media (MCM) Dual Degree program?
After seeing multiple promotions for the MCM program, I began reaching out to professionals in the continually evolving communication industry from past internship experiences and current professors. These mentors advised me that obtaining my Master's degree would not only help me gain hands-on experience in managing communication processes, but also would help me stand out when applying for jobs. Only a small percentage (8.9%) of Americans have a master's degree so setting myself apart from my competition was a strong factor in deciding to pursue my second degree. The communication industry can be competitive and I saw that first-hand throughout my internship experiences in college.
How did the dual degree program impact your career path?
Not only were interviewers impressed by my ability to complete two degrees at once and balance internship and part-time jobs at the same time, but they also expressed that my education stood out from the rest. The MCM dual degree program at SC&I is one-of-a-kind with its accelerated courses, and has many success stories that prove it's one of the best. Employers are looking for candidates that are easily teachable and come prepared to take what they learned in school and apply it to real-world communication challenges. Being able to say I earned my Master's degree in a short amount of time not only shows them I am capable of balancing a tough workload, but also proves that I'm ready to dive into tasks that involve critical thinking, problem solving, writing, and digital advancements. I feel strongly that my quick success stemmed from this program.
Do you have a specific faculty member or mentor at SC&I that has helped to guide you in the right direction professionally?
Two faculty members at SC&I stand out when thinking of someone who has helped guide me in the right direction professionally. Part-time Lecturer Jack Grasso, who I had during my undergraduate career in both Principles of PR and Media, Marketing, & Communication, referred me to a past colleague who needed a Communications Specialist intern. After working closely with him throughout our semester-long project of creating a detailed marketing plan for a real company, he saw something in me that could thrive at one of the world's largest electrification, automation, and digitalization companies. He continued to check in with me as my internship progressed, always making sure I was working on projects and learning new skills.
MCM Director and Teaching Professor Richard Dool, Ph.D., also has been a key person in my success here at SC&I. He had to deal with my constant flood of emails making sure I am on the right track with course selection and graduation requirements. As I was a special case in the program considering my early start and finish, he encouraged me to take on a busier course load and ensured me that I would not set myself up for failure. I have and always will appreciate his swift email replies and scheduling me into his busy day to go over what my next steps are toward graduating from MCM. Not only does he have an impressive academic background, but he also is a great mentor to go to for professional advice.
How do you feel the MCM program prepared you for your career?
Although I enjoyed my undergraduate career, I often felt as if the theory-based courses were irrelevant to grasping practical skills used in the industry. The MCM program takes a bachelor's degree one step further by discussing these theories and applying them to skills necessary in the workplace, and equipping students with more confidence to enter the field - whether in corporate communications, public relations, or health communication. The diverse staff offers personal experience from their professional careers, and I felt like my coursework dove deeper into the role communication plays in a strong and profitable company.
Can you tell us about your current position as Communications Coordinator at Johnson & Johnson?
As the WiSTEM2D (Women in Science, Technology, Engineering, Math, Manufacturing and Design) Communications Coordinator at Johnson & Johnson, I am responsible for the day-to-day communications needs for this J&J initiative. This program is something I am extremely passionate about. WiSTEM2D sparks enchantment in young women and girls through creative problem-solving and play, inspires career paths by partnering with select academic institutions, and taps into the power of diversity through recruiting the best female technical talent. I assist with event planning, internal article writing, social media planning, and leveraging effective messaging and mapping. In a company as large as J&J, it is often a challenge to align strategic communication plans to our vast number of employees, especially through a volunteer-based initiative. With my help, the WiSTEM2D program will have a consistent messaging technique so employees and external partners will be better able to relay our goals and establish a more dominant presence in this mainly male-dominated field.
Since your position includes a focus on a program for women in STEM, how do you feel the media help showcase this male-dominated field as more accessible for women?
In today's world, most children show unconscious bias by associating boys with math as early as first grade. Although 74% of middle school girls are interested in STEM, only less than one percent actually pursue a related major in college. As the issue of gender equality is becoming more of a norm in today's media, viewers are being exposed to stories such as companies appointing their top female talent as executives and impressive young women stepping into the stock market. Fortunately, J&J isn't the only big-name company trying to cultivate females' STEM2D interests and position them to pursue higher education and careers in the industry. More media coverage is helping open up dialogue about the importance of this topic. With professionals and academic leaders teaming up to spark enchantment in young girls, mentor college-level women, and recruit and retain female talent, our society is bound to see more of a presence in women in STEM2D.
What advice do you have for current students and upcoming graduates who want to launch a career in your field?
I would advise current and upcoming graduates looking to launch their career to focus on networking. I was working at my first internship during my sophomore year of college, and didn't have anyone pushing me to make those close-knit connections in the industry. I now regret losing some of those connections I once had. In the communications industry, connections can make or break your career. Never stop networking - every academic and professional opportunity can come full circle in the future - you truly never know who will one day be able to help you out, or who you will be able to help out in a time of need!
For more information on SC&I's Communication program, click here.
For more information on SC&I's Master of Communication and Media (MCM) program, click here.