Faculty Member Mary Chayko Participates in Geneva Trialogue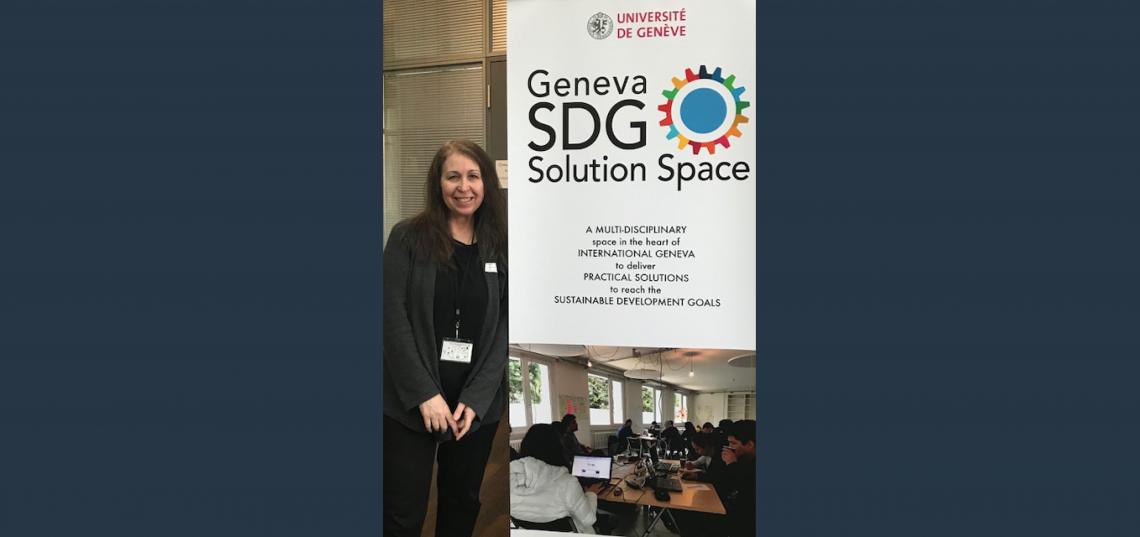 SC&I Teaching Professor of Communication and Information and Director of Undergraduate Interdisciplinary Studies Mary Chayko took part in the international interdisciplinary conference the Geneva Trialogue, Jan. 21, 2019 at the University of Geneva (Geneva, Switzerland). She presented her work on "Exploring the Impact of Emerging Technologies in the Classroom" in three formats at the conference – a short "pitch," a workshop, and a networking/demo session.
The Geneva Trialogue brought together leaders from academia, the United Nations, and the private sector to collaborate in the development of specific initiatives that support U.N. Sustainable Development Goals (SDGs) in education. Chayko was one of several U.S. educators invited to the conference to share her expertise in hybrid course development and teaching, the use of digital technologies in the classroom, and the sociology and social impact of technology. The Digital Communication, Information, and Media minor at Rutgers, which Chayko directs, has an innovative digital technology-driven hybrid structure and curriculum.
"This has been a unique, and uniquely satisfying, collaborative experience," Chayko remarked. "People from a variety of perspectives and backgrounds met throughout the day to develop specific, sustainable, accessible ways to "scale" educational offerings internationally. I was honored to represent Rutgers and SC&I in that effort."
Chayko found working alongside professionals from UNITAR, the United Nations Institute for Training and Research, especially gratifying.
"The U.N. Sustainable Development Goals encourage gender equality, the eradication of poverty, and a quality education for all," Chayko noted. "I was happy to play a small part in advancing these goals by participating in the Geneva Trialogue."