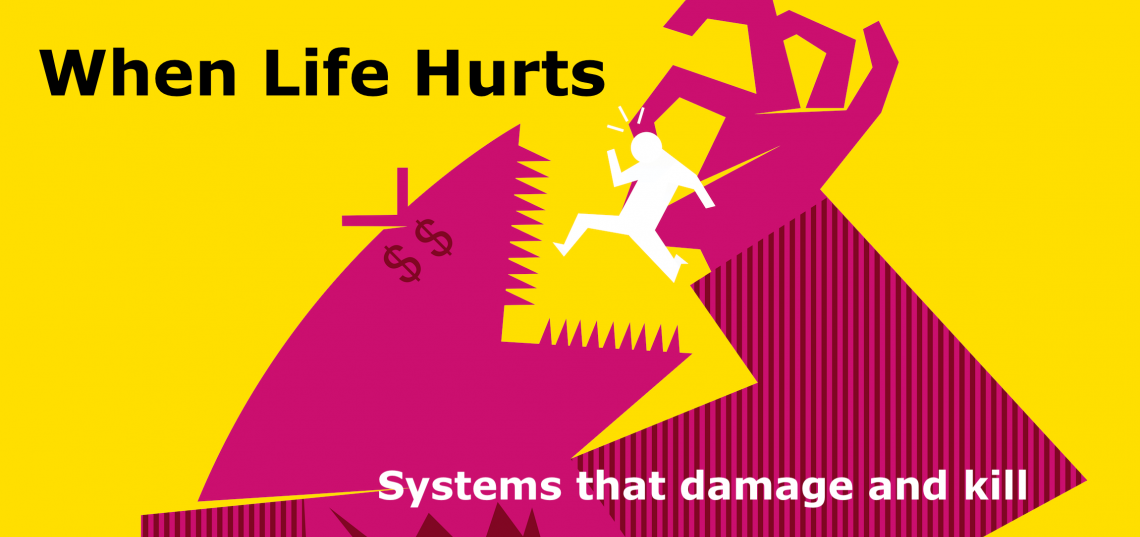 Kairos Magazine Explores Systems that Can Harm
Frightening brushes with the child welfare system, private landlords who take advantage of students and a report on an animal rights group that protests at slaughterhouses are among stories featured in the spring 2019 edition of Kairos.
The spring 2019 issue of Kairos, the Department of Journalism and Media Studies' magazine of top undergraduate work, examines systems and practices that can cause harm. 
Assistant Professor Chenjerai Kumanyika's students Katherine Parker and Gabrielle Roldan report on their own, and others,' frightening brushes with the child welfare system, in "Vexed: A Podcast about the Controversial."
"While the system does work to ensure child safety, it remains nuanced and systematically flawed," wrote Parker, describing what she learned from her reporting experience. "Time and time again, it has proven its classicist and racial biases through its separation of black and minority families."
In "Inside New Brunswick's Unjust Housing Rental System,"  Professor of Professional Practice Juan Gonzalez's investigative reporting students Chloe Dopico and Ameer Al-Khatahtbeh found that off-campus renters feel forced into substandard, overpriced housing, while the city agency charged with overseeing housing conditions and prices is failing to aggressively protect them.
Jamie Kurtzer, a student who covers animal rights, produced a video story about a series of protest vigils outside a Newark slaughterhouse, for Teaching Instructor Carol Cassidy's Broadcast News Writing and Reporting class.
This edition of Kairos also features two TV pieces. In "Talking Tomorrow," an interview show produced by Teaching Instructor Neal Bennett's Specialty Camera Studio team, student host Jabria Baylor interviews young innovators in STEM, filmmaking and publishing And Sarina Bhutani, a student in Assistant Professor Mary D'Ambrosio's Global News class, reports on a South Asian-themed TV station's struggles to woo younger viewers.
Congratulations to all of the contributors, and to their marvelous professors!
Kairos is published each fall and spring, and features the best student work generated by JMS classes, as chosen by the faculty editorial board.
Would you like to have your work, or your students' work, featured in the next edition? The magazine welcomes submissions in any form: reported articles, essays, photography, video storytelling, data journalism or academic papers. Please see the submission guidelines, here.