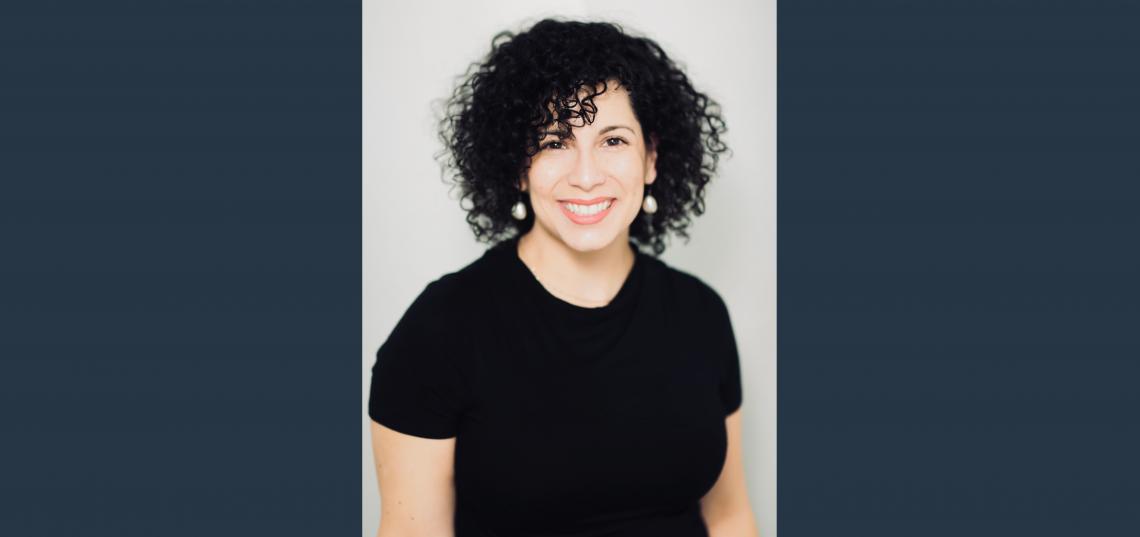 Master of Communication and Media Alum Discusses Current Role as Marketing Director
Vanessa Vera '18 talks about how the MCM program enhanced her professional skills.
Communication has always been at the forefront of SC&I alumna Vanessa Vera's professional life. Earning her Master of Communication and Media (MCM) degree in 2018, Vera has gained expertise in all facets of the vast communication industry from the written word to digital creation to now upper management as the current Director of Marketing, Communications and Public Relations at Rutgers University School of Nursing. We spoke with Roman on how the MCM program enhanced her skills and helped propel her career.
Why did you choose the Master of Communication and Media (MCM) program? 
As someone who has worked in communications for most of my career – from editing, to journalism, to websites and content strategy, and now as a communications, marketing and public relations director – I chose the Master of Communication and Media program because it would further my knowledge in my current professional area and build upon not only my undergraduate education years prior, but also make me better at my job. I wanted a curriculum that was manageable with my work and personal schedule.
What do you think are some benefits of the MCM program?
It's flexible, relevant, and practical to those currently in the workforce.
Do you have a specific faculty member or mentor at SC&I that has helped to guide you in the right direction professionally?
Teaching Professor and Director of the MCM program Richard Dool was an absolutely excellent professor and mentor in this program. His classes are decidedly practical and relevant and strike the right balance of theory and practice (with a heavy emphasis on the "practice" part). He seeks input from his students and applies it. Not to mention, he was generous with his time and in sharing his professional experiences in the form of insight and guidance to students in his classes.
How do you feel the MCM program has prepared you for your current position as Director of Marketing, Communications and Public Relations of Rutgers University School of Nursing?
Being in the MCM program placed me in an environment with other professionals, where together we could not only learn, but apply our learning to our current jobs. It was a shared experience in professional development. The study of theory also helped to put flesh on concepts and scenarios I experience daily in my work, and provided a framework to not only understand them, but make better decisions as a result of that knowledge.
Can you tell us about your responsibilities in your current role?  
Among many varying duties, as marketing, communications, and PR director at the School of Nursing I am responsible for the direction and strategy of marketing the school's mission, vision, goals and programs—this includes everything from media relations, to content strategy and management, to messaging, branding, and website management. And I don't do this alone – I work with an excellent team of people with a variety of gifts and talents who each critically contribute to that vision and, together, help move the school forward.
How do you think the rise in social media marketing, mobile advertising and on-demand services are impacting the industry today?
Social media, mobile advertising and everything that "digital" entails has been a disruptive force in media. It has changed the very way we consume content; and, in fact, how content consumes us. As communicators, we have a much shorter and smaller window of opportunity to get our message out there and make it resonate with relevance. And yet, we have a potentially limitless audience (or audiences) and access to them. It's both an incredible opportunity and challenge. It takes skill, knowledge and insight to be able to navigate this well … and the truth is, a lot of us are learning to navigate and must make lots of adjustments along the way.
What advice do you have for current students and upcoming graduates who want to launch a career in your field?
I would encourage them to think of practical ways they can insert their skills and communications goals into the jobs they are doing – even if those jobs aren't exclusively (or even by definition) communications roles. This is especially relevant early on in your career when you are doing jobs that entail lots of "dirty work." There is always something communicative that needs to be done – writing, social media, strategic planning, project management. Find that space and be awesome at it. Every job is an opportunity and a stepping stone to a meaningful career, if you find—or take it upon yourself to create—that common thread. Work hard. Read good books. Have something to say. Bring value to every project you are on, because if you aren't adding value, you're holding back the process.
For more information on SC&I's MCM program, click here