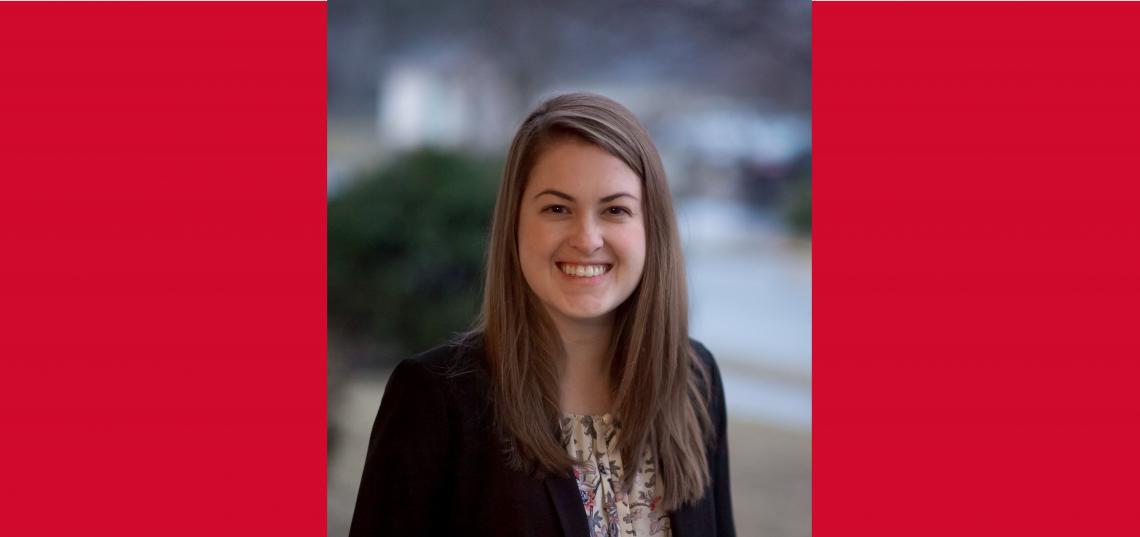 MCM Grad Turns Caring into a Career
Jenn Attridge Schacht's '18 passion for social responsibility has paved a successful path in the professional world.
Doing good can become a rewarding livelihood. Just ask Jenn Attridge Schacht, MCM '18. From classroom to office complex, Schacht's primary focus has always been on positive social impact and community relations. Her passion was further ignited during her time in the Master of Communication and Media (MCM) program, where she learned how to apply her drive for social responsibility to the professional world. Schacht spoke to us about her time in the MCM program, how it led to her Corporate Social Responsibility Fellowship at Johnson & Johnson, and her current position as Community Affairs Manager.
Why did you choose the Master of Communication and Media (MCM) program?
For so many reasons! I had a few acquaintances who had graduated from the MCM program and I knew it had a great reputation. Having been out of school for many years, I really missed the dynamic classroom discussions. As such, in-person courses were important to me, and the fact that they were offered in the evening would allow me to continue working full-time. I also knew Rutgers' had the potential to bring people together from very diverse backgrounds and all walks of life, and that was really appealing to me. Ultimately, I was interested in exploring the field of corporate social responsibility (CSR). The MCM program offered a few classes in CSR, taught by some of the brightest minds in the industry. Once I learned about this - and the Johnson & Johnson CSR Fellowship - I was sold! 
What do you think are the top 3 benefits of the MCM program, and how did it prepare you for your career?
One of the best things about the MCM program is the diverse student population. I absolutely loved having the opportunity to get to know so many people--from those who were just out of undergrad, to seasoned professionals; from those who were local, to those who had traveled across the world to participate in the program; and so much more. This diversity in background and thought made for such a rich learning environment.
I found the program to offer a ton of options for coursework. I particularly appreciated that there was a real emphasis on practical skills that could be adopted immediately in the workplace. And while the in-person experience was important to me, I also had the opportunity to take advantage of online courses! The flexibility was really helpful in balancing a demanding schedule.
The faculty are wonderful. I learned so much from each person I had the opportunity to get to know through my coursework. Everyone had a different style, but they were all there to nurture and champion us along the journey. They want to see the MCM students learn and grow, and they create the perfect environment to do so.
Do you have a specific faculty member or mentor at SC&I that has helped to guide you in the right direction professionally?
I feel lucky to have had the opportunity to learn from SC&I's faculty! I really appreciated having Teaching Professor Richard Dool, Ph.D. as the director of the MCM program. He took such a genuine interest in each of us as students - trying to understand what our goals were and how the program could help us achieve them. He understands that most of us are working full-time and have families and other commitments outside of the program. He always made sure to start every conversation with me by asking questions about not only my experience with the program, but also my personal life. He was a great listener and a really trusted advisor.
I'm also grateful to have learned from Part-Time Lecturer Michael Bzdak, Ph.D. I was able to take two of his courses on CSR which I found really eye-opening. I had the added benefit of getting to interact with him at Johnson & Johnson through my role in the fellowship. His coursework helped cement my passion in the CSR field.
Can you tell us about your current position as Community Affairs Manager at The Janssen Pharmaceutical Companies of Johnson & Johnson?
I'm currently the Community Affairs Manager at the Janssen Pharmaceutical Companies of Johnson & Johnson. In my role, I lead employee engagement activities in support of our corporate social responsibility efforts in the communities where we live and work across the U.S. This includes employee volunteerism and employee giving initiatives. I also oversee charitable contributions for the communities that surround our Horsham, PA campus, as well as relationship management with key nonprofits and community stakeholders. (I think I have the best job in the company!)
How did your experience as a Corporate Social Responsibility Fellow impact your career? What were some of your responsibilities in that role?
My experience as a CSR Fellow directly led to my next step at Janssen as Community Affairs Manager! The type of work I did throughout the fellowship is right in line with what I do now -primarily around employee engagement efforts in support of our local communities across the U.S. I had previously spent many years in the nonprofit sector, so I had some relatable experience - but the fellowship allowed me the opportunity to enter the field and learn from a company that has this CSR work at its core. 
What advice do you have for current students and upcoming graduates who want to launch a career in your field?
CSR is a big umbrella with a lot of diverse opportunities - from philanthropy, to employee engagement, to sustainability and more. A great way to find your niche is to network and conduct some informational interviews. I spoke with so many people along the way who helped me clarify my true passion areas (along with the areas which wouldn't be such a great fit).
Also, remember that you can make any job more meaningful by raising your hand to get involved. If you're passionate about a cause, find a way to bring it to your company. Perhaps offer to spearhead a volunteer opportunity, lead a collection drive, start a "green team", create a mentorship program. The opportunities are endless! Taking leadership will help demonstrate your skills and abilities.
For more information on SC&I's MCM program, click here