SC&I inspired my interest in lifestyle public relations
Dual Degree alumna, Alexa Tepedino COM'20, MCM'21, tells her story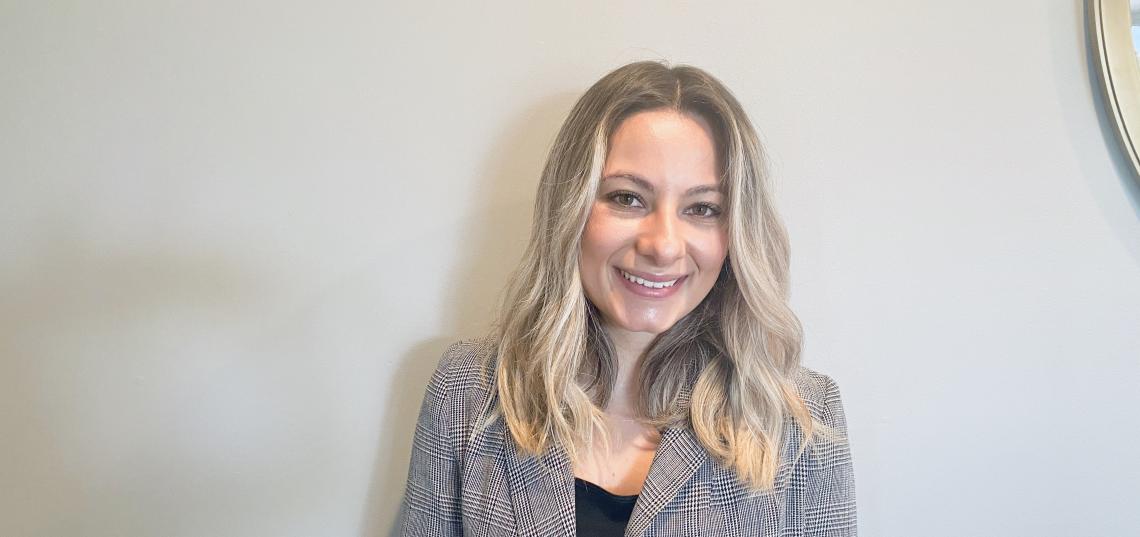 SC&I Communication (COM) and Journalism and Media Studies (JMS) majors can apply for the MCM program in their junior or senior year as part of the Dual Degree BA/MCM program option. We're delighted that Alexa Tepedino, COM'20, MCM'21, is taking her own advice and tapping into all SC&I has to offer.
What drew you to SC&I and how did you choose your field of study and specialization?
I entered my sophomore year of college not knowing what path I wanted to follow. I enrolled in Introduction to Human Resources Management and Introduction to Communication and Information Processes with hopes of finding direction. Through these classes, I found my passion. Assistant Teaching Professor Brian Householder's approach to teaching inspired me and made me want to take more classes at SC&I. Part-time Lecturer Jack Grasso encouraged me to grow both as an individual and as a student; after taking his Principles of Public Relations course, PR became my specialization. I'm experiencing more than just textbook learning; in every single one of my classes, I am given real-world examples which expands my knowledge base and confirms my love for my field of study.
What classes have had the most impact on you?
Prior to SC&I, I lacked an understanding of Communication and PR. Taking Grasso's Principles of PR allowed me to understand public relations and its importance. His extensive experience taught me lifelong lessons and his strong emphasis on writing and its importance in relation to PR will forever be ingrained in my memory. His advice followed me through my college career and encouraged me to constantly better myself. Grasso is also to thank for my experience with press release writing. He handled every student as if they were a colleague, provided constructive criticism, and encouraged us to edit our mistakes.
Another class that had a strong impact was Media, Marketing and Communication with Assistant Professor of Professional Practice, Mark Beal whose mission is to understand each student on another level and provide them with the means for success. It was both inspiring and exciting. For someone like me, who is scared to step out of their comfort zone, this class was what I needed. My biggest takeaway from this class was the final assignment where we worked in groups with real clients and created a campaign based on their needs. My group's client was the Omni Berkshire Hotel in New York City and the thrill of this assignment gave me a glimpse into the future. The research, the presentation, and the communication between the client and agency are all things I can say I have experience with as a recent grad.
What made you decide to pursue your Master's in Communication through the Dual Degree Program at Rutgers?
I always had plans to pursue my master's degree and this specific program allowed me to save both time and money. The idea of having 12 credits towards my master's upon completion of my bachelor's was very appealing and I knew it would help me land a great job. After my experiences in undergrad with amazing professors, I knew it would only get better at the graduate level, and it has. 
What career path do you hope to pursue and how do you see SC&I helping you achieve your goals?
I would love to pursue a career in lifestyle public relations and I know it will be more than just a job for me. SC&I is the reason for my interest in this field and I know it will be the reason I achieve my goals. Every professor I have come in contact with has tried to help me in one way or another and this has continued at the graduate level. Thanks to Part-time Lecturer, Kristen Koehler, I am enrolled in a Certificate Program with PR Council and in my current class with Professor Beal I am going to be introduced to PR executives. This is just a small glimpse into what SC&I can offer.  
What advice do you have for SC&I undergraduates? 
Don't be scared to ask for help. Professors want to see their students succeed. I spent the first two years of college trying to figure out things on my own and quickly realized that in order to achieve my goals, I had to put myself out there and establish relationships with both my professors and fellow students. The more people you know, the more opportunities you have. SC&I has so many resources and talented individuals, it would be a shame to not take advantage of it. Enjoy your time at Rutgers and make the most of it–it goes by very fast!