SC&I Students: Study International Journalism in Bologna, Italy this Summer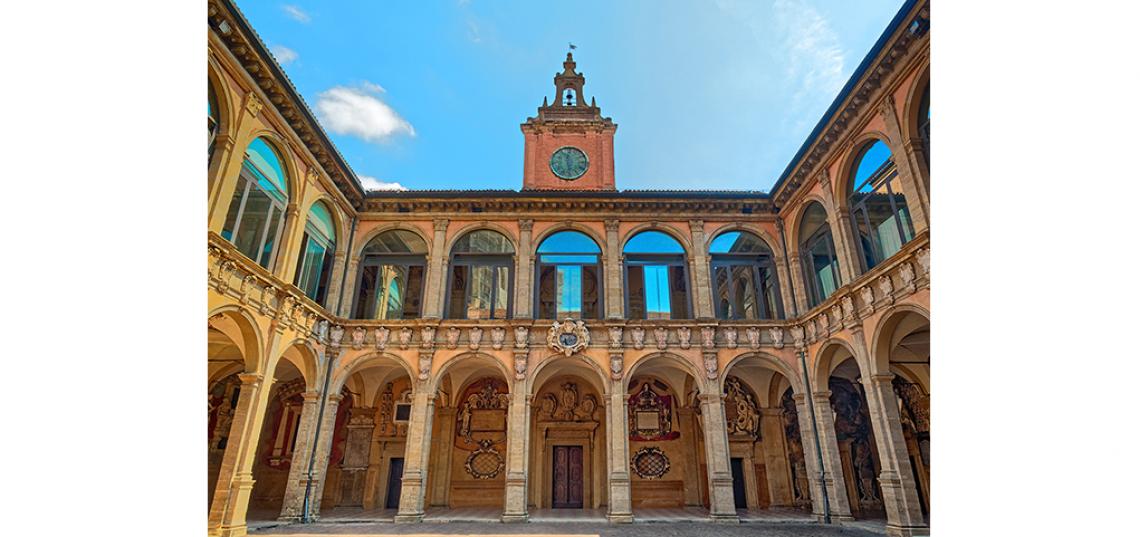 What could be better or more exciting than studying global journalism while living in the heart of Bologna, Italy, one of the most beautiful, medieval cities in Europe?
In June 2018, SC&I's Department of Journalism and Media Studies (JMS) will offer two three-credit courses in Bologna in the field of Global Journalism. Each course is two weeks long and SC&I students can opt to take one course for three credits or both courses for six credits. 
The course International Reporting will be taught by Assistant Professor of Professional Practice Mary D'Ambrosio, and will run from May 31–June 14, 2018. In this class, students will learn how to report on current political and economic issues facing Italy and the European Union. 
Travel Writing will be taught by Associate Professor Regina Marchi, and will run from June 14­–28, 2018.  In this course, Marchi said, "students will write engaging stories about cultural and historical aspects of Bologna. The focus will be on learning to tell stories that make readers feel that they are THERE (or make them want to go there someday!)."
Marchi said, "Both courses count towards the new Global Media specialization offered by JMS, for those students who would like their resumes to reflect experience related to international media."
"This study abroad program will give students interested in Journalism and Media Studies the opportunity to write, study, and immerse themselves in Italian culture," Marchi said. "The non-traditional class setting will provide students with the history of Bologna and allow them to travel throughout Italy to see some of the most amazing museums and communicate with people from many different backgrounds and cultures."
Below, SC&I speaks to Marchi about the Travel Writing class and other details about the exciting trip.
What will a typical day be like for students taking one or both of these courses in Bologna?
JMS students will live and study in the heart of the University of Bologna (U Bo) area, a hub of student activity, cafes, museums, art galleries and outdoor events. Each morning, they will start the day with an hour of Italian instruction so they can communicate in basic ways, followed by two hours of daily instruction in international journalism or travel writing. After lunch, students spend the afternoons walking around the city to research, interview and photograph stories.  Our students will be paired with Italian students from the University of Bologna's English Translation Department. (Their English is excellent!) Rutgers students and U Bo students will form teams and go out daily to explore and report.  This gives our students the opportunity to understand what it is like to report in a foreign country using translators, something professional journalists do. At the end of each course, students will produce professional-quality news stories to be published online. This is a wonderful way for students to develop writing portfolios for when they go on the job market. You can see examples of stories written by last year's Bologna study abroad students at: https://bologna2017.pagecloud.com/
Will these courses be taught in a typical classroom setting?
These courses will be taught in non-traditional settings - in the heart of the medieval city center of Bologna, the second largest medieval city in Italy. Bologna was first settled around the year 1000 BCE and the University of Bologna is the oldest university in the world, established in 1088! The city's architecture and artwork reflect various historical periods including Byzantine, Gothic and Renaissance. Back in medieval times, wealthy families would construct giant brick towers (300 feet high!) to show their power, but warring clans would destroy each others towers. At one point, there were hundreds of towers in Bologna, but today there are about 20 remaining (some of them are "leaning" towers), which are magnificent to see!
Do you have any trips planned with the students?
On the weekend, students are free to take day or overnight trips to other cities in Italy. Florence is just 45 minutes away by train and Venice and Rome are both within a couple of hours by train. We will also do some group trips while in Bologna. For example, last year we went to the opera house and went on an Italian food tour and learned how to make ravioli and tortellini. The group also climbed to the top of one of the highest hills in the city to have a picnic and enjoy the panoramic views.  We also took a day trip to visit the beautiful villages in the Apennine Mountains (only a half hour from Bologna by bus).  This year, we are planning to visit (and hopefully find our way out of) the world's largest hedge maze, located about 20 minutes by train from Bologna. So there will be plenty to see and do!
Are there any requirements needed to go on the trip?
Journalism and Media Studies majors are prioritized for admission, but the courses are open to students from other departments, depending on space. Students from any year (first year through seniors) are welcome to apply. Speaking Italian is not required (but, of course, it's a plus!). Both Professor D'Ambrosio and I have backgrounds in journalism and have traveled extensively throughout Italy and Europe.
What is your favorite part of teaching in other countries?
My favorite part of teaching study abroad courses is seeing the students' excitement and their personal and intellectual growth as they get to experience an entirely different culture, language, foods, customs, monetary currency and more. For some, it is the first time they have traveled outside the U.S. For others, it is the first time they've traveled abroad without their families. So, I love to see how students develop their sense of exploration and independence, reading maps to get around new places, learning to communicate with others from very different backgrounds.  Journalism is an adventurous profession and you need to be willing to go outside your comfort zone and experience new places with an open mind and a keen desire to learn.
What do you hope students gain from going on this trip?
Bologna is a fantastic place for students who like to write, since it is a hotbed of cultural and political activity.  For example, Bologna is a center for feminism in Italy and houses the headquarters of the Italian Women's Library. It is also a major site of LGBT activism and opened the first LGBT center for refugees last year, one of only two centers in all of Europe trying to help LGBT refugee populations. (Like the rest of Europe, Italy receives refugees from Africa and the Middle East, which is changing the demographics of Europe - an interesting story in itself). Bologna is also a center of environmental activism, street art, political graffiti and outdoor concerts.  It is a United Nations World Heritage City for music, so there are free and inexpensive concerts happening in churches, parks and other sites every day.
What would you like to tell students who are on the fence about going on the trip?
For those students who are interested but think that they can't afford it, don't let the price stop you from applying because scholarships and financial aid are available (which you can learn more about by meeting with staff at the Rutgers Center for Global Education).  Given that Europe is expensive, this is actually a very good price for two weeks in one of Europe's most beautiful cities.
How to Apply
The deadline for priority consideration is Dec. 15, 2017, and the regular deadline is February 15, but spots are limited to 12 people per class, so apply ASAP to maximize your chances! JMS majors get priority but all Rutgers students are welcome to apply. For more information, contact Associate Professor Regina Marchi at rmarchi@rutgers.edu or Assistant Professor of Professional Practice Mary D'Ambrosio at: mary.Dambrosio@rutgers.edu.
To learn more and to apply, click here: Rutgers Center For Global Education's website or call the Center: 848-932-7787.  The course costs approximately $2,995, which includes tuition, instruction, translation, travel health insurance, lodging, breakfasts, a formal welcome meal, formal farewell meal, and certain group activities. Airfare and other meals are not included.