SC&I's Aronson Tapped by Simon & Schuster to Write Book On Cave Rescue in Thailand
Asked in July if he would be willing to write the book, Marc Aronson is working with SC&I colleagues to ensure the book will be finished by September.
UPDATES, May 2, 2019
"Rising Water" was released on March 19, 2019. The audio book was released the same day, and is narrated by Vikas Adam, who also narrated the audiobook of "Life of Pi." Both are available to purchase on Amazon. 
"Rising Water" was named a Spring Selection by the Junior Library Guild. 
Media Coverage 
The New York Times Book Review: "Books that Expand the Possibilities of Boyhood" 
The Washington Post: "'Rising Water' Takes Kids Behind the Scenes of Last Year's Thai Cave Rescue" 
Author Appearances 
March 20 Aronson presented the book to all of the 8th graders in the public schools of Maplewood and South Orange.
March 23 Aronson presented it at the Montclair Literary Festival.
April 16, at the Beta Phi Mu (graduate library school honor society) ceremony at Rutgers Aronson discussed the book along with Diana Floegel -- an SC&I Ph.D. student who helped Aronson to research the book (as did Bruce DuBoff, another Ph.D. student who has written the research guide to the book), Dr. Minjie Chen of the Cotsen Children's Library at Princeton University, who also assisted in the research. 
Read SC&I's full story here: 
Assistant Teaching Professor of Library and Information Science Marc Aronson was hiking in the Swiss-Italian Alps in July with his family when he received an email from Simon & Schuster. The editor had an urgent question for Aronson: would he be willing to write an "instant" book about the cave rescue in Thailand? The book, the editor explained, would need to be ready in mid-September for a March, 2019 publication date.
Aronson's response to the editor was an enthusiastic "yes," but he knew he would need to rush, and he knew a tremendous amount of work would be involved. In 2011 he published a successful "instant" book titled, "Trapped: How the World Rescued 33 Miners from 2,000 Feet Below the Chilean Desert," about 33 miners who became trapped in a mine 2,000 feet under the earth for 69 days in August 2010.
Published by Simon and Schuster's Atheneum imprint, and titled Rising Water, The Story of the Thai Cave Rescue, the book, Aronson said, will cover not just the day the boys and their coach were saved, but the whole story from the moment the boys and their coach decided to enter the cave until the last boy left the hospital and the team spoke to the world.
However, Aronson said, as in many of his books, the narrative will follow several tangents. "For example, why there is statelessness in Thailand and especially in the Golden Triangle, or what is cave diving, or the form of Buddhism most of the boys and the coach practiced and how that relates to the meditation they practiced and their decision to be ordained as novices -- temporary monks -- after they left the hospital."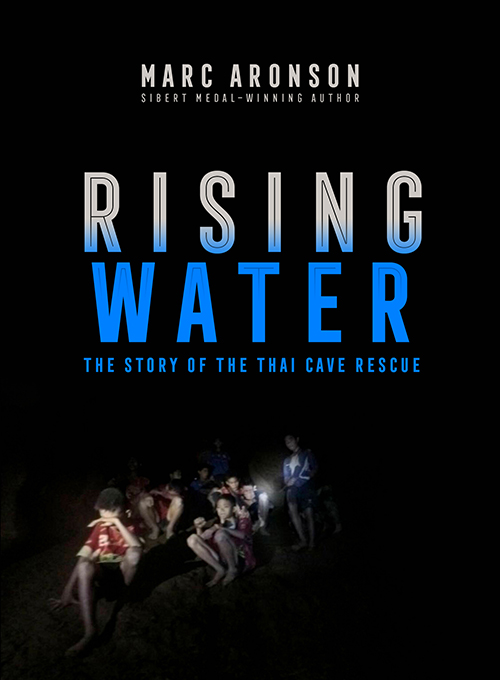 The book, Aronson said, will "attempt to describe what happened in Thailand. My research is to get more information than was available in the daily press. As I gather stories and hear from a variety of perspectives, several themes are  emerging, though these may change or evolve as I learn more. I will focus on international cooperation, and the crucial roles played by  'stateless'  (what we in the U.S. would call 'undocumented') team members and the coach. So one theme is internationalism  and  the value of all peoples –– which, as some of the rescuers felt at the time ­­–– is a direct counter to the growth of populist, anti-immigrant, anti-refugee nationalism around the world. Another theme will be the degree of media circus and chaos during the rescue, which may link to the pressure on the Thai government and the Thai military to have a success –– or to do everything to achieve that, even if the outcome was not good. I am learning more about this story as I research."
Aronson will interview anyone he can reach.  "So far," Aronson said, "several key rescuers have given me wonderful interviews. I have made inquiries about speaking with the boys, the  Thai SEALs, the U.S. Army staff, and I do not yet  know others I might be able to reach. With the  wonderful assistance of three Thai, a Japanese, and one Chinese speaker I have been able to  make use of existing interviews done with participants in the rescue which have not  been fully available in English and thus not fully reported in the England-language  press."
The main audiences for the book will be middle grade and early high school readers, but also adults who, as Aronson said, enjoy a short well-researched book. This group he considers his "shadow readers."
To conduct the immense amount of research required in such a short time, Aronson knew immediately that he would need help. He knew where to look: both Rutgers and Princeton Universities. 
Aronson hired two SC&I graduate students, Bruce DuBoff and Diana Floegel. 
"I chose them," Aronson said, "because I know both as excellent doctoral students. Diana took several Master's classes of mine and showed the kind of insight that has led her to flourish in the doctoral program. I first met Bruce through his role in the New Jersey School Library Association and have remained interested in his work as he pursues the doctorate. Those previous connections assured me that they would both do fast and accurate work and would follow up when I had further questions."
To divide up the work, Aronson said, "I asked both of them to research specific areas in which I thought they would have a degree of personal interest," Aronson said. " I asked Diana to look at some of the social issues and context such as statelessness, Buddhism, local involvement in the rescue; I asked Bruce to get information on cave diving and cave rescue; both gathered and sent me articles covering the day by day flow of events. This was just what I needed."
Aronson also asked SC&I's Associate Dean for Programs Dafna Lemish for assistance. "I was looking for Thai students to help with that side of the research, and Dafna, who was most encouraging about the project,  directed me to the Rutgers University international student officers. Unfortunately, while two Rutgers Thai students were eager to help, there was an issue about their compensation, which meant I could not pay them for their time. As a result, I had to turn to another university to find Thai readers. Through a contact at Princeton University, I now have Thai readers reviewing Thai sources, and other Thai contacts who are using their personal contacts."
"As a doctoral student, I'm no stranger to tight deadlines," Floegel said, "but this project was particularly urgent given its timeliness and scale. I followed the Thai rescue as it unfolded in popular sources like the New York Times, but it wasn't until I started to work with Dr. Aronson that I discovered the salient and timely aspects of these events. Beyond the daring adventure, sacrifice, and triumph that define the rescue lies relevant context including the international cooperation and expertise required to free the boys, as well as the fact that the coach and three players are stateless, meaning they are not considered nationals of any country, and marginalized in that regard. Diverse individuals in the  community also acted heroically by, for example, washing the rescuers' clothing and gear for free and providing meals for those outside the caves. Additionally, the coach is widely credited with sustaining the boys though certain types of Buddhist meditation, and he himself is a former monk. Given our own national discourse that emphasizes, among other things, isolation and xenophobia, this story should be an inspiration and lesson not only in its adventure, but also in its ability to draw attention to issues surrounding alliship and citizenship."
DuBoff said, "I used my experience as a middle school librarian to search the internet as a middle schooler would, or with an eye towards middle-school interests. The most surprising thing that I encountered is that although I found research from all over the world, in many different newspapers and media outlets, the information and the sentiments were surprisingly the same. In this era of information silos and contextual facts, there was very little of that present in the information about the Thai cave rescue. People were universally concerned and interested in helping, and frankly, that is very gratifying, to know that people all over the world can still come together for the common good."
In addition to the  story of the miraculous rescue, the book will also include an amazing collection of images. Aronson said, "Above and beyond images of the boys and the cave, I have found shots of the Muslim southern Thai Birds Nest collectors who came to search the hills for ways to reach  the boys, the Chinese rescue teams, cave-diving beauty shots -- all of which would, I think, enhance the book. We'll see. I am also giving the publisher references for several maps and diagrams which are necessary to picture what took place." 
A few of the most critical challenges Aronson faces, in order to get the draft finished by mid-September, are, he said, "Making sure I have all of the research I need, a clear timetable for the interviews I have requested, and, most of all, the pressure to get a first draft done quickly enough so that I have time to read that over carefully and  consider the edits and changes that would improve it. I always tell my students to do a first draft so that you can edit your work and make it better before you submit it. I say that because I know it  to be true for my own work."
As to what he finds to be the most exciting aspect of writing this book, Aronson said, "Writing under deadline is both anxiety-producing and thrilling. As you march ahead, your book becomes ever more real. I can't wait to be done and to get it out to the world."
Book cover photo courtesy of: Atheneum Books for Young Readers, an imprint of Simon & Schuster Children's Publishing Division.