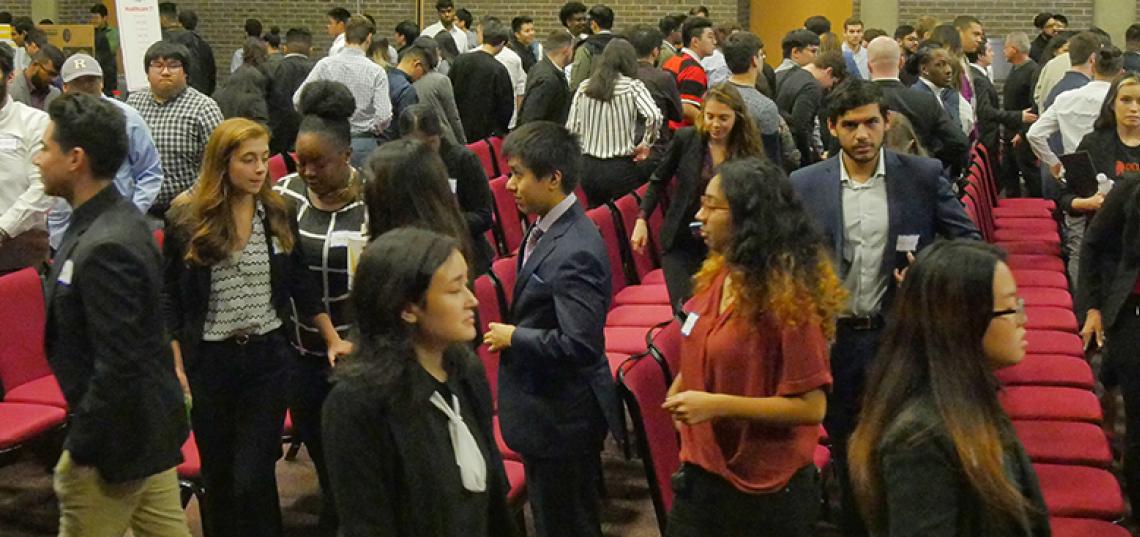 Students in the Fall 2019 IT & Informatics Showcase Pitched 40 New Prototypes Designed to Solve Real-World Problems
The two winning projects provide a service for parents suffering from postpartum depression, and a virtual reality program that enables students to take classes from the hospital or home.
From a field of 40 student team projects involving over 250 Information Technology and Informatics students, the members of Team Delphi, a virtual reality program that enables students to take classes from the hospital or home, and Team Motherly PPD, a mobile app designed to help new parents suffering from postpartum depression, were chosen by both students and judges to be Showcase Winners at the IT & Informatics Showcase, held December 12 at SC&I.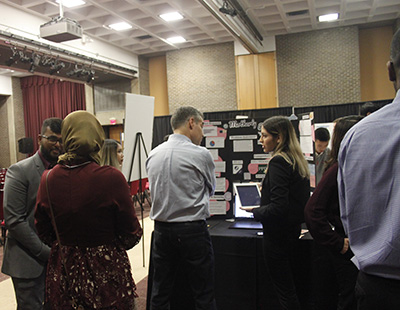 The Showcase is  hosted each semester by IT & Informatics to provide students in the Management of Technological Organizations classes and Capstone courses the chance to pitch their technology-based solutions to an audience of their peers and a panel of judges drawn from academia and industry. 
This semester 24 judges participated, evaluating the posters and prototypes in terms of their innovation, creativity, and clarity. "Without our judges, we couldn't do the Showcase – we can't thank these people enough for taking time out of their busy professional lives to spend the afternoon with our IT & Informatics students," said Connie Pascal, program assistant for the IT & Informatics Program.
"Throughout the IT & Informatics Program, students are encouraged to explore ideas about how technology can be implemented creatively, and that's what you see on display at this event," said Director of Undergraduate Studies in Information Technology and Informatics and Assistant Teaching Professor Warren Allen. "Students in the IT & Informatics program have diverse interests and goals, but what brings them together is their shared interest in putting technology to use for people, companies, and society writ large."
The two Showcase winning teams, Delphi and Motherly PPD, are examples of students choosing to address problems originating from their personal experiences.  Aidan Cushing, Delphi's lead developer, said, "As someone who grew up with a chronic condition, there were many times where I felt different, isolated from the other kids as a result of my fibromyalgia. The long days of bed rest made me feel like an outsider. These experiences left me dreaming of a day when kids in my situation would never have to feel alone again. That's what Delphi is all about for me. The medium of VR allows for immersive experiences like nothing the world has ever seen, and that immersive and inclusive experience could mean the difference between success and falling behind for a child on extended absence. I can't express my gratitude enough to the IT & Informatics department for giving me the chance to make a real change in the world. Meeting my team and sharing that dream was an experience I'll never forget, and I can only hope to someday develop Delphi into a vehicle for the change I needed when I was young."
Rachel Eddy, Delphi's project manager, said she believes the reason their team won was due to "our level of passion and determination. We were excited about Delphi's mission from start to finish."
Motherly PPD, the other Showcase winner, was born out of a startling discovery about the large number of mothers who suffer from Postpartum Depression (PPD).  Lead developer of Motherly PPD, Nicole Coria, said their team was inspired by their realization that "3 million new mothers yearly go through Postpartum Depression and oftentimes go undiagnosed. We looked into available platforms on the market and they don't accomplish what we're trying to do. Current applications don't provide a platform for users with a community, 24/7 medical attention, or resources and that's the gap Motherly PPD is filling."
The group's solution was to create an app Coria described as an "accessible platform which aims to create a change within the community, destigmatize mental health, and encourage mothers to seek professional help. Our app screens users for PPD and provides moms with their results. Users can then use our resources, such as our newsfeed to anonymously connect with a community who may be struggling with PPD. Other key features include our FAQ, forum, 24/7 live support from licensed psychiatrists, locate nearby specialist, a list of hotlines and links. Our platform anonymously connects users with a community and licensed psychiatrists through calls or live chats. We encourage users to  continue seeking professional help and treatment through booking appointments with nearby specialists."
The students will continue to develop and refine the app even though the course is over. Coria said the next step for Motherly PPD is "to accept our invitation for the 2020 Innovation in Healthcare Summit & Pitch Competition held by Rutgers New Jersey Medical School with support from the New Jersey Healthcare Foundation. We are also looking into participating in Rutgers I-Corps in the near future."
Deborah Close, the IT & Informatics instructor for the students who created Motherly PPD, explained the reasons she believes the team was so successful. "I attribute the Motherly PPD team's success to their passion and commitment to their project in identifying and solving a societal problem, post-partum depression, with appropriate process and technology. Additionally, their attention to detail in managing their project, including their secondary and primary market research, and their collaboration as a team, also greatly contributed to their success.  As an instructor, I found the team excelled in their willingness to learn new concepts with respect to people, process, and  technologies, and to be open to constructive feedback and coaching, to improve along the way and reach a very successful conclusion."
Another student project, titled Anamnesis, which won a Judge's Choice award, also provides an example of the ways the projects apply IT solutions to current critical societal issues. Anamnesis's aim it to help children suffering from ADHD and their families.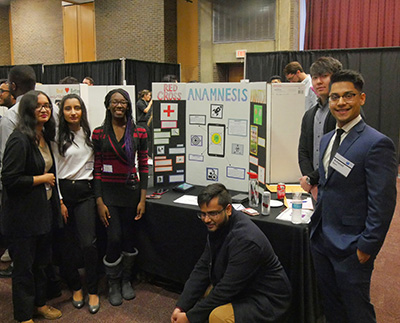 Mariam Khan, lead developer of Anamnesis, said, "We were inspired to create this application because we wanted to make a measurable social difference that would be accessible to everyone. Our application would make a big impact on low-income families who have children with ADHD due to the issue of inaccessible healthcare and high behavioral therapy costs. In terms of launching our business, we hope to work with Rutgers I-Corps to see what next steps we can take with developing our application further."
For the first time this fall students from the new IT & Informatics Gaming Capstone course participated in the ITI Showcase. Erica Lucci, instructor for the Gaming Capstone said, "The Gaming Capstone experience is the final course in a series offered as part of the Games and Innovation Specialization in the ITI program.  The students participating in this inaugural semester had a variety of educational backgrounds, interests, and skill sets, which we capitalized on to create two game prototypes; a multiplayer board game and a single-player digital game, both of which are based on the same premise."
Lucci said to prepare for the Showcase presentation, her "students worked in three teams led by a project manager to ideate, brainstorming workable ideas that could potentially translate into a full-fledged analog and/or digital game."
Looking ahead to the upcoming spring semester's IT & Informatics Showcase, Allen said, "What I love most about the event is the energy. It's a nervous energy, for sure! But it's an exciting event, and our students come out of it with a great experience."
The Spring 2020 IT & Informatics Showcase will be held Monday, April 27, 2020 at the College Avenue Student Center on the Rutgers University-New Brunswick campus.
The Fall 2019 Winners IT & Informatics Pitch and Prototype Competition Complete List of Winners
Overall Showcase Winners (selected by both the judges and the students):
Delphi. Topic: Education. A Virtual Reality program that allows students to view and interact with their own classroom, teachers and classmates from the convenience of home or hospital. 
Students: Rachel Eddy, Om Jhaveri, Suvina Sinha, Aidan Cushing, Joanna Ha
Motherly PPD. Topic: Healthcare IT. Motherly PPD helps parents suffering from postpartum depression get help for recovery by connecting them to a community of parents and licensed specialists.
Students: Nicole Coria, Naresh Edala, Melisa Gutierrez, Abhi Kolal, Michell Qiu, Sep Regencia
Judge's Choice Awards
C.H.O.M.P. Topic: Business. Food service inventory management system that optimizes food costs while helping those in need.
Students: Jeffrey Bodnar, Elijah Caddgan, Lena Claus, Jeevan Hubbard, Xue Ting Lin, Jenifer Olvera, Julio Perez
Anamnesis. Topic: Social Impact. Anamnesis is an alternative to stimulants to alleviate the symptoms of ADHD with young children. A safe solution to controlling your kids' attention for free.
Students: Mariam Khan, Omar Khan, Woosoo Kim, Sherin Mattappaullil, Paulina Bianca Racela, Mohamed Salam, Joenathan Watson, Tiana Youngblood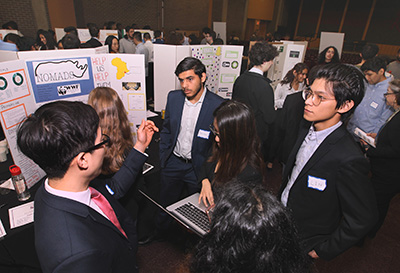 Student Choice Awards
Sweat it Go. Topic: Business. A gaming application that focuses on increasing retention rates within Planet Fitness by gamifying the way workouts are done while incorporating a social element to the gym experience.
Students: Eisha Kamil Pascual, Christopher Wind, Nico Blasucci, Steve Vandermeer, Adam Miros, Sana Sadikot, Junesung Sohn
Nomads. Topic: Social Impact. A division of the World Wildlife Fund, Nomads advances the conservation of endangered species by connecting donors with their sponsored animals.
Students: Chris Adamo, Ambar Arevalo, Erika Etkine, Timothy Koh, Hanzheng Lin, Veronica Mu, Abdullah Sakar
To view all of the student projects, click here.
To learn more about the Information Technology and Informatics Major at the Rutgers School of Communication and Information (SC&I), click here.