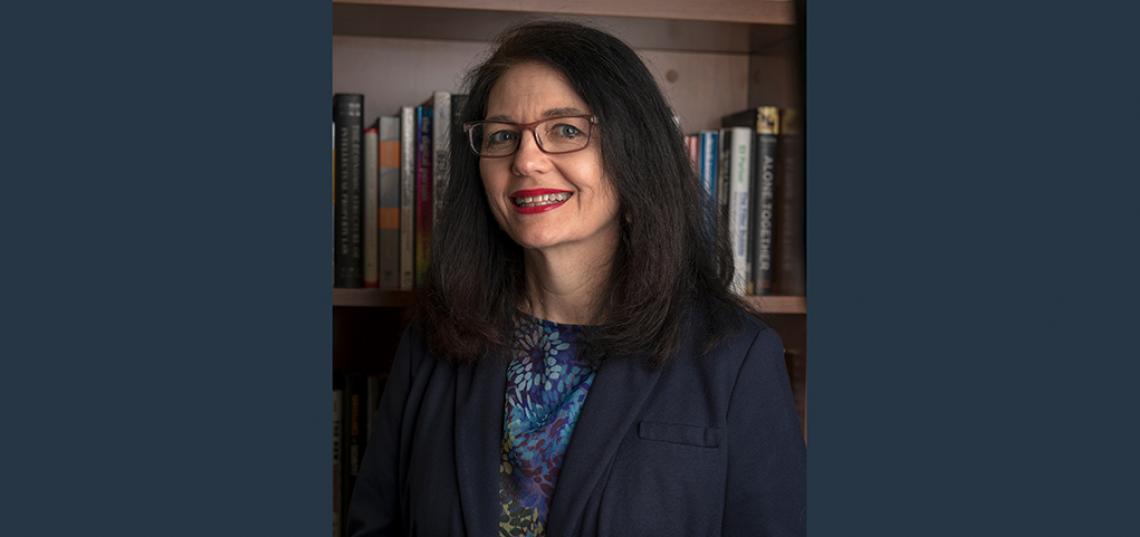 Susan Keith Elected Vice President of AEJMC
Keith will begin her tenure as vice president of the Association for Education in Journalism and Mass Communication on October 1.
Susan Keith, chair of the Department of Journalism and Media Studies, has been elected vice president of the Association for Education in Journalism and Mass Communication. She will begin her term on October 1, 2019, serving on a four-year AEJMC leadership ladder of vice president, president elect, president, and past president.  
"The election was a huge and humbling honor," Keith said. "I look forward to serving AEJMC, an organization that has helped me greatly on my journey as a researcher and a teacher."
AEJMC is a 107-year-old non-profit professional group of about 3,700 faculty members from 50 countries. According to its website, the association's mission "is to promote the highest possible standards for journalism and mass communication education, to cultivate the widest possible range of communication research, to encourage the implementation of a multi-cultural society in the classroom and curriculum, and to defend and maintain freedom of communication in an effort to achieve better professional practice and a better informed public."
Keith, who earned her Ph.D. from the University of North Carolina-Chapel Hill, has served as the chair of the Department of Journalism and Media Studies at SC&I since 2016. Her research examines journalistic practice, journalistic content (particularly visual content and coverage of war and conflict), media ethics, and media law. Her work has been published in such journals as Journalism & Mass Communication Quarterly; Journalism: Theory, Practice and Criticism; Journalism Studies; the Journal of Mass Media Ethics, the Journal of Broadcasting & Electronic Media; Media, War & Conflict; and Visual Communication Quarterly.
Keith, an associate professor, was named an Emerging Scholar for 2011-2012 by the Association for Education in Journalism and Mass Communication and a Page Legacy Scholar for 2010-2011 by the Arthur W. Page Center for Integrity in Public Communication at Penn State University.
She teaches conceptual courses in media law and policy at the undergraduate, master's and Ph.D. levels as well as skills-based and conceptual courses in editing and design, media ethics and law, and global media at the undergraduate level. Her teaching experience includes online-only instruction at both the undergraduate and master's levels.
Prior to serving as chair of the department, from 2012 to 2014 Keith was the coordinator for the Digital Media track in the Master of Communication and Information Studies program (currently known as the Master of Communication and Media Studies program). She served as area coordinator for Media Studies in the Ph.D. program in 2010-2012 and as interim arear coordinator in fall 2013.
Before pursuing a Ph.D., Keith spent 16 years working as a newspaper reporter and editor. She was a reporter for the Athens (Ala.) News-Courier, wire editor of The Cullman (Ala.) Times, a copy editor/page designer and weekend magazine editor of the Birmingham (Ala.) Post-Herald, a copy editor/page designer and assistant news features editor for Florida Today in Melbourne, and a copy editor/page designer in news and sports for the St. Petersburg (Fla.) Times, now known as the Tampa Bay Times.
Keith is married to a journalist and lives in New York City.
To learn more about the Journalism and Media Studies Department at the School of Communication and Information at Rutgers University-New Brunswick, click here.