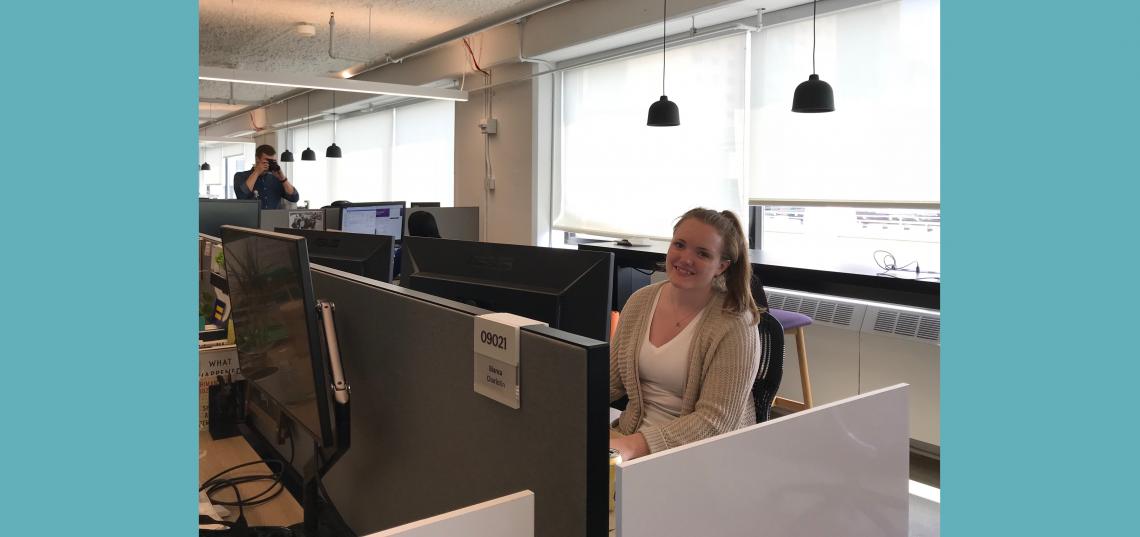 Year Later: Information Technology and Informatics Grad Lands Dream Job at Education Tech Company
Mary Adams '18 discusses new role as Web Production Coordinator
Even though Mary Adams '18 graduated from the School of Communication and Information (SC&I) almost one year ago, she is still immersed in higher education. Now the Web Production Coordinator at a Brooklyn-based education technology company, the Information Technology and Informatics (ITI) grad deals directly with various universities in marketing their online programs. Adams also minored in Digital Communication, Information and Media (DCIM) during her time at SC&I, and recently spoke to us about using the skills she learned through her programs in her new professional role.
Can you tell us what you've been doing since graduating from SC&I one year ago?
Following my graduation at SC&I, I finished up a graphic design internship while looking around for full-time jobs. Amazingly, I started a full-time job as a Web Production Coordinator on July 30. In terms of non-work related, I've been visiting friends, attempting to travel, and making new connections everywhere I go (and keeping old connections, too). I've been loving post-grad life, but I miss Rutgers University all the time.
How was your job search after graduation?
The job search wasn't that bad. Rutgers Career Services gives you a lot of resources to find jobs. And being a Rutgers alum alone automatically gives you a boost up as there are alumni everywhere. Personally, post-graduation, I spent a decent amount of time looking through job posting after job posting where I thought I did not have the proper skill set or I thought I didn't fulfill the requirements for the position. It took me a little while to realize that most companies allow you to learn once you're hired - especially for an entry-level position. A lot of times, they'll see the potential in you and hire you solely on that. Some advice: always apply, you never know what could happen!
Can you tell us about your current role as Web Production Coordinator for 2U, Inc.?
First of all, I love it. I am very happy at my job, and I have learned so much in less than a year. I work for an education technology company in Brooklyn, NY called 2U, Inc. that partners with universities - like Harvard, Yale, NYU, UNC, Syracuse (to name a few) - to provide online master's degree programs in a digital, collaborative, and innovative way. My responsibility at the company is to build and maintain the front-facing part of an individual university program's marketing websites. My first website that I built and launched myself was https://onlinebusiness.fordham.edu  
What do you think helped get this position after graduation?
I got my job from a connection. I was very lucky to be presented with the opportunity. However, a connection can only get you so far. I worked hard throughout school to put myself in the right position to be hired. I took what I learned from classes, group projects, and internships to show that I was capable of fulfilling the position.
Can you name 3 skills you learned from SC&I that you consistently use on the job?
HTML/CSS (Coding), Teamwork/Collaboration, and Virtual (digital) communication.
Do you have a specific faculty member or mentor at SC&I that has helped to guide you in the right direction professionally?
Part-Time Lecturer Deborah Close was my professor for Management in the Technological Organizations, which was definitely one of the most helpful and beneficial courses that I took throughout college. The way the group project segment of the class was designed was a perfect learning experience for what I come across professionally all the time now. Not only was her class great, but she was a wonderful professor as well. She was full of wisdom and advice and did not hold back sharing that with her students.
In addition, I had the wonderful opportunity to be a SC&I intern my very last semester at Rutgers. I worked with Director of Strategic Communications Brenda Sheridan, Digital Content Specialist Melissa Mitas, and Public Relations Specialist Carol Peters on a daily basis. Their guidance and support throughout my last semester were truly wonderful. It was great having professionals to look up to and grab advice from at all times while I was preparing for the real world ahead of me.
What do you think is the most important thing you've learned over the past year since graduation?
I've learned that life keeps going no matter what after graduation. Up until graduation, most of my peers all had the same path of elementary school then high school then college. Once we graduated, nothing was for certain. Most of my friends and I had no idea what we were doing post-graduation, and it was pretty scary. But life keeps going, and we all figured it out on our own and within our own time. There's a whole world of possibilities outside of the bubble of Rutgers, but Rutgers certainly helped me get to where I am!
Do you have any advice for this year's graduating class at SC&I?
Enjoy your time at Rutgers to the fullest. There's nothing else quite like it. Don't be afraid to jump out of your comfort zone - but only when you feel most comfortable. Don't feel obligated to go down the same path as your friends & classmates because everyone's different, and everyone moves at their own pace. Everything happens for a reason!