Communication Senior, Isabeau Touchard, to Speak at SC&I's 2019 Convocation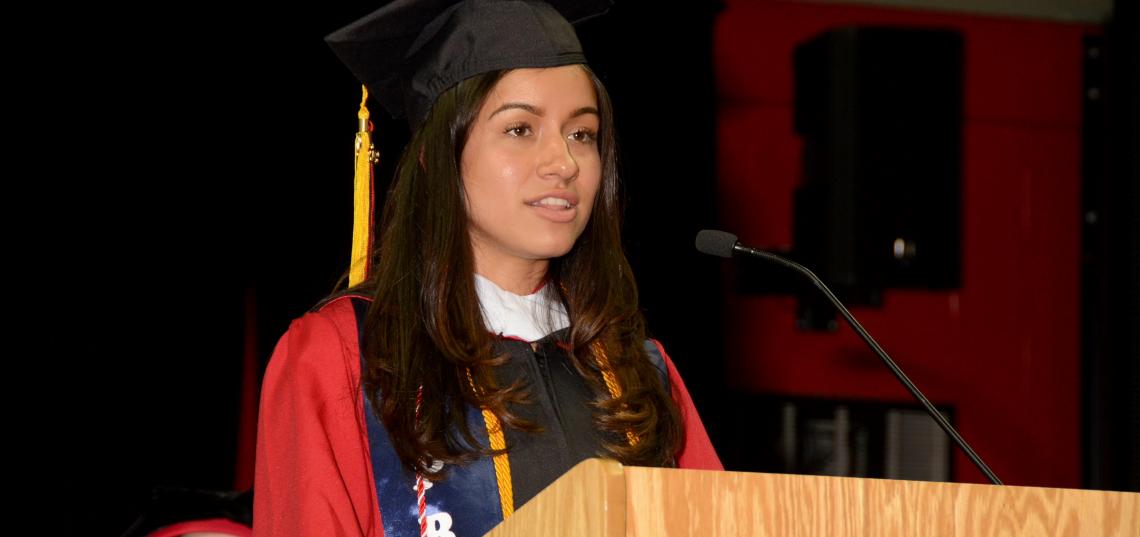 The School of Communication and Information (SC&I) at Rutgers University-New Brunswick, will hold its graduation ceremony for all students receiving a degree from SC&I on Thursday, May 16, 2019 from 3 – 5 p.m. at the Rutgers Athletic Center (RAC) on the Rutgers Livingston campus.
This year, nearly 992 students will receive undergraduate degrees in either Communication, Information Technology and Informatics (ITI), and Journalism and Media Studies (JMS). Additionally, 310 students will graduate with SC&I minors in either Digital Communication, Information, and Media (DCIM), or Gender and Media.
Two hundred and seventeen graduate students will receive master's degrees from one of SC&I's two master's degree programs, Master of Communication and Information Studies (MCIS, now named MCM) or Master of Communication and Media (MCM), and Master of Information (MI).
Thirteen students will receive their Doctor of Philosophy (Ph.D.) degrees.
The 2019 student Convocation speaker will be Isabeau Touchard, an undergraduate student majoring in Communication.
During her four years at Rutgers, Touchard was extremely involved on campus and experienced great success both academically and professionally. Touchard was the Business and Events Manager of The Daily Targum and served alongside the Editor-in-Chief of the publication. Touchard recruited, hired and directed 35 employees in four different departments. During her senior year, she organized a semester-long marketing campaign for referendum, which secured over 7,000 votes across eight schools.
Touchard was the president of the Public Relations Student Society (PRSSA) of America, Todd Hunt Chapter. During her tenure, she coordinated panel and speaker events with over 40 media professionals. She also represented Rutgers University at the PRSSA National Conference.
Last summer Touchard interned at Paramount Pictures in New York City and managed private film screenings with NPR professionals for guest such as New York Times top critics and journalists. She also brainstormed with NY and LA publicity teams regarding campaigns for six upcoming films.
Touchard plans to base her convocation speech around the idea of adversity, and how we have all created our own paths to get to graduation day.
"Given my background, it's already such a blessing to be able to graduate and be the first person in my immediate family to have a degree. I cannot even begin to express how honored I am to have been chosen to speak at this year's convocation," Touchard said.
Touchard is a first generation student and a child of two Deaf parents.  Her journey was not easy.  In today's political climate, the adversity faced by immigrants, people of color, and other marginalized groups have been especially highlighted and she is thankful to be able to have this platform and share her story. Touchard shares, "Despite this adversity though, I want to emphasize how important it is not to let it define you, but to instead use it as a driving force toward success. Overall, I just want to express to everyone how proud they should be of themselves, and of their loved ones. We all have a story, and Rutgers has played a huge part in making that story a good one."
Tourchard notes that the variety of organizations that Rutgers offers has been helpful in finding her passion and pursuing it. Her involvement in Rutgers PRSSA and Scarlet PR, the student-run PR firm, are the reason that she chose to pursue a career in PR. "Without these organizations and the ability to become President, I would not have had the internship and leadership experiences I've had," she said. Touchard gives credit to part-time faculty member, Jack Grasso and notes without his wisdom and constant support, she would not be writing this. Touchard also gives credit to the rest of SC&I administration and faculty whom have grown to feel like family. Last but not least, she gives credit to all of her friends at Rutgers, as they truly made these past three years an unbelievable experience that she will carry with her forever. 
Updated June 3, 2019, to read Touchard's convocation remarks, please click here.  View the ceremony here.