The fall 2018 issue of Kairos, JMS' online magazine of top undergraduate work, is out!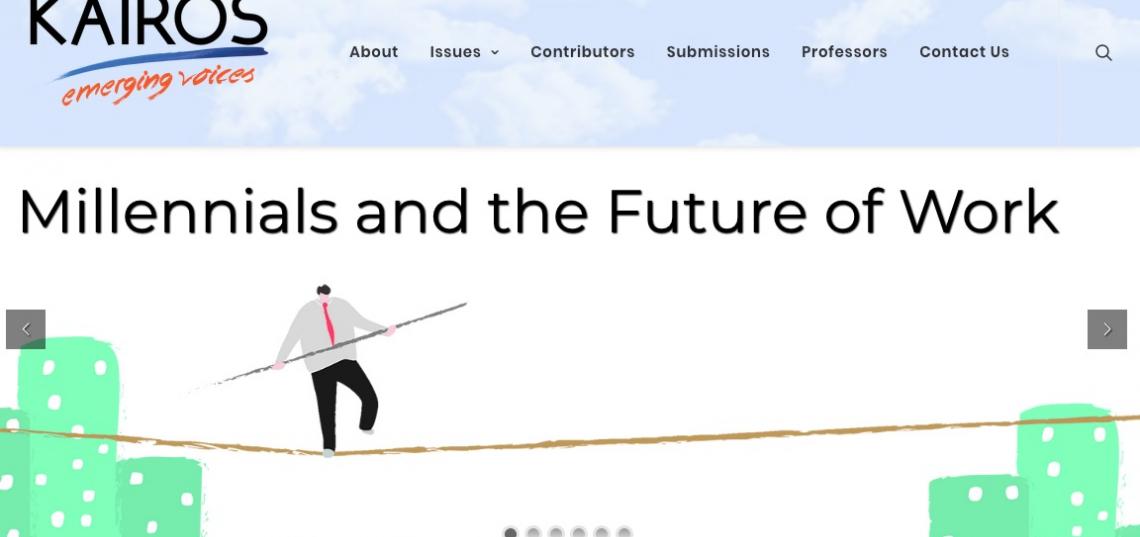 Fall Edition of Kairos Explores the Future of Work
The fall 2018 issue of Kairos, JMS' online magazine of top undergraduate work, is out!
Amazon's fulfillment centers operate like fast-paced machines, as employees rush to unload, sort and pack millions of products every day. But data obtained by students in Professor Juan Gonzalez's investigative reporting class found that the pattern of injuries and fatalities has been speeding up as the company expands — while Amazon has been named one of the 12 most dangerous companies to work for.
That's the lead story in the fall 2018 edition of Kairos, JMS magazine of top undergraduate journalism an issue devoted to "Millennials and the Future of Work." Gonzalez's students, Manya Goldstein, Kira Herzog and Rosa Haleva, also found that Amazon warehouse jobs are labor-intensive, with workers reporting minimal breaks and long periods on their feet. "Don't work here," one New Jersey warehouse worker warned a new colleague. "It's basically paid slavery."
Students in Assistant Professor Mary D'Ambrosio's "Writing about Social Issues" class reported on how robots are infiltrating journalism; on recent college graduates who turn to entrepreneurial ventures when the job market disappoints; and on the booming sugar daddy/sugar baby business — for which student Aika Kimura posed as a "sugar baby," to learn about the motivations and behaviors of older men who use online hookup services to find young women. 
Meghan McCarty, a student in part-time faculty Marisa Sandora's "Writing for Media," class, wrote about love on a day she thought the world would end, and Haya Abdel-Jabbar, a student in part-time faculty Joseph Strupp's "Writing for Media class," contributed an essay about her experience of living with a neurological disorder that makes ordinary sounds hard to bear.
The magazine is also featuring four stories by students in JMS' annual summer "Global Journalism in Italy" program, in the elegant medieval city of Bologna, in summer 2018 co-directed by D'Ambrosio and Associate Professor Regina Marchi. Students Kira Herzog and Olivia Whelan wrote about vigilante groups empowered by the rise of the Italian right; Alex Harrison, Taniqua Russ and Abigail Urban covered Bologna's life as a UNESCO city of music;  Gavin Deshmukh and Erica Limatola wrote about the robust local LGBT community; and Kylie Feldman and Olivia Whelan explored the custom of "aperitivo" — a very Italian version of happy hour. 
Congratulations to all of the contributors on their standout work!
Would you like to contribute to Kairos? Consider writing or shooting a story related to "gender" — our next theme. Please see the submission guidelines, here http://kairosmagazine.rutgers.edu/submissions/