JMS Launches New Specialization in Global Media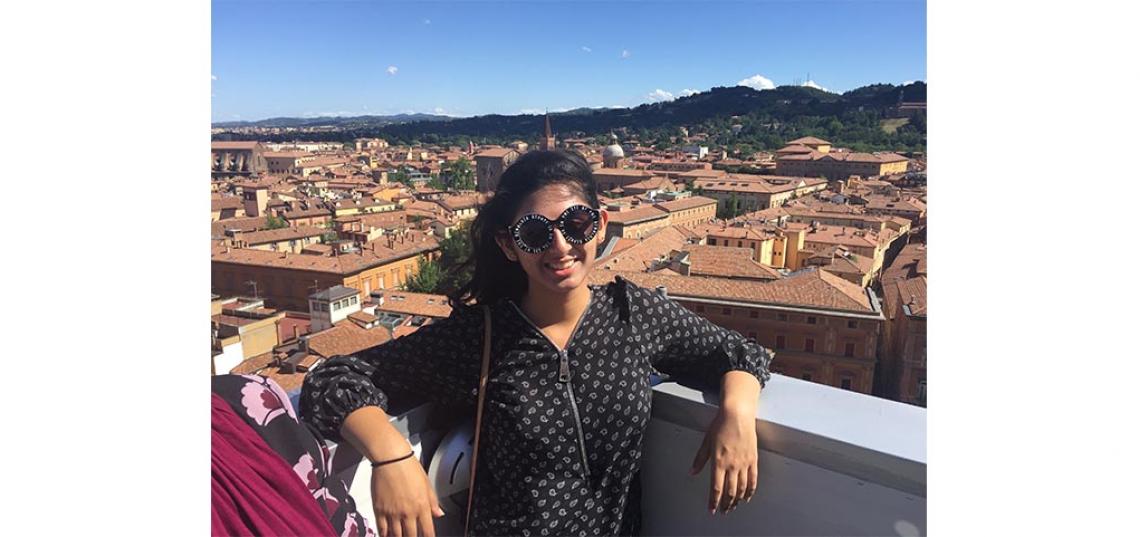 Ever dream of writing about some of the most pressing issues facing a foreign country while living or visiting there? 
SC&I's Department of Journalism and Media Studies (JMS) now offers a new Global Media Specialization. JMS majors can follow the specialization by taking three included courses, such as Gender Race and Class in the Media, Mediating the Middle East, and Global News and International Media. Any JMS course taught fully or partially abroad also qualifies. The new specialization currently offers courses that travel to Italy, England, France and Guatemala.
"We launched the Global Media Specialization to give our students an opportunity to focus on one of the hottest and most important issues on the planet: how media works around the world, and ways aspiring journalists can understand and improve it," said Journalism and Media Studies (JMS) Assistant Professor of Professional Practice and lead for the Global Journalism in Bologna, Italy study abroad trip, Mary D'Ambrosio.
In addition to the courses offered in Bologna, some additional study abroad opportunities include: "Associate Professor Regina Marchi's Media and Struggles for Democracy in Central America, which travels to Guatemala; JMS Department Chair and Associate Professor Susan Keith's media studies trip to London and Paris; and other courses we're considering, such as a proposed 'Reporting from Global Hotspots' experience, in which students would have an opportunity to report from Italy, Turkey or Morocco," D'Ambrosio said.
This new specialization will enable Rutgers students to develop an understanding of the role of journalism and media in an international context, and it will also help JMS students prepare for careers in foreign correspondence or other international affairs careers.
To learn more about the specialization, SC&I spoke with a second-year student who attended the study abroad trip last summer and is in the process of completing the Global Media Specialization.
Q&A with Nain Ladak, JMS sophomore
What appealed to you about the Global Media Specialization and the Global Journalism in Italy study abroad trip?
Well, the Global Media Specialization is actually something I found out about while we were on the trip because the Journalism and Media Studies Department wasn't rolling that out until the fall. The professor on the trip, Professor Mary D'Ambrosio, told us about the specialization half way through the trip. I was immediately interested because I was looking at the only other specialization which was Sports Journalism and I can't stand sports. So, when I heard about the Global Media specialization, I was like, 'Wow that sounds really cool'. The classes she was naming like, Gender, Race and Class in the Media and Global News, were classes that I was already planning on taking. It seemed natural to decide to specialize.
In terms of the trip, Global Journalism in Italy, I didn't even consider it. I was considering study abroad in a very futuristic way. I was like, 'Oh, in a year or two maybe,"  because I was a freshman. I wasn't really thinking I would go that summer. Then I was getting really frustrated because I wanted to be ahead of the game and get an internship. I wasn't able to because I had no experience other than writing for The Tab at Rutgers and I had only been doing that for a semester. It really wasn't enough to get an internship. I was like, 'What am I going to do this summer?' Then, out of the blue, I was sitting in my Introduction to Media class and Professor Steven Miller had invited Professor D'Ambrosio to give a lecture on the trip. She said, 'We're going to explore issues of refugees in Italy because there has been an influx. We're going to study all these different issues that you hear about on the news but on a college campus there's very little opportunity to actually follow up with people about.'
I really wanted to report on something that didn't just make a difference on my college campus but made a difference in and added something to the world. I don't think I've read that many articles about refugees in Italy. You don't necessarily think to cover refugees once they've left their country of origin. In fact, I've only seen negative articles in terms of that. For these reasons, I started looking into the study abroad opportunity. I asked Steve Miller for advice on that and he said it's a great opportunity. In the end, I am really happy I did it. I think that while for internships and things like that it helped me get my foot in the door, really what sold me was the experiential aspect. I got to work with a team, I worked with videography, we made a mini-documentary, we wrote an article.
The documentary was about Muslim recognition in Bologna, Italy and the article was on LGBT refugees in Bologna, Italy. It was interesting because Bologna is known as a San Francisco of Italy. They're very accepting of LGBT people but not necessarily as accepting of Muslims. It was interesting to see that intersectionality come into play. It's like, 'You accept this one part of me that is normally persecuted, but you won't accept the part of me that I've grown up with and is so much a part of my life'. That was an interesting dynamic to explore, very grateful for that experience.
How is your experience so far with the specialization?
The main class I've taken is the study abroad class. I really liked that class. It made me want to take more classes that had to do with global news or global journalism.
A lot of the time we do get stuck in our own ways. We're American so we want to cover American issues. It's easy to know about that way of life. It's another thing to try to put yourself in the shoes of someone else in another country and try to get their perspective. That for me is a challenge. It's not as difficult to tackle the perspective I've known my whole life. That's why I love journalism because I never have to stop learning.
How do you think this specialization will help your career in the future and, if not your career, your personal growth?
Personally, for what I want to do with my career, I want to work in late night television ideally, so I would definitely use it as something I talk about in interviews but I think I will use it more so for personal growth. This will help me do more learning on my own because it's exposing me to more issues that aren't necessarily on CNN every day, that aren't on mainstream news. I don't know how much international news I see on mainstream media outlets, I have to go looking for that stuff. What I read is mainly New York Times, Politico, very America-centric publications. What else is out there? What else can I be using? I think the specialization is really going to help me build my knowledge base.
Would you recommend the specialization to a friend?
I think if you're even remotely interested in global issues, it's worth doing the specialization because you'll likely be taking those classes anyway. It's not that intensive. If you're interested, take a couple classes and they'll count for your major anyway. That's a good way to find out whether or not you want to do it.
For more information about the global media specialization, contact the SC&I Student Services Office. 
How to Apply To Study in Bologna, Italy, Summer 2018
The deadline is February 15, 2018, but spots are limited to 12 people per class, so apply ASAP to maximize your chances! JMS majors get priority but all Rutgers students are welcome to apply. For more information, contact Associate Professor Regina Marchi at rmarchi@rutgers.edu or Assistant Professor of Professional Practice Mary D'Ambrosio at: mary.Dambrosio@rutgers.edu.
To learn more and to apply, click here: Rutgers Center For Global Education's website or call the Center: 848-932-7787.  Each three-credit course in the summer costs approximately $2,995  which includes tuition, instruction, translation, travel health insurance, lodging, breakfasts, a formal welcome meal, formal farewell meal, and certain group activities. Airfare and other meals are not included.