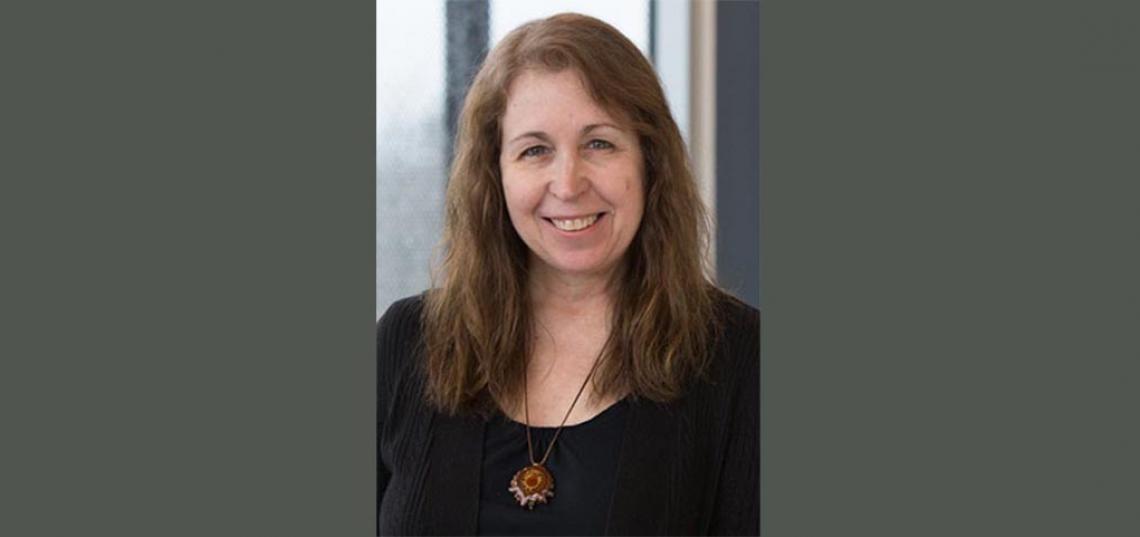 Mary Chayko Awarded Rutgers University's Presidential Award for Excellence in Teaching
Teaching Professor of Communication and Information Mary Chayko is selected as a recipient of prestigious Rutgers year-end award for the 2018-2019 academic year.
The end of the 2018-2019 academic year is quickly approaching, and at this exciting time, Rutgers University provides faculty, staff, and students with an opportunity to nominate colleagues for several year-end awards. One of the awards is the Presidential Award for Excellence in Teaching, which honors up to five full-time teaching faculty members.
This year, SC&I's Associate Dean for Programs and Professor of Journalism and Media Studies Dafna Lemish nominated Teaching Professor of Communication and Information and Director of Undergraduate Interdisciplinary Studies Mary Chayko for this award, and Rutgers selected her. At an event in May, Chayko will receive the award and a $1,000 honorarium at a ceremony honoring the recipients of various year-end awards across the university.
"Dr. Chayko is an enormously valuable asset and contributor to the advancement of the educational mission of the Rutgers School of Communication and Information (SC&I), Honors College, School of Arts and Sciences and Rutgers University as a whole," Lemish said. "Her positive energy, dedication and commitment to our students is exemplary.  I was thrilled to be able to nominate her for this award based on her outstanding record in teaching, mentoring, curriculum innovation, development of teaching materials, and training other teachers that made her so worthy of this prestigious recognition. The supporting letters she received were just as glowing.  I am delighted that the university award committee concurred!"
"Teaching is mostly about caring, I think," Chayko offered, discussing the ingredients she believes are necessary to succeed as a professor.  "I respect my students, help them develop their ideas, welcome their concerns, and try to get back to them right away if they need something! In and out of the classroom, I hope that students with whom I work in any capacity know that I am always on their side."
This isn't the first time that Chayko has received a major year-end teaching award at Rutgers. Exactly 25 years ago, in 1994, Chayko was named a Faculty of Arts and Sciences Distinguished Contributor to Undergraduate Education. She was the sole honoree in the university's Teaching Assistant category that year for her work as instructor of record for Rutgers sociology courses while she was pursuing her Ph.D. in that department.
A three-time Rutgers alum, Chayko earned an Ed.M. in Counseling Psychology from the Graduate School in Education and an M.A. and Ph.D. in Sociology. She then taught for 13 years at the College of Saint Elizabeth in Morristown, N.J., where she was a tenured full Professor of Sociology and chair of the Sociology department. In 2014, Chayko returned to Rutgers as an interdisciplinary teaching professor at SC&I, because, as she said, "I wanted to work with the world-class faculty at SC&I, develop the exciting Digital Communication, Information & Media and Gender & Media programs, and extend my work in new, different, directions. Working alongside some of my own former professors at Rutgers, especially Dr. Eviatar Zerubavel and Dr. Karen Cerulo, and serving with them on dissertation committees, has been a very special bonus."
A member of Rutgers' graduate faculties of Sociology, Women's and Gender Studies, and the SC&I Ph.D. faculty, Chayko serves on many dissertation and qualifying exam committees. She is a member of the executive board of Rutgers' Institute for Research on Women, the internal board of the Institute for Women's Leadership  and a faculty mentor for the Rutgers women's soccer and lacrosse teams.
Prof. Chayko is also a Faculty Fellow in Residence at the Rutgers-New Brunswick Honors College, where she has been reappointed for a third year next year. "It's a privilege to teach and mentor students at the Honors College and in the SAS Honors Program," she said. "Together, we explore some of the sociological and multidisciplinary implications of their studies, which span a wide range of fields and disciplines. Also, as I do with all students, I try to help them look more closely at their social media use, and develop smart, professional, effective social media profiles and networks."
The chair of the Social Media and Society faculty research cluster at SC&I (http://sms.rutgers.edu;  https://www.youtube.com/channel/UCqkEaHo6pqb7IyiE1WZ9sug), Chayko is an expert in the impact of social media and digital technology on societies, communities, and individuals. She is the author of three books on the topic, and a fourth on public sociology. She is looking forward to keynoting a conference in Serbia in September 2019, and meeting with faculty, librarians, and students there, in connection with the translation of the second edition of her most recent book "Superconnected: The Internet, Digital Media and Techno-Social Life"  into Serbian. The book is used as a text in many different fields (sociology, psychology, communication, media studies, information science), is accompanied by lecture slides and podcasts that Chayko created and voiced (see http://superconnectedblog.com), and "represents the way in which my teaching, research, and administration of the Digital Communication, Information & Media and Gender & Media programs overlap and come together," she described. 
Chayko will also spend next year partnering with SC&I Assistant Professor of Library and Information Science Vivek Singh in exploring the ways that mediated images and the vocal sounds of smart devices in homes reinforce and challenge gender biases. She will also be part of Professor of Library and Information Science Marie Radford's research team "Cynergy," examining how academics define and develop their scholarly identities on social media.
 "Rutgers is literally my home," Chayko shared. "As part of my Honors College faculty fellowship, my husband Glenn Crooks and I are currently living at the Honors College on the College Avenue campus. So receiving this award at this time is especially meaningful to me. I'm truly grateful for the honor, and thank the University, SC&I, Honors College, my students, and my family, for supporting my teaching and all that I do."
For more on Prof. Chayko's teaching, research, and related work and activities, see her website (http://marychayko.com) and the Rutgers University undergraduate admissions website (https://admissions.rutgers.edu/stories/mary-new-brunswick). You can also follow her on Twitter (https://twitter.com/MaryChayko), Instagram (https://www.instagram.com/mary.chayko/), and LinkedIn (https://www.linkedin.com/in/marychayko/).
.For more information about the School of Communication and Information (SC&I) at Rutgers University-New Brunswick, click here.