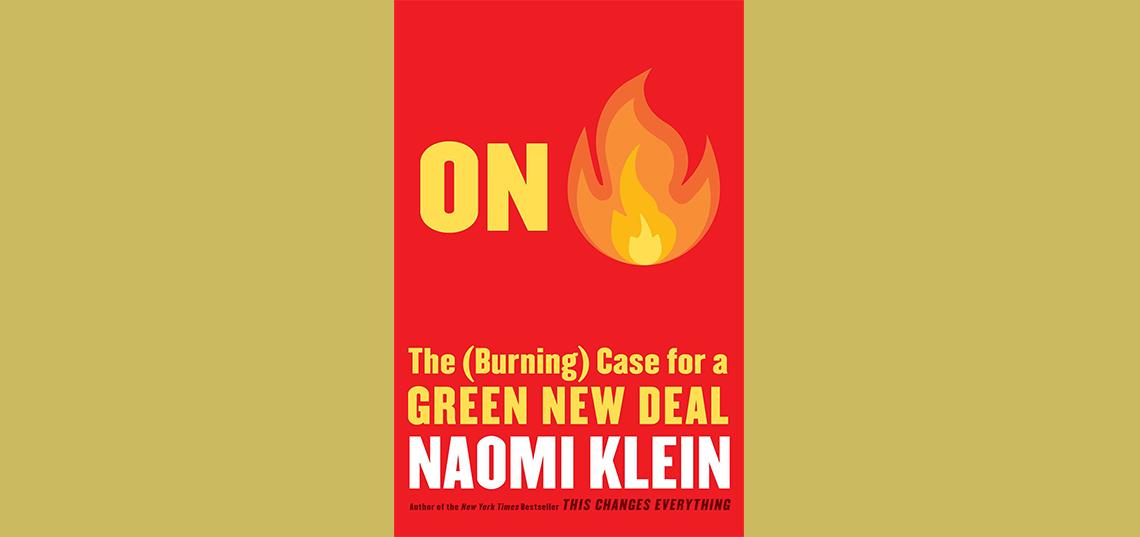 Naomi Klein Publishes "On Fire: The (Burning) Case for a Green New Deal"
In her new book, Klein "explains how the bold ideas and action within the Green New Deal could avert climate catastrophe and be a blueprint for a just and thriving society."
Naomi Klein, the inaugural Gloria Steinem Endowed Chair in Media, Culture, and Feminist Studies at SC&I and Rutgers, will release her new book, "On Fire, The (Burning) Case for a Green New Deal," in the U.S., U.K., and Canada on September 17, 2019.
"'On Fire' explains how the bold ideas and action within the Green New Deal could avert climate catastrophe and be a blueprint for a just and thriving society. Naomi Klein's seventh book gathers for the first time Naomi's impassioned reporting from the frontlines of climate breakdown, and pairs it with new material on the high stakes of what we choose to do next," according to Klein's website.
In advance praise of "On Fire," Kirkus Reviews wrote, "An impassioned anthology of the author's evidence-based pleas to alleviate climate change . . . . What separates Klein from many other advocates for a Green New Deal is her balanced combination of idealism and politics-based realism . . . . Another important addition to the literature on the most essential issue of our day." (click here for full review). The New York Times will review the book on September 29.
Accolades for the book also include quotes from author, educator, and environmentalist Bill McKibben, who said, "Naomi Klein is the intellectual godmother of the Green New Deal—which just happens to be the most important idea in the world right now"; climate activist Greta Thunberg said, "Naomi Klein's work has always moved and guided me. She is the great chronicler of our age of climate emergency, an inspirer of generations"; and actress Emma Thompson said, "Naomi Klein is a precious gift: every time I read her words, my heart leaps from sadness and anger to action. She takes us deep, down to the roots of what is wrong—and then up, up to a height from which we can see what must be done. Everything we love is at stake now: these writings are our best and brightest hope."
Klein is a journalist, columnist, and bestselling author, whose other books include "The Shock Doctrine," "No Logo," "This Changes Everything," and "No is Not Enough." She is Senior Correspondent for The Intercept, a Puffin Writing Fellow at Type Media Center, and a contributor for both The Nation and The Guardian. She is a co-founder of the climate justice organization The Leap.
In addition to "On Fire," Klein produced a video about the Green New Deal, narrated by Congresswoman (representing the 14th District of New York) Alexandria Ocasio-Cortez, titled "A Message From the Future With Alexandria Ocasio-Cortez."
At Rutgers, Klein teaches an undergraduate course titled "The Corporate Self." According to the syllabus, "The purpose of this course is to provide a critical understanding of the ways humans are being fashioned as commercial products and brands, and how data about everyday life is fueling a lucrative new market known as 'surveillance capitalism.' It will examine: the implications of living monitored and quantified lives on identity and gender; the history of the entanglement of personhood and branding; the trend towards personal branding in the job market and on social media; and emergent resistance to 'surveillance capitalism' from regulators, tech workers and 'users.' The course will place a particular emphasis on how gender and race are imagined and monetized."  
On Thursday, April 4, 2019, Leanne Simpson joined Klein's class for a guest lecture. The conversation focused on land-based knowledge, climate change, colonialism, and media. Klein's students read Chapter 12 of Simpson's "As We Have Always Done" and Klein's interview of Simpson for Yes! Magazine in 2013 for their course readings. This event was sponsored by Rutgers' Institute for Women's Leadership, Department of Women's and Gender Studies, and SC&I.
On October 7, 2019, Klein will host an event at Rutgers titled, "Care Work is Climate Work: A Series on the Green New Deal." It will be held from 5 – 7 p.m. In Trayes Hall in the Douglas Student Center. Presented by The Institute for Women's Leadership, SC&I, The Rutgers Department of Women's and Gender Studies, and The Leap, Klein will moderate a discussion with four leading organizers in the fields of nursing, domestic labor and disability rights. According to the event flyer, "Panelists will explore how climate impacts are already changing what it means to be a care worker, and imagine how their sectors should be transformed by and for the Green New Deal."
Klein will promote "On Fire" through appearances on international media, including, on Sept. 17, an appearance on Democracy Now!, which is hosted by SC&I's Richard D. Heffner Professor of Communications and Public Policy and Professor of Professional Practice, Journalism and Media Studies, Juan González.
In addition to media appearances, Klein will also undertake a 10-city book tour. For more information on her tour and media appearances, see Klein's website: https://naomiklein.org.
To learn more about Klein's work, see:  
The Gloria Steinem Endowed Chair in Media, Culture, and Feminist Studies is a collaboration among Rutgers' School of Communication and Information (SC&I), the Institute for Women's Leadership (IWL) and the Department of Women's and Gender Studies within the School of Arts and Sciences (SAS).
For more information about the School of Communication and Information (SC&I) at Rutgers University New Brunswick, click here.
To learn more about SC&I's Department of Journalism and Media Studies, click here.