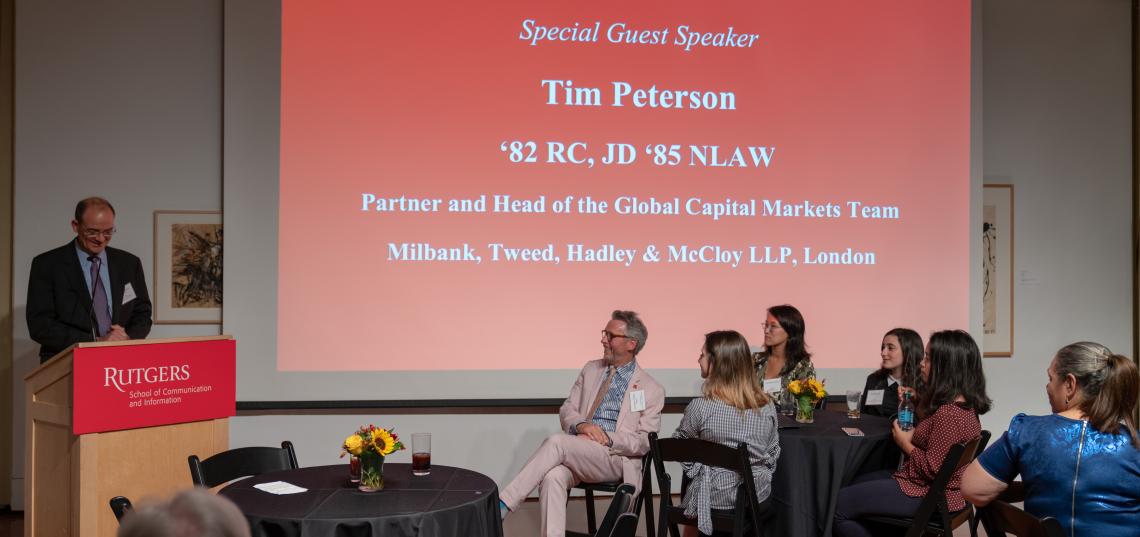 Scholarship Recipients and Donors Honored at Recent Reception
SC&I faculty, staff, alumni and students gather to celebrate the opportunities brought by scholarships
The School of Communication and Information (SC&I) recently hosted a Scholarship Reception at the Zimmerli Art Museum at Rutgers University. Honoring scholarship award recipients and expressing gratitude for the many donors on their generous support of SC&I, the event took place on October 18 and was well attended by SC&I faculty, staff, students and guests.
Dean Jonathan Potter opened the reception, thanking donors and faculty and staff for their dedication to SC&I, and commenting on the importance of giving students the opportunity of higher education. Potter also apprised the crowd of many exciting updates at SC&I, including the new Gloria Steinem Endowed Chair, a new master's program, current building renovations and planning for a new facility.
Fifty-eight scholarship award winners included undergraduate students in SC&I's Journalism and Media Studies, Communication, and ITI programs as well as graduate students from the Master of Information (MI), Master of Communication and Media (MCM), Library and Information Science (LIS), and Ph.D. programs.
Guest speaker Tim Peterson graduated from Rutgers College in 1982 with a BA in Mathematics and went on to earn his JD from Rutgers Law – Newark in 1985. Peterson is a Partner in the London office of Milbank, Tweed, Hadley & McCloy LLP. As Head of the Global Capital Markets team in London, where his expertise centers on representing corporations, financial institutions and institutional investors on the full range of capital markets transactions. Peterson spoke of creating a scholarship in 1997 in memory of his late friend, noted political journalist and member of the Rutgers College Class of 1981 Arthur L. Weissman, and how the Arthur L. Weissman Memorial Scholarship Fund has helped dozens of Journalism and Media Studies students afford their education at Rutgers.
Student guest speaker Cassandra Ogbozor '18 Communication and Theater Arts, served as a Residence Hall Director, Public Speaking Instructor and Writing Coach during her time at Rutgers. She is currently an actress and motivational speaker, where her current mission is to encourage others and challenge their thinking through speaking engagements and her Word of the Day messages on her social media platforms. Ogbozor gave a moving speech at the reception on the personal impact scholarships have had on her and her family.
 "SC&I's annual scholarship awards reception is a great occasion for our scholarship recipients to connect in person with the donors that make their awards possible," said Assistant Dean for Development Rob Eccles. "This event is many things: a recognition event for our students, an opportunity to acknowledge our donors, and an chance for the SC&I community to interact in a less formal setting and celebrate what's great about our school.  Congratulations to our students, and thank you to our generous supporters!"
To learn more about opportunities to support our students, please visit https://comminfo.rutgers.edu/giving