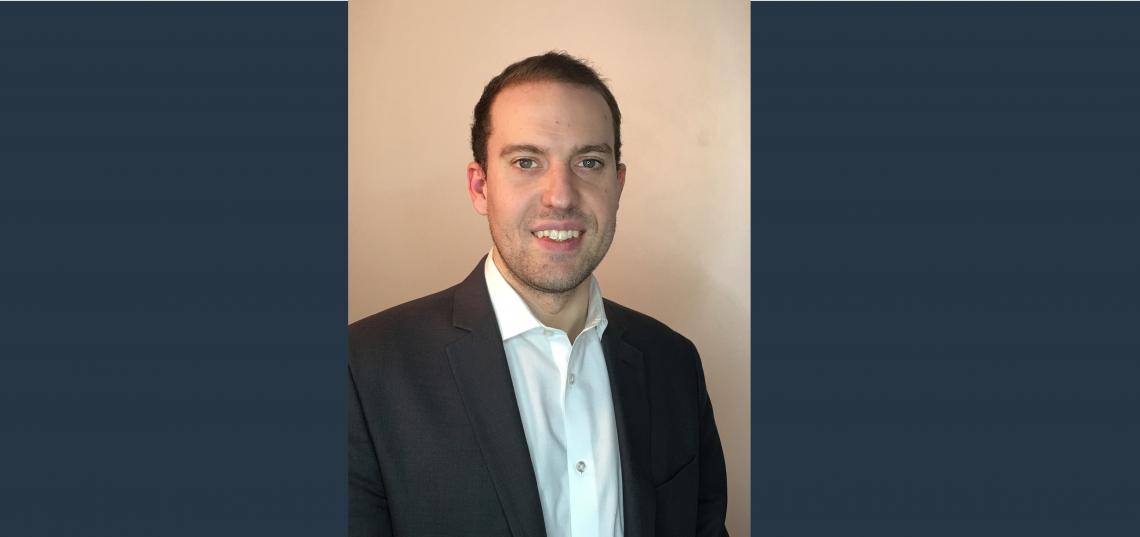 SC&I Alum Discusses Current Career in PR and Previous Role at The New York Daily News
Colin DeVries, MCM '18 talks about how the graduate program has prepared him for professional advancement.
From newspaper editor to public relations manager, Master of Communication and Media (MCM) graduate Colin DeVries '18 has gained substantial experience in the media industry. Specializing in Strategic Organizational Communication, DeVries recently spoke to us about how the MCM program has enhanced his skills for his current position and equipped him for future growth in his profession. He also reflects on today's news media and the importance of journalistic integrity, and the value of studying abroad.
Why did you choose the Master of Communication and Media (MCM) program?
In looking at communication master programs in New York and New Jersey, I really wanted to find a program with the right blend of corporate and organizational communication courses and journalism study. I found that at Rutgers. I'm also a New Jersey resident and the in-state tuition really helped me in my decision to return to academia after more than a decade since completing my bachelor's degree.
How do you think the MCM program has prepared you for your career?
The rich, educational MCM program provided me a way to enhance my depth of knowledge in a variety of specialties I practice on a day-to-day basis at NYU Langone Hospital–Brooklyn. The program has absolutely helped me grow professionally and be more effective at my current job, while setting the foundation for advancement within my organization.
Do you have a specific faculty member or mentor at SC&I that has helped to guide you in the right direction professionally?
Teaching Professor and MCM Program Director Richard Dool, Ph.D.,  has really been a tremendous resource and advisor for me. He accepted me into the program and guided me along to the completion of my degree. I also took three of his courses and found them all to be quite illuminating and engaging.
Can you tell us about your current position at NYU Langone Hospital?
At NYU Langone Hospital–Brooklyn, I serve as public relations manager. In that role, I help in the management and operation of a number of communication functions, including internal and corporate communications, social media management, and media relations. In a typical day I might be responding to media calls asking about the condition of a patient involved in a tragic accident while also preparing top-level executive communications, posting to our internal employee portal, interviewing physicians or administrators for a press release about a new healthcare innovation, taking a group of providers and patients at one of the Family Health Centers at NYU Langone locations, and writing stories for our internal newsletter.
As a former Daily News editor, what are your thoughts on the recent layoffs, and future of local journalism?
It's truly heartbreaking what is happening at the New York Daily News and to journalism itself. I had the honor and pleasure of working with some of the sharpest, hardest-working people I've ever encountered. And I still believe that, even when I'm now surrounded by top-notch physicians and academics at work every day. I worked with journalists whose purpose was solely the story. The intent was to break news. There was no other agenda behind that. Say what you want about the nature of tabloid journalism and how irreverent front pages get under people's skin, but that was not my experience. The journalists I knew were set only on truth. As that institution erodes here in New York City and as others do around the country, we are left with anything but truth. As journalistic integrity disappears with its practitioners, we are left with limited information—or altogether misinformation—to make informed decisions about the leaders who govern us.
Additionally, as a public relations practitioner, the system of information delivery has become fragmented. We are left with fewer journalists to help tell the story of what the great doctors and nurses are doing to heal people. Public relations people become content creators and publishers all their own. There is a new set of tools required to be an effective public relations professional. Knowing what those tools are and how to use them effectively is part of the reason I wanted to go back to school. As legacy media fades so does the traditional role of media relations. The ubiquitous aggregation sites and news blogs are turning more and more to social media as source material. Without journalists available to help tell their stories, PR professionals need to be creating in those digital spaces in order to get their messages across.
How did your semester abroad at Wroxton College in England impact your graduate experience, and your current career?
I cannot say enough about how wonderful the Wroxton experience was for me. It was the highlight of the program for me and something I would encourage everyone to do if they are able. Experiencing another country's culture, and understanding how communication shapes it and has been shaped by it, has tremendous value in informing my own communication techniques. Getting outside of your comfort zone and your natural environment is so important for personal and professional growth. Dr. Gary Radford puts together a really fun, engaging program with wonderful educational experiences. I met some amazing classmates and forged lasting friendships and hope to return to Wroxton for a visit someday soon!
What advice do you have for current students and upcoming graduates who want to launch a career in your field?
Learning new skills, and knowing how to showcase those skills, is so important in today's job market. Take your time at school to really hone your writing and learn everything you can about social media tools. Storytelling is the foundation of everything we do as communicators, and knowing how to compose and tell a great story is critical. Writing, as a form of expressing your thoughts in an organized and compelling way, is the first step in telling a great story. Just as importantly, make friends! Grow your network. Communication, like journalism, is a small world. Get to know your professors and classmates. As your personal and professional networks grow, so, too, do your opportunities. Enjoy!
For more information on SC&I's MCM Program, click here